Freshman feature: artist and athlete
A look into Mt.SAC Freshman Emily De La Torre
The sound of shoes hitting the dirt and gravel at a track meet, a pencil sketching on a canvas paper and the bustling crowd of a Frank & Son sci-fi Collectible Show warehouse are the sounds freshman Emily De La Torre hears on a daily basis.
De La Torre, 18, communications major, is in her first semester at Mt. SAC after her senior year at West Covina High School. De La Torre was a part of the broadcasting, track and soccer teams. Outside of her academics, she has also proven herself talented in art.
Growing up, she found multiple things to keep herself busy. "I was a very curious little girl," De La Torre said. " I wanted to try so many things, like cheer and backflips, I wanted to do all that [stuff]." She added that it also helped her realize what she was interested in growing up, which was soccer and track.
After taking herself away from the soccer field, De La Torre found herself in love with track and field after being in the sport for three years.
"These sports gave me structure and discipline, it forced me to do school work, I wanted to graduate!" she said.
During her senior year, De La Torre had multiple track meet victories, including qualifying for CIF, California Interscholastic Federation, in the relay event.
Off the field, De La Torre also has a successful career in art. Her seven-year art experience has worked in her favor in multiple ways, including a job at Frank & Sons Collectible Show in City of Industry, where she sells many of her commissioned art pieces like wood burning pieces, painted jackets and jeans and much more. Her art can be found on her Instagram, @demi_the_artist.
"Working at Frank & Sons has definitely skyrocketed art for me. It turned me into a businesswoman," De La Torre said. "People have also asked me to do professional logos and clothing."
She explained how it has given her a head start on making investments and learning how to run a business. De La Torre gushed about how much she appreciates the job she's been given and how blessed she feels to be able to create art pieces for others to love just as much as she did creating them.
Juggling art, athletics and school, De La Torre recounted the difficulties of keeping up with all three responsibilities at this age.
"Sometimes I'll have a brutal practice and I'll be exhausted and not want to draw, and sometimes it gets annoying because my body will reject it," De La Torre said.
Though, she pushes through and said that it's not the first time she's had to work hard to keep herself on a steady flow.
As a freshman, De La Torre had some words of wisdom for others who are worried or nervous about starting out in college and finding themselves. She emphasized that by aiming high and trying hard, no matter what, good things will come your way.
"Try new things, find what floats your boat," she said. "Once you find your true passions, think big, failures are life lessons, and we learn from them."
Leave a Comment
About the Contributor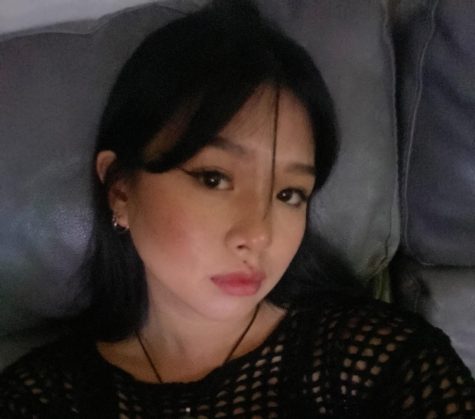 Lauren Aquino, Features Editor
Lauren Aquino is the Features Editor for SAC.Media.