Opinion: Oil drilling in Alaska will kill us
Saving the Earth – out! Destroying the Earth – in!
In January 2017 ConocoPhillips announced the Willow project which was estimated to produce 180,000 barrels of oil per day at its peak.
On Monday, March 13, the Biden Administration approved the Willow project. This means oil and gas drilling is meant to start in Alaska's North Slope near the Native Alaskan village of Utqiagvik, a 23 million-acre area. This will be the largest project in size and scale to develop in more than 20 years, costing roughly $8 billion according to Conocophillips' project descriptions.
The Willow project is dangerous and will significantly contribute to the desecration of the environment. On a campaign trail in 2020, President Joe Biden vowed to end new oil and gas drilling on public lands and waters. His support for this project is a broken promise. The Biden administration has ignored the pleas and protests of those who wish to stop this project.
The project was originally pushed by former President Donald Trump's administration but was reversed by U.S. District Court Judge Sharon Gleason in 2021. Now, Biden has re-approved the project.
Encapsulating Biden's hypocrisy, Lisa Friednamn of The New York Times said: "The leasing program presents a dilemma for Mr. Biden. He has promised progressive Democrats and environmental groups that he would propel the country away from its dependence on the fossil fuels that are driving climate change. At the same time, he has taken steps to increase oil supplies to try to bring down gas prices, including calling on the oil industry to pump more crude."
Exemplifying a level of apathy for their base of supporters that Democratic politicians have shown time and time again, Biden's move isn't a surprise. Rather, it is affirming the suspicions of some of his most critical supporters.
As climate change increasingly teeters closer to an irreversible boiling point, it is devastating to see that the United States government is carelessly enabling corporate activity that will worsen the crisis. Biden has made a huge mistake and again, although it is disappointing, it is not surprising.
It is selfish of these politicians and companies to cause immeasurable damage to future generations that they will most likely not be a part of, all for the sake of profit or maintaining the status quo.
The ConocoPhillips' project description also claims that 2,500 construction jobs will be created plus 300 long-term jobs and nine million hours of work. This project is creating jobs to destroy the Earth.
According to CNN: "By the administration's own estimates, the project would generate enough oil to release 9.2 million metric tons of planet-warming carbon pollution a year – equivalent to adding 2 million gas-powered cars to the roads. Over the course of 30 years, climate groups have estimated it would release around 278 million metric tons of carbon pollution, which is more than what 70 coal-fired power plants could produce every year."
Any person can see that drilling in Alaska will only exacerbate the damage being done to the Earth. The Willow project would destroy habitats and alter the migration patterns of animals, killing those that are vital to this Earth like polar bears.
The Earth is our home and we are supposed to be caring for it, but corporate greed does not listen to scientists, the voters and everyday people that do not want this project to pass.
Speaking to CNN, Alaska-based senior attorney at environmental law group Earthjustice Jeremy Lieb said that the Willow project, "Is a huge climate threat and inconsistent with [Biden's] administration's promises to take on the climate crisis."
People must come together to fight against the Willow project. According to CNN, "Environmental law group Earthjustice and law firm Trustees for Alaska filed the complaints against the Biden administration's Department of Interior and its top officials, the Bureau of Land Management, the US Fish and Wildlife Service and other federal agencies."
A Change.org petition to halt the Willow project has already accumulated over 3 million signatures. Environments will be destroyed by irreversible damage by rapid climate change. The pollution this project will bring will disrupt ecosystems that are crucial to people and animals – fighting against it is non negotiable.
View Comments (1)
About the Contributor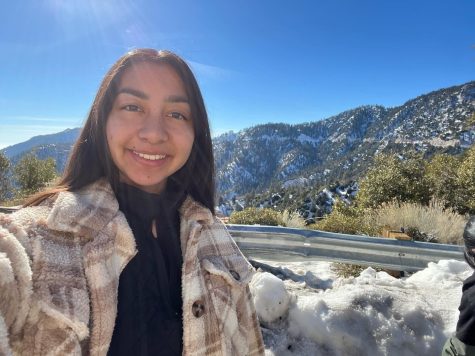 Emily Fernandez, News Editor
Emily Fernandez is SACMedia's News Editor.