Mt. SAC will have a new president next semester. Meet the candidates vying for the position
All five of the candidates are female, guaranteeing the school's first woman president in decades
Five candidates for the position of president/CEO of Mt. SAC spoke at the Sophia B. Clarke Theater on Monday, March 6, as the process of selecting one to fill the role that will be vacated by President/CEO Dr. Bill Scroggins at the end of this semester
The meeting was held from 11 a.m. to 4:30 p.m. and each candidate was given 45 minutes to introduce themselves, answer prepared questions and deliver a closing statement.
According to the Mt. SAC website, the candidate forum served to give the Mt. SAC community, "an opportunity to hear the finalists' philosophies and views on current issues and challenges and to hear their vision relative to the College's future direction."
Following the announcement of Scroggins' retirement, Mt. SAC is reaching the end of the long process of finding his successor.
The successor would become the second woman to become the president/CEO of Mt. SAC and the first since Marie T. Wills occupied the position from 1969 to 1972.
The open forum can be watched in its entirety on Mt. SAC's YouTube channel.
Dr. Martha Garcia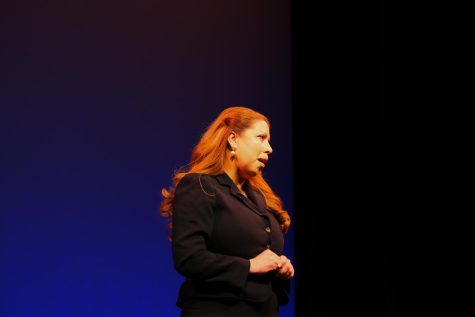 Dr. Martha Garcia is the current superintendent/president of College of the Desert in Palm Desert, California, being appointed to the position in August 2021. She previously worked for 21 years at the Imperial Valley College in Imperial, California, in numerous administrative roles, including as president/superintendent.
Garcia's accomplishments consist of the Rising Star Award from Palm Springs Life Magazine and the 2018 Distinguished Women of the Year by California State Assemblyman Eduardo Garcia during her time as the President/Superintendent of Imperial Valley College.
Garcia's educational background consists of a doctorate in educational leadership from San Diego State University, a master's degree in educational counseling from National University, a bachelor's degree in criminal justice administration from San Diego State University and an associate degree in general major from Imperial Valley College.
"I am the best fit because I am a community college product," she said at the open forum.
"I am a representation of your largest number of students that come to this institution. … I am the student that was blessed and privileged to be served by EOPS. By CalWORKS. I am the student that was benefitting from having access to a Mountie food pantry. I am that student," she continued.
Garcia listed her priorities as engagement, increasing the school's full-time equivalent student rate, equity among the community and accreditation.
On noncredit programs, she highlighted the importance of reaching out to "nontraditional" students to increase the programs' enrollment. Outreach, she said, is essential in increasing the school's overall enrollment and maintaining diversity in the student body, while bringing attention to Mt. SAC's fallen noncredit enrollment.
During her time on the stage, she emphasized fostering a healthy relationship with the school's community, serving it fully and facilitating dialogue between the school's governing bodies to make decisions.
"Family is sacred," she said. "There will be challenges. There will be situations that are difficult to address. And that's how it is. But coming together centered on purpose, on why we're here, is the priority, which is our students and serving the community."
Throughout her allotted time, she emphasized the importance of listening to students and meeting their needs. To balance the needs of students who prefer in-person classes vs online, she said "We find a medium," by monitoring trends and coordinating classes through those trends.
"I am interested in serving here," she said during her closing remarks. "I am interested in serving you long term. I am looking for a home, for a family to serve long term. I am not looking to fulfill a job, a role, that's not why I do what I do. I do this to fulfill a purpose."
Dr. Katrina VanderWoude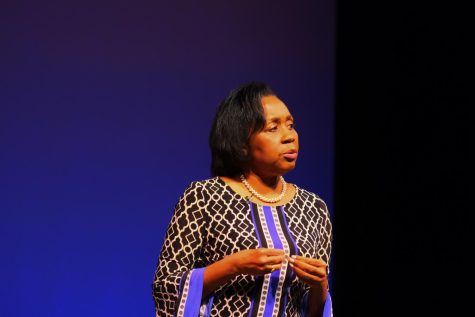 Dr. Katrina VanderWoude is the incumbent vice chancellor of the Los Angeles Community College District, with over 25 years of experience in higher education between community colleges and four-year institutions.
VanderWoude is also currently a commissioner on the City of Los Angeles' Reparations Advisory Commission. Of the candidates, she is also the only Black woman.
VanderWoude's previous experience in academia has been most notably as president of Los Angeles Trade-Technical College and vice president of academic affairs at Grossmont College.
She has two degrees from Michigan State University in social work and psychology, while also holding a doctorate in educational leadership from Eastern Michigan University.
She resonated with values expressed by Mt. SAC's presidential search committee like, "innovation, family, caring, a place for excellence. … a real commitment to also looking at and facing the challenges when we have changing communities."
Emphasizing the need to meet community challenges like the cost of living, she said, "We have employees, we have students whose incomes do not necessarily increase at the level of inflation, so that's real for us, that's real as a community, it's real as a nation."
VanderWoude frequently used the word "partnership" in several contexts, whether in reference to the relationship between the school and high schools or Mt. SAC's various programs and community members.
"The driving force for me is always going to be 'What produces student success?'" she said on online instruction, also embracing a hybrid environment for employees in situations that allow them to work remotely.
Her philosophy on conflict resolution comprises finding common ground amongst the various groups and coming together for a shared goal, designating "convener" as her role in the process. She brought attention to her current position at the LA Community College District and how it involves coordinating with myriad entities.
"I'm excited because I believe that this is an excellent college, an outstanding community," VanderWoude said. "Have you had some challenges? … Absolutely. But I think you're ready to move forward, face them, continue looking at what you're doing, the work you're doing as the college of champions. And I'd love to be able to be with you on that journey."
Dr. Erika Endrijonas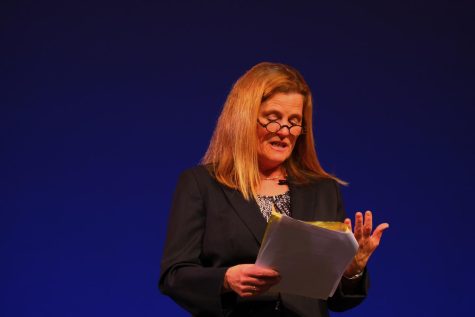 Dr. Erika Endrijonas is currently the president of Pasadena City College after being appointed to the position in August 2019.
She is additionally the chair of the California Community Colleges Athletic Association (CCCAA) board, the co-chair of the national LGBTQ Presidents in Higher Education board and the co-chair of the California Community College Women's Caucus.
Endrijonas' educational background includes a bachelor's degree in history from California State University, Northridge, as well as a master's degree and doctorate in history from the University of Southern California.
Among her first-year priorities are accreditation, enrollment retention and the promotion of equity. She added the possibility of hiring a chief diversity officer, which she had done at Pasadena City College.
Endrijonas placed importance on giving faculty the proper training to teach in an online environment, saying, "Online is here to stay. … It is the future."
The resolve to conflict, she described, is direct confrontation, something she practiced at previous institutions.
She emphasized the diversity of noncredit classes and why they're important for different members of the community to have access to them.
"There are so many jobs out there that folks need some skills, they don't need necessarily what a credit certificate or degree might have, but they need those entree level skills to get the job," Endrijonas said.
To ensure that students are aware of the school's resources, she said that she would be placing an effort in making information about said programs as easily accessible as possible.
"I am the right person at the right time for Mt. SAC because Mt. SAC's focus on DEISA (Diversity, Equity, Inclusion, Social Justice, and Anti-Racism for Professional Development) aligns with my values, it reflects my commitments and efforts at PCC to close 100% of equity achievement gaps and to meet the vision for access goals," she said. "Most importantly, because student success … is my North Star and it appears to be the case for Mt. SAC too, so we're a good match. And I promise to bring that focus and passion for students to Mt. SAC as your next superintendent president."
Dr. Nicole Esposito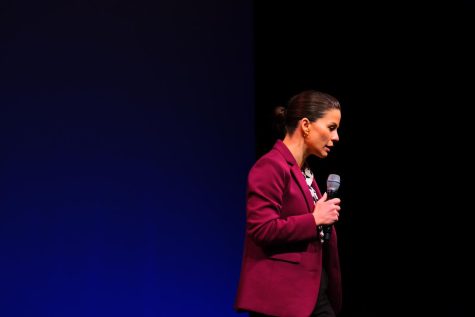 Dr. Nicole Esposito has worked in several different positions within academia, her first executive role being her current one as the CEO of Manchester Community College in Manchester, Connecticut.
Esposito has been awarded the American Association of Women in Community Colleges (AAWCC) Mildred Bulpitt National Woman of the Year for her courageous leadership and commitment to equity and a certificate of "Special Congressional Recognition" from Democratic Rep. John Larson among other honors.
She notably has experience as an elected official, serving on the Longmeadow Public School Council in Longmeadow, Massachusetts, from 2019 to 2022.
Esposito's educational credentials include a bachelor's degree in psychology and a minor in criminal justice from Springfield College, a master's degree in forensic psychology, a certificate of advanced graduate studies in adjustment counseling and a doctorate in educational psychology, Ed.D., from the American International College.
Esposito's first-year priorities include relationship-building, equity promotion and inquiring into the school's Guided Pathways to Success initiative.
"I find there's a lot of institutions across the country that talk about [equity] but few institutions are willing to dig in and do the work," she said. "And from what I understand about all of you, this is something you value, you appreciate and you're committed to."
Esposito said that communication between her and the rest of the school is important in conflict resolution, bringing attention to her experience at prior institutions where she would hold open forums to give students and faculty an opportunity to voice their opinions.
She endorsed strong shared governance in the school and keeping certain classes online.
"I do believe there is a place for remote work," she said. "This is a new world."
However, she also said that there is a difference between the online work forced by COVID-19 and "appropriate" online services that benefit from being done remotely and that the latter should be invested in.
She made a point of the importance of mental health services for staff and students, calling it a "high priority" to keep members of the community mentally well through wraparound benefits.
She also talked about fostering a relationship with local K-12 school administrators to create something of a priority system to increase enrollment at Mt. SAC.
"I do believe I am a bold and courageous leader," she said during closing remarks. "I like to be the voice of change. And it's not easy, always, but it's something I can bring to Mt. SAC. … I do believe this position, what I do and how I lead my current institution of remarkable people is a position of service. So I would love to serve your institution in that capacity as well."
Dr. Kimberlee Messina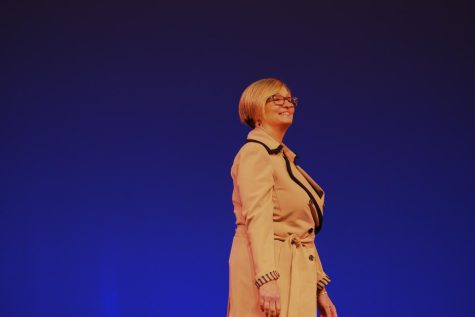 Dr. Kimberlee Messina is the president of Spokane Falls Community College in Spokane, Washington, since June 2019 and has 26 years of experience working in the California community college system.
As a part of the faculty at Santa Rosa Junior College in Santa Rosa, California, Messina spent 10 years working in positions such as president of the academic senate and the dean of science, technology, engineering and mathematics.
Messina's experience also included eight years at Foothill College in Los Altos Hills, California. At Foothill College, she started off as the vice president of instruction and institutional research and served in the role of interim president for the 2015-16 school year.
She has earned a bachelor's degree in sociology and a master's degree in Spanish from California State University, Sacramento, and a doctorate in educational leadership at the University of California, Davis.
Messina's first-year priorities include having a retreat with the Board of Trustees to align goals and focusing research toward enrollment, equity and accreditation.
She summarized conflict resolution as a "compromise, dialogue, communication" and keeping service to students in mind.
On the topic of online instruction, she said, "I think one thing is true, we will never go back exactly to the same in-person-online-hybrid ratio that we had before."
Messina talked about the decisions made at Spokane Falls Community College to take full advantage of the online class format and endorsed flexibility between in-person and online classes.
She also brought attention to noncredit classes' dropping enrollment rates and said that the programs' target audiences are the "most vulnerable students." She directed proposed efforts toward outreach and supporting these students.
On mental health, she said she wants to see a focus on creating grants and pushing legislation that is targeted at increasing students' access to mental health services.
"I am also really excited that no matter what happens, Mt. SAC will have its first woman president since 1972," Messina said. "I am attracted to Mt. SAC because what you have and what I bring I feel are a good match. I'm thrilled about the diversity of this campus. I'm excited about the opportunity to use my bilingual skills and my cultural competency to work with this community. I'm looking for my final home. … I'm not looking to go anywhere else."
The Board of Trustees will be interviewing the candidates in private starting from today to March 22, and will make their final decision at a date to be determined in April.
Leave a Comment
About the Contributors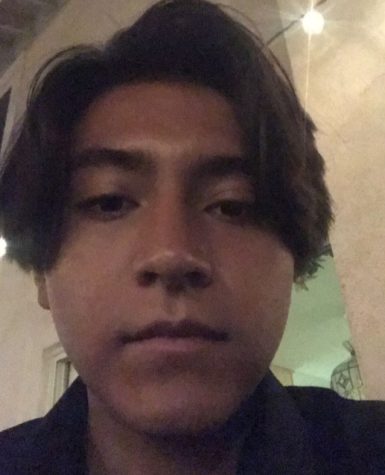 Ruben Montoya, Opinion Editor
Ruben Montoya is the Opinion Editor for SACMedia. As a journalist, he enjoys spicier, hot takes on the news. In his free time, he is a huge hyperpop and EDM listener, gamer and major fan of the Dodgers, Lakers and Arsenal FC.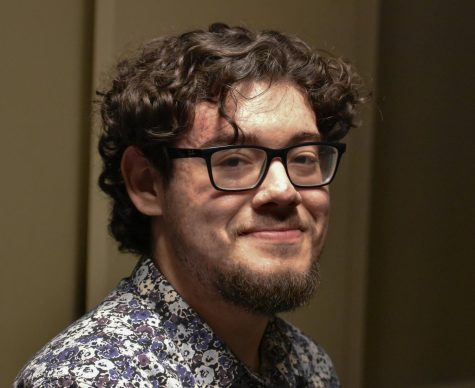 Bryan Jimenez, Editor in Chief
Bryan Jimenez is the Editor in Chief of SAC.Media. He can be reached at
[email protected]
.