Mt. SAC open forum introduces student services vice president candidates
Here's the candidates backgrounds and what they had to say
On March 15, the Sophia B. Clarke Theatre hosted Dr. Maryann Tolano-Leveque, Dr. Melba Castro and Dr. Juan Avalos who spoke on their experience and goals for the vice president position.
Each candidate had 45 minutes to introduce themselves, answer prepared questions and offer a closing statement.
During this event, the candidate spoke about their views on current issues and their goals for student services.
Dr. Maryann Tolano-Leveque
Tolano-Leveque is the current dean of counseling and services at Citrus College. She also served as dean of students for seven years. During her time at Citrus, Tolano-Leveque developed and launched programs such as Dream Resource Center, Pride Center and the GoPass program.
Before Citrus, she worked at Mt. SAC as the director of student life and the director of the Honors Program. Tolano-Leveque also created programs at Mt. SAC such as the Inspiring Women of Mt. SAC awards, Foothill Transit and Educator of Distinction.
Tolano-Leveque earned a bachelor's degree in communication and a master's degree in education from California Polytechnic University, Pomona. At the University of La Verne, she earned a master's degree in counseling and at the University of Southern California she earned a doctorate in educational psychology.
During the forum, Tolano-Leveque said that her priorities for her first year at Mt. SAC would be enrollment, retention and student success and learning. She believes in building a relationship with people in the program; to collaborate and build trust, to make sure the students are successful and feel that they belong here.
In an interview with SAC Media, Tolano-Leveque said, "I think it's great to brainstorm and try and figure out how we can do things better. I think we also have to ask students, right because we're doing everything for students if we don't have them at the table and we're kind of missing a pretty important piece."
Her leadership philosophy is to have integrity, be honest, be supportive and be kind. She tries to support everyone and every program she can.
Dr. Melba Castro
Castro has a bachelor's degree in political science from the University of California, Berkeley, a master's degree in education from Stanford University and a Doctorate of Philosophy in educational policy studies at the University of Illinois at Urbana-Champaign. She is the current vice president of student services at Santiago Canyon College.
She served as the dean of students at Rio Hondo College. Castro has over 20 years of experience working in all sectors of public higher education systems. She was previously the director of educational partnerships at California State University, Fullerton and the director of academic success initiatives at the University of California, Riverside.
Her priorities for her first year at Mt. SAC includes relationship-building with staff and students, learning about the history that Mt. SAC has to offer and continuing to support the innovative work that Mt. SAC is known for.
"So, Mt. SAC has a strong history of student engagement and also investment in many programs, services, clubs, organizations and co-curricular activities," Castro told SAC Media. "And, you know, my plan would be to support the good work that's going on here to go ahead and continue the innovation, but also really to be part of the campus community."
Castro's leadership philosophy is being a servant leader who focuses on how a decision will affect students, staff and the campus. She believes that it is important to be supportive of those she works with.
Dr. Juan Avalos
Avalos is the vice president for student services at Saddleback College. He has 29 years of cumulative experience in higher education including at four-year private, four-year public and two-year public institutions and 18 years in California community college districts.
Avalos has a bachelor's degree from the University of California, Davis and a master's degree and doctorate from the University of California, Los Angeles.
While at Saddleback College, he served 12 years as chief student services officer, four months as acting vice president for instruction and three years as accreditation liaison officer. He also taught at Pepperdine University as an adjunct faculty in the Graduate School of Education and Psychology.
Avalos' priorities for his first year at Mt. SAC includes listening, learning, supporting and getting immersed in the school.
In an interview with SAC Media, Avalos said that he thinks it is important for people to recognize and see that he understands the values of this college and respects them. He hopes to create where those who are not part of a formal leadership role can meet with him and share their ideas with him.
His leadership philosophy is "access without success is not a real opportunity." He also believes that when you remove a barrier for students and close equity gaps that is social justice in action.
For Avalos, being the vice president for student services is understanding and looking out for the best interest of the college and students.
The entire open forum can be watched on Mt. SAC's YouTube channel.
Leave a Comment
About the Contributor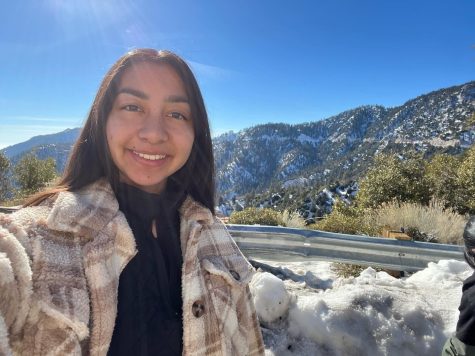 Emily Fernandez, News Editor
Emily Fernandez is SACMedia's News Editor.