Mt. SAC's beach volleyball team takes No. 1 ranking in South Coast Conference
Mounties coasts to wins against Long Beach City College and El Camino College
After a rain-filled week, the Mounties beach volleyball team had clear skies and a nice morning breeze to host the Long Beach City Vikings and the El Camino Warriors for a South Coast Conference double-header.
Their first opponent – the Long Beach Vikings.
The No. 1 pair of sophomore Riley DeGroot (20) and freshman Paige Gutowski (4) squared off against sophomore Lizbeth Lopez (2) and freshman Jeniffer Lias (5). After dropping the first set, the duo dug deep to win the next two sets, 23-21 and 16-14. Controversy ensued during the third set when the Vikings benefited from an out call made on the Mounties after a deep angle shot by DeGroot (20). Though the referee was present, he did not have a clear view on the play and by default, the Vikings were awarded the point since each side calls their own ins and outs. The Mounties made a quick side out to recapture the momentum and secure the victory.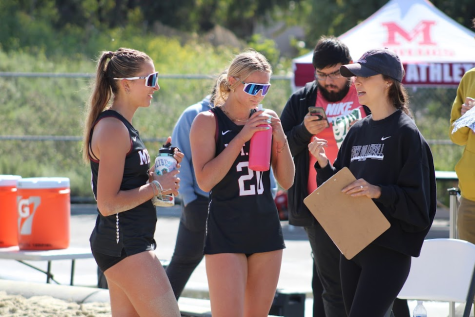 For the Mounties' No. 3 pair of sophomores Riannel Arevalo (1) and Angelina Burton (15), it came down to the wire going to three sets. After dropping the first set, 12-21, against the freshman duo of Caleyse Saunders (15) and Emma Pearson (12) and a broken courtline timeout, the Mounties regrouped and bounced back in the second set, 21-17, then closed out the match in third set winning 15-13.
The No. 2 of sophomores Allison Whiteman (23) and Bristol Christelman (3) and No. 5 pairs of freshmen Elizabeth "Liz" Ortiz (21) and Capri Salmon (22) each made quick work of their opponents, sweeping the sets in repeat score fashion, 21-16 and 21-14, respectively.
Although the Mounties No. 4 pair of sophomores Kylie Rhodes (5) and JJ Quarrels (11) ultimately lost in three set, it was a hard fought scrappy performance from their opponents, sophomore Celestial Ropati (25) and freshman Arianna Ortiz (23), that earned them the Vikings' only match win against Mt. SAC.
Mounties win, 4-1 overall.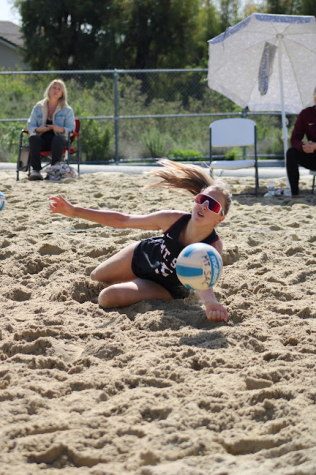 For the second matchup of the day, the Mounties played against another SCC rival, the El Camino Warrior. The five pairs were the same as the last match earlier, except for freshman pair Ortiz (21) and Salmon (22) swapping places with sophomore pair Rhodes (5) and Quarrels (11) from No. 4 pair to No. 5 pair, vise versa.
The No. 1 pair, freshman Gutowski (4) and sophomore DeGroot (20) dominated throughout the match and won 21-12 and 21-12 in consecutive sets. The No. 2 sophomore duo, Christelman (3) and Whiteman (23) also managed to sweep their opponents in straight sets 21-18 and 21-16, despite Christelman (32) being in discomfort before the match began.
The No. 4 freshman pair, Ortiz (21) and Salmon (22) also won convincingly by winning back-to-back sets, 21-15 and 21-14. Although the No. 5 sophomore duo, Rhode (5) and Quarrels (11) dropped the first set, 12-21, they showed resilience and bounced back to win the next two, 23-21 and 15-5.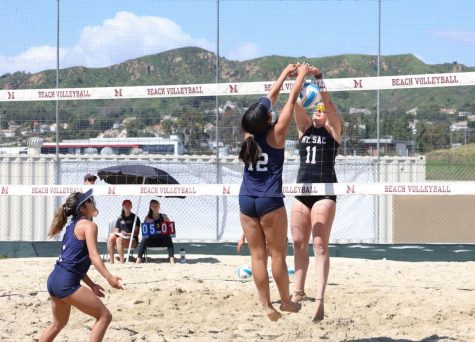 The last match left playing was the No. 3 sophomore pair, Arevalo (1) and Burton (15), who ended up losing in straight sets, 12-21 and 18-21. But it was not without drama. When the second set was at 18-20, in favor of the Warriors, the Mounties claimed there was a lift violation, but the claim was denied. Soon after, the set was lost along with the match.
Overall, it was a triumphant day for the Mounties, winning 4-1 against both the Long Beach City Vikings and El Camino Warriors. With both victories, the Mounties extended their winning streak to 12 games and claimed the No. 1 spot in SCC. They improved to 14-1 overall and 3-0 in the conference.
Assistant Coach Danielle Diaz shared this sentiment of dominance and constant drive for improvement.
"I am extremely proud of the team for getting these two big wins today, which has now pushed us into the No. 1 spot in the South Coast Conference," she said in an email. "We have done such a great job of remaining composed, confident, coachable, and adaptable with each team we have faced."
Diaz also highlighted a few Mounties who stood out, starting with the No. 1 pair, Gutowski (4) and DeGroot (20).
"[They] are now 15-0, only dropping two sets this whole season (one of them being today against Long Beach)," she stated.
Another player Diaz highlighted was Ortiz (21).
"[She] has been competing at our 4's and 5's pair and is also undefeated with a 15-0 record," Diaz said. "It's so exciting to see the team as a whole and individually compete at such a high level and be so successful."
"I am looking forward to the rest of the season and seeing how far we can continue to take this!" she added.
The Mounties will play at home on Friday, March 31, in a conference matchup against the Desert Roadrunners at 10 a.m. and a non-conference matchup against the Irvine Valley Lasers.
Leave a Comment
About the Contributors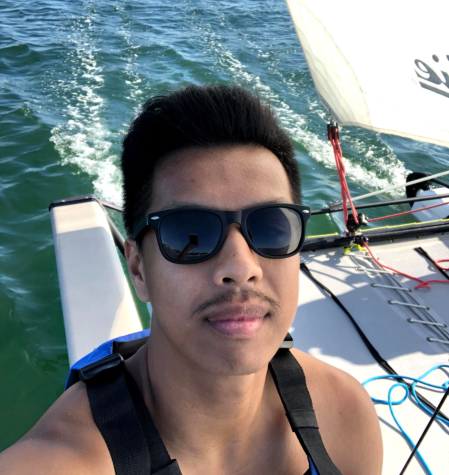 Robbie Doctor, Staff Reporter
Robbie Doctor is a staff reporter and writer for SAC.Media.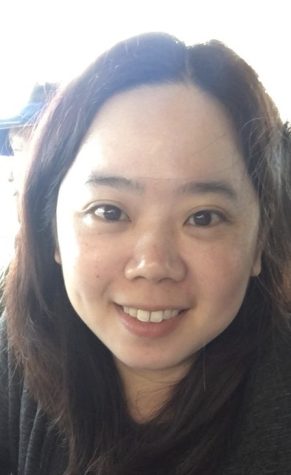 Christie Yeung, Managing Editor
Christie Yeung is Managing Editor and former features and gaming/tech editor of SAC.Media. She falls somewhere between a nerdie or a foodie, or is both. She likes to spend her spare time playing video games, listening to music, and watching funny videos on Youtube. She has a sweet tooth and has no immunity against anything with Nutella on or in it.