Lloyd Aquino and his passion for poetry
How a man found comfort in the form of flowing words
In Building 26A room 3891, English Professor Lloyd Aquino, 42, can be seen discussing the works of both classic and contemporary poets, ranging from the works of Emily Dickinson to Nate Marshall. At the start of his class, he would share a poem of the day but he would also open up the floor to any of his students to share poems of their own or poems that they love to contribute. He would walk over to students and ask them about how their poems are coming along and provide a surplus of feedback. Aquino goes to great lengths to teach students about great poets and assist them in their development as a writer, but what may not be commonly known is that he is a poet himself, a published one at that.
Born in Historic Filipinotown in Los Angeles, Aquino was born to two Filipino immigrants that met in the U.S. during their time at community college. Two and a half years later, he was given a little sister named Rachel, and before he was 5 years old, his family moved to Chino, California, as they wanted their children to attend the schools in the area.
He said his upbringing was normal despite there being times where he and his family could not live outside of the minimum standard of living. His parents rarely fought and were generally supportive of him and Rachel.
"They just left me and my sister to do what we pursue our interests, basically, and they supported us whenever they could," Aquino said. "They didn't really hound us about grades or anything like that, but when they could see we needed to be more challenged in our classes and stuff like that, they definitely took steps to make sure that we either moved up a level or whatever the case may be."
Although he had a normal upbringing, Aquino acknowledged that he had been through some hardships, primarily internal struggles.
"The major theme of my teenage years going into my early adulthood, even into my 30s, was I didn't realize I was suffering from depression," he said. "I had my first major depressive episode my senior year of college, it lasted almost two years."
While Aquino was aware of what depression was, he did not even fathom that what he was feeling was an indicator of depression and said that his family did not talk much about mental illness.
While he struggled with mental health, he excelled in school.
"One thing I was good at was school, so once I found my major, I was originally an architecture major because I didn't know what I wanted to do, but once I found English, I really got into that and just kind of became not obsessed, but really super focused on school and eventually became a teacher," he said. "But I wanted to write. I knew that much when I changed my major."
Originally, Aquino's focus was more on novels, but he soon shifted over to poetry as he believed they were easier to complete.
"What really got me sparked my interest with poetry was well, two things," Aquino said. "The spoken word aspect of it that I really embraced, even though I was really introverted and at the time was really shy. I don't know why. I just really liked it. I wasn't very good at it at first, but I knew that I liked it because I wanted to get better at it."
"And then it's the same thing with teaching," he continued. "I would say I wouldn't be a teacher without poetry because that's where I learned to learn public speaking. The other thing that I really love about poetry or through poetry was working on a literary magazine. We started a literary magazine at Cal Poly and it's still going."
Aquino looks back on such memories with fondness as he had really enjoyed the experience.
"I just loved working on a magazine," he said. "The whole magazine process, that's what I wanted to do. I wanted to work as an editor somewhere. That was my initial career path because I knew I was going to make a living writing."
As he was one of the first people to create California State Polytechnic University Pomona's literary magazine, Aquino also hopes that Mt. SAC will have a literary magazine of its own. He said that the goal is to have the magazine start this summer and pick up in development in the fall.
He claims that he was inspired to further his interest in poetry by his creative writing professor Faith Barrett at Cal Poly Pomona.
"Gosh, the person that really made me embrace being a poet was my creative writing professor Faith Barrett," Aquino said. "We didn't have much of a creative writing program at Cal Poly, except for the two or three years that she ran it. She ran it for about two or three years, and then she got a better job, a more appropriate job for her in Wisconsin. So she left, unfortunately, but I was glad to have those two or three years with her."
"She was the first person that was like, 'you should try to get published,' and at the time I was taking her classes, she's just like, 'next semester I'm going to start a magazine. There's going to be a class about it. So you should sign up for that class and everything,'" he continued. "I was like, 'oh, OK.' A bunch of us in that class signed up for it because we've bonded and everything. She was a professor there that really impacted me. She just kind of gave me the opportunity to try things and was very encouraging about it as well, and took me very seriously in a way that I wasn't used to."
In addition to Barrett's inspiration, others who have influenced him include poets like Edgar Allen Poe, William Blake, John Ashbery, Allen Ginsburg and a variety of beat poets.
As a serious creative writer for 22 years, he has written three different poetry books: "Madeline After the Fall," "Concrete's Song" and "Once It's
Over."
"Madeline After the Fall" was his first chapbook and is one section of his full-length collection "Once It's Over." It is in "Madeline After the Fall" that Aquino had written personal poems about this fictional character named Madeline who is going through the process of healing from some trauma that she's experienced from a relationship that ended.
"A lot of those poems are poems that I wrote in my 20s before I realized that I was depressed and dealing with trauma and all of that stuff," he said. "So unknowingly, I created this fictional character that was dealing with the same things that I was dealing with, essentially, but without fully realizing it until much later in my 30s. Like, 'oh, no, I'm writing about myself,' but really, I'm writing about this character, but really, I'm writing about myself."
His second chapbook was "Concrete's Song," which is a collection of sonnets. The opening of the book reads, "For all those who ought to have poetry written about them," and each sonnet is dedicated to a person Aquino had met or known.
"I guess the way I've put it before is there are people that I, even if it was just for a little brief moment, I kind of fell in love with them and wanted to write a poem about them," he said. "So there's a poem about my old barber who's now retired, but he cut my hair since I was a little kid. There's a poem about a woman I met at a musical. …. There's a poem about a guitar player that I saw at an open mic."
Actually, just like I said, kind of random people that I just encountered about one time, for that little brief moment of time, it was enough to inspire a whole poem about them," he continued. "And in the big scheme of things, 'Concrete's Song' is very much a direct response to the previous 10 to 15 years of poetry that I wrote up to that point."
What makes "Concrete's Song" different from his other works is that the poems have more of a positive theme, something Aquino has said he does not often write about.
"I've written so much about depression, anxiety, and trauma and all that," he said. "I wanted to write something very different. I wanted to write poems that made me feel good, poems about people that I love and poems about things that make me happy. I think writing wise, mental health wise, I really needed that. I really needed that project."
Finally, his book "Once It's Over" is a full collection of poems that was published in 2021. Going back to the persona of Madeline, the poems detail the story of Madeline and the man she was in love with, Adam.
"From the beginning of the relationship, when they very first meet to the end of their relationship, as they're both dealing with the trauma of what was really a toxic relationship, it turns out it kind of wraps up at the very end with them seeing each other once again long after the vicious has ended long after they've dealt with their trauma and just kind of taking stock of how much they've changed since they first met each other," he said.
His experience in the poetry world has made him suitable to teach poetry here at Mt. SAC and while he enjoys it, he found it unfortunate that he can only teach a poetry class once a year.
"I wish I could teach it more, but we have the enrollment issue," he said. "The class was never filled completely in the time that I taught it, and it wasn't filling before I taught it either. So in a sense, we're lucky that the class still exists because it's never met the maximum enrollment."
Despite the enrollment issue, Aquino said he still finds it rewarding to help students find their voice in creative writing as well as their confidence and passion for the art.
He believed that rather than poetry experiencing a death of sorts, it is actually thriving and evolving over time, however, he wants educators to welcome students to the world of poetry and have students be exposed to poetry in earlier years.
He also believed that poetry is impactful.
"So many great poets have played a role in major social change, cultural change," Aquino said. "They've been part of all these amazing movements toward making the world a better place very quickly. Poets have participated in these big social movements, civil rights and all of that. I think just on a much smaller, more personal level, I've seen so many I myself have experienced this too, so many poets where poetry helped them get through some really tough, painful times and help them survive and thrive in the wake of all that. Absolutely. I believe poetry is extremely impactful."
Aquino said that anyone has the ability to be a poet and that in turn, anything can be poetry. He found that being a part of the poetry community is something that can be incredibly rewarding.
The poetry class at Mt. SAC, English 8B, is scheduled for fall 2023. Those interested in reading Aquino's works can find them on Amazon.
Leave a Comment
About the Contributor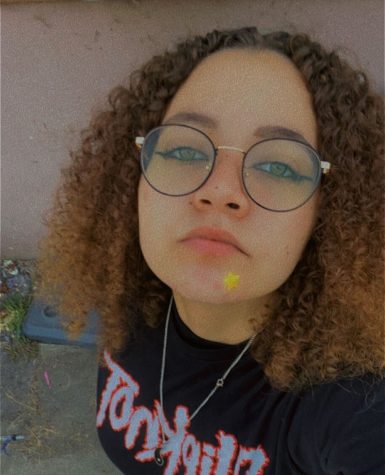 Delila Grubaugh, Features Editor
Delila Grubaugh is SACMedia's Features Editor. She is a first generation college student majoring in journalism and social justice. She dreams of being able to write a book one day and successfully make at least one short film in her lifetime. As a current peer navigator for the EOPS/CARE program she finds it to be incredibly important to work to help others, and she loves journalism as it can at times be democracy and social justice at its finest. She believes that if we are granted the right to freedom of press and freedom of speech we should be able to utilize it to benefit the people. She loves tea, Halloween, sunflowers, rock music and poetry. She is a California girl at heart and supports almost any Los Angeles team there is. A lover of journalism and advocacy, naturally someone she looks up to is Kara Danvers-aka Supergirl. She hopes to be as strong as her one day.