Women's beach volleyball: Roadrunners and Lasers succumb to Mountie onslaught
Mounties extend their winning streak to 14 and maintain their No. 1 Ranking
Looking to keep their momentum and win streak alive, the Mounties played host to a doubleheader before hitting the road.
First up – the Desert Roadrunners.
The Mounties made quick work of the Roadrunners. The 1's pair of sophomore Riley DeGroot (20) and freshman Paige Gutowski (4) squared off against Roadrunners' sophomore Katie Alexander (22) and freshman Grace Abrams (21) and defeated them in two sets, 21-10 and 21-12.
The 2's pair of sophomores Allison Whiteman (23) and Bristol Christelman (3), 3's pair of sophomores Riannel Arevalo (1) and Angelina Burton (15) and 5's pairs of sophomores Kylie Rhodes (5) and JJ Quarrels (11) each defeated their opponents as none of them dropped a set.
Head coach Danielle Diaz noted one Mountie in particular, freshman Elizabeth "Liz" Ortiz (21), at the 4's pair who continues to keep up her winning streak to 17-0. Ortiz and her freshman partner Capri Salmon (22) scrapped their way to a 2-1 victory over Roadrunners' freshmen pair of Liana Whitley (3) and Kiersten Sinzun-Young (13), taking the first set, 21-10, losing a nail-biting second set, 19-21, and capturing the third and final set, 15-7.
Mounties swept the sets for the overall victory, 5-0.
Their next opponent – the Irvine Valley Lasers for a non-conference matchup.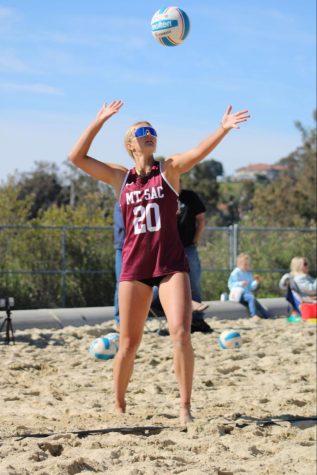 De Groot (20) and Gutowski (4) took their first loss of the season against the Lasers' 1's pair of sophomores Barret Nolan (12) and Chloe Swanson (23) in 3 sets, 17-21, 21-13 and 10-15 respectively.
Diaz was adamant to defend her 1's and restore faith in them despite their first loss on the season and said, "They battled and unfortunately didn't come out with a win, but I know the two of them will move forward and grow from this loss."
This would be the only lost match for the Mounties on the day.
Ortiz (21) and Salmon (22) put up the largest set margin of victory on the day against the Lasers in their first set against the Lasers' freshmen duo of Emily Hon (35) and Mia Bertelone (32), 21-6, and eventually won the match in two sets.
Arevalo (1) and Burton (15) competed in a hard-fought three-set victory over Lasers' freshmen Angie Griego (22) and Tessa Marocco (4). They dropped the first set, 18-21, and captured the last two sets, 21-17 and 17-15, to secure the match victory.
Rhodes (5) had a new partner for her matchup with the Lasers, freshman Zyra Green (10). The 5's found themselves in a to-the-death three-set match victory over the Lasers' sophomore Kendall Fraser (42) and freshman Alessandra Nitogilia (5), as they split the first two sets, 21-18 and 19-21 respectively, and eventually winning the match in an intense third and final set, 24-22.
Whiteman (23) and Christelman (3) swept their opponents, Lasers' sophomore Gabi Brown (2) and freshman Sydney Dews (34), 21-16 and 21-15.
The Mounties won 4-1 overall.
Diaz shared her thoughts on her team's momentum heading into the final stretch of the Mountie's schedule.
"[It was] another two great wins this week," she said. "We still have some tough conference matches coming up in the next few weeks, but it's a great feeling to be 4-0 in the SCC as of right now. I'm incredibly proud of the team for getting the huge win against IVC who are the former CCCAA beach volleyball state champs."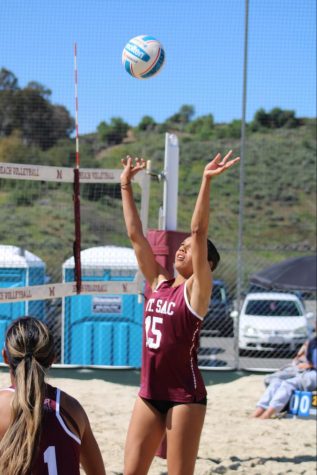 Diaz also noted this performance from the Friday matches.
"Huge shoutout to Kylie Rhodes and Zyra Green, our 5's pair who fought in a long and tight three-set match against IVC," Diaz said. "They played with so much passion and grit, and were able to solidify that overall win as a school and take that stress and pressure off the last pair that still needed to compete."
The Mounties will rack up traveling mileage as they hit the road for back-to-back weeks starting on Friday, April 7, at 10 a.m., for a doubleheader against the El Camino Warriors and the Cerritos Falcons hosted by the Warriors.
View Comments (2)
About the Contributor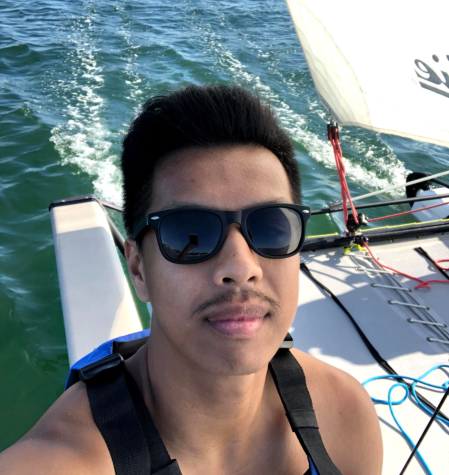 Robbie Doctor, Staff Reporter
Robbie Doctor is a staff reporter and writer for SAC.Media.