'Land of Milk and Honey' brings a deeper perspective to the relation of culture and cuisine
The Cheech hosts an eye-catching collection for a limited time
"Land of Milk and Honey" is a traveling exhibit currently at the Cheech Marin Center for Chicano Art, Culture & Industry of the Riverside Art Museum that serves food for thought by relating Chicano art and cuisine to its roots through a multidisciplinary arts and culture program that highlights the agriculture of Mexico and California
The exhibit is presented at the museum until May 28 thanks to a collaboration with MexiCali Biennial, a non-profit contemporary visual arts organization that focuses on showcasing the interpretation of these aesthetic productions in California and Mexico.
The traveling exhibit's name is derived from the biblical reference to the "land of milk and honey" in association with California and John Steinbeck's portrayal of the state as a corrupted Eden in his book "East of Eden."
The organization emphasizes the debunking of California as a great land of opportunity and adventure through the fictional character Queen Calafia. Created by the Spanish writer Garci Rodriguez de Montalvo, "the story and character of Calafia can be a point of critical interrogation used to explore and critique California's stories, contradictions and identities," according to MexiCali Biennial's website.
Calafia was characterized as a powerful Black warrior ruling over the fictional island of California, which was depicted much like the Garden of Eden. The story uses imagery to draw attention to the beauty of the resources within California but also to the native people who inhabited the land before it was colonized.
The artwork displayed in this exhibit speaks volumes about land grabs and ecological destruction. The exhibit also "questions ethical, cultural, and regional practices related to foodways."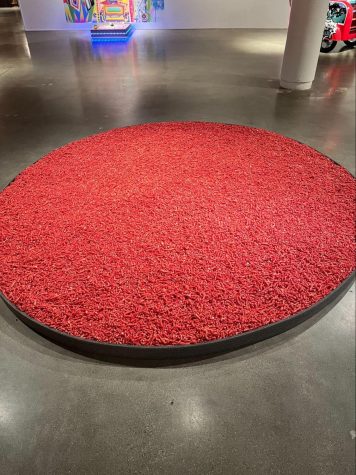 For example, "Pasarela de Chucherias" by Jazmin Urrea displays a red circle of Flamin' Hot Cheetos on the floor, like a bowl of chips. Urrea sheds light on the snowballing of highly-processed foods in low-income communities through her artwork. The description reads "Red 40 Lake, Yellow Six Lake … synthetic dyes have been linked to cancer as well as hyperactivity in children."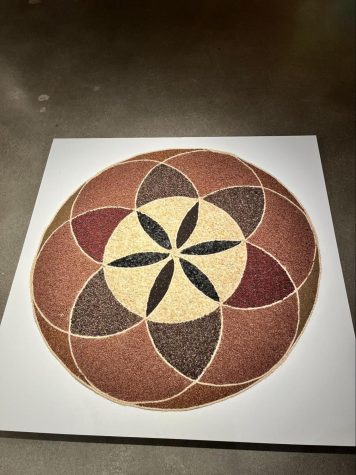 In contrast, "Sevilla's Para Todxs: Seeds for Everyone" by Emily C-D illuminates the diversity of seed varieties within California. The artist collaborated with both Riverside and San Bernardino chapters of the California Native Plant Society and Riverside-Corona Resource Conservation District to source seeds for the mandala exhibit of California native flora. This specific project ties the cultivation back to a diet of harvesting crops as a community.
Many complicated subjects are tackled in this limited exhibit including migrants and women in domestic labor and food preparation and the segregation of access to healthy food based on social, racial and economic status – food apartheid.
Ironically, food injustices like obesity and lack of access to nutritious foods are a large concern in a region producing one-third of the food that is cultivated in the United States.
"Farmworkers in America also face low wages and unsafe working conditions, even before the COVID-19 pandemic, including exposure to dangerous pesticides, deadly temperatures, and wildfire smoke," according to Foreign Policy.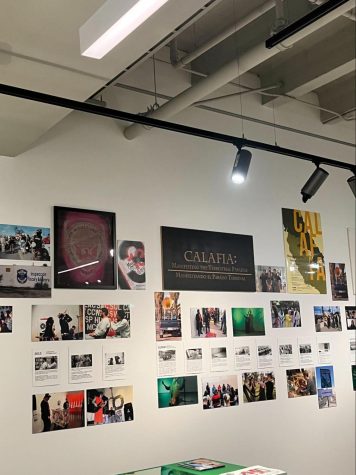 The exhibition connects people to the experience of true indigenous American cultures. Many pieces used actual foods of traditional Mexican culture like Maseca, a masa, beans and chia seeds.
With "Land of Milk and Honey," MexiCali Biennial travels to spread awareness of the widening gap between people and their culture's cuisine.
About 8 in 10 Hispanics are overweight or obese and it is the top cause of illness and death alongside heart disease and stroke, which are both attributed to obesity. The exhibit encourages viewers to return back to embracing the traditional diet to bring healthy longevity to the lives of Mexican Americans for future generations.
The group exhibition was organized by Ed Gomez, Luis G. Hernandez, Rosalía Romero and April Lillard-Gomez. After May 28, "Land Of Milk and Honey" will travel to the border cities of Calexico, California, to the Steppling Art Gallery at the San Diego State University's Imperial Valley campus and Mexicali at Planta Libre Espacio Experimental. From March 11 to April 15, founders Hernandez and Gomez will hold a special exhibition called "UN/belonging in the Land of Milk and Honey" at Best Practice Gallery in San Diego, California.
Leave a Comment