Chino Valley school board supports now-halted bill targeting transgender students
The small school board chambers were packed full with protestors stood outside
On Thursday, April 7, the Chino Valley Unified School District Board of Education voted 4-1 in favor of passing an ordinance supporting state Assembly Bill 1314, which would require schools to out transgender youth to their parents. On Monday, the bill was denied a hearing by the state's Assembly Education Committee, effectively leaving the bill dead in the water.
As the ordinance was only presented as a consideration in support of AB 1314, it will have no policy implications within the school district and is largely a symbolic display of support for the legislation.
The board's support of the bill comes at a time when 452 anti-LGBTQ bills currently sit in state legislatures across the country, according to the American Civil Liberties Union.
Additionally, while no statistics are available indicating how many transgender students are enrolled in CVUSD schools, a June 2022 report from UCLA Law's The Williams Institute indicates that only 1.23% of children between the age of 13-17 in the United States identify as transgender.
Still, the meeting garnered a notable amount of attention as hundreds unable to enter the full-capacity chambers stood outside of the building.
After almost two hours of public comments, the CVUSD school board voted 4-1 to discontinue public comments due to time constraints and quickly motioned to move forward on voting for the consideration.
The consideration in support of AB 1314 passed by a 4-1 vote, with President Sonja Shaw, Vice President Jonathan Monroe, clerk Andrew Cruz and board member James Na voting yes, while board member Donald L. Bridge was the lone no vote.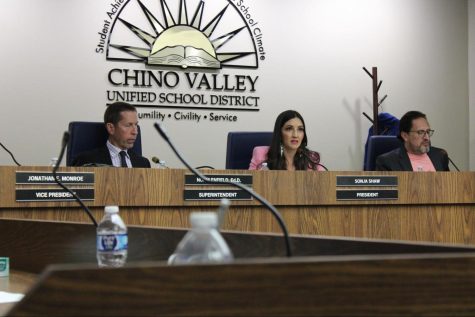 Shaw, as president of the CVUSD Board of Education, conducted the meeting and delivered a strongly-toned response to those protesting the board.
"I have never hated nor stated that I hate anybody including anybody in the [LGBTQ] community and those lies need to stop here, I have family members that identify being in that community, you think that I hate them? Do they think that I hate them? Absolutely not," Shaw said.
"That's horrible and disgusting that you're going around telling them that 'I hate them,' these are children, so who's really hurting the children if you're going around telling them that adults are hating them? I don't want any child out of our schools, I want all kids to have a fair and equal education," she said.
"I got elected 'cause I was the parents' voice and I continue to be the parents' voice, we need to be pro-parent," Shaw continued.
AB 1314 was introduced at the California State Capitol on Feb. 16 by Republican Assemblymember Bill Essayli, whose district includes parts of Riverside County, as well as a portion of nearby Eastvale, California.
Essayli made an appearance at the meeting on Thursday, April 7, as he pushed for his bill to gain momentum at the state capitol and delivered remarks during public comment.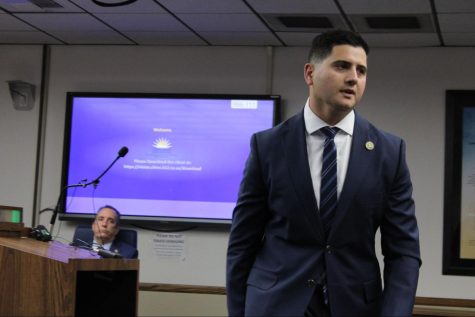 Essayli used part of his time speaking to explain his decision to introduce the bill.
"I saw a trend up and down the state of California in which schools were implementing policies that excluded parents in the affairs of their kids," Essayli said.
"Specifically, schools implemented policies saying that children had a right to privacy from their own parents, this is nonsense, there is no such legal doctrine, kids do not have privacy from parents, kids don't have capacity to make decisions as minors and their parents are critical components to their best interests," he continued.
Local students, activists and LGBTQ people spoke during public comments to oppose the ordinance, some holding signs reading "Recall Shaw" and "Stop the Hate'' as well as various LGBTQ symbols.
"This resolution is absolutely unnecessary," said Chino High School valedictorian Daniel Moore. "None of you, the school board, have transgender children and neither do most parents supporting this resolution,"
"Why do the lives of transgender children bother you so much?" Moore continued. "Your gross obsession for LGBTQ youth is clear and it is disgusting, we should be focusing on bigger and more relevant issues that affect all students, the lives of transgender children do not impact anyone else's life."
Prior to the meeting, non-profit groups such as Our Schools Inland Valley USA and LGBTQ advocacy organization, Pomona Pride Center, posted calls to action on social media to attend the meeting and oppose the bill supporting AB 1314.
Frank Guzman, president and executive director of the Pomona Pride Center, attended the meeting in protest and said that he was not allowed to express his right to speak and will be exploring legal options against the school board.
"Over 24 people spoke, I was number 14 but I was not provided with the opportunity to speak," said Guzman.
"Additionally, [the board] talked over and over about one speaker card per person, four people spoke twice, four people spoke twice today, yet I was not able to speak," he added.
There were also attendees in support of the ordinance.
Pastor Jack Hibbs of Calvary Chapel Chino Hills spoke at a Palm Sunday service on April 2 and told his congregation to show up to the CVUSD meeting in support of the board.
During the sermon, titled "Out of the Darkness," Hibbs played clips of the FOX News show "Tucker Carlson Tonight," cited numerous other right-wing media articles and brought up his endorsement of board members Shaw and Monroe, who are both congregants of the chapel, in the 2022 election.
Hibbs affirmed that this "pro-parental rights coalition will offer alternatives" in a Facebook post hours after the bill was denied a hearing.
Our Schools USA Inland Valley has continued updating their followers on social media about their concerns with the passing of the consideration to support AB 1314 by the CVUSD school board. Among them, on Sunday, April 9, an Instagram post pointed out how executive director of "Gays Against Groomers" and anti-trans activist Frank Rodriguez had thanked Sonja Shaw for inviting him to the meeting via Twitter.
Additionally, calls to recall Shaw have picked up steam as protestors in attendance chanted "Recall Shaw" in the closing moments of the meeting. Still, it remains to be seen if the protestors' demands will materialize into a recall election.
The next CVUSD Board of Education meeting is scheduled on Thursday, April 20, at 6 p.m. at the CVUSD District Service Center in Chino, California.
View Comments (2)
About the Contributor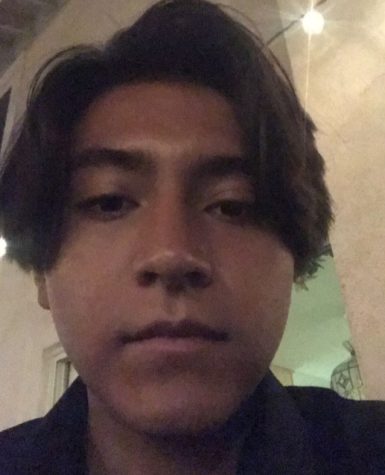 Ruben Montoya, Opinion Editor
Ruben Montoya is the Opinion Editor for SACMedia. As a journalist, he enjoys spicier, hot takes on the news. In his free time, he is a huge hyperpop and EDM listener, gamer and major fan of the Dodgers, Lakers and Arsenal FC.