Track and field: 63rd Annual Mt. SAC relays
Mounties run away with victory by wide margin
One of the few times this track season the weather provided ideal conditions, the Mounties absolutely dusted the competition hosting the 63rd Annual Mt. SAC Relays for community colleges in their leadup meet before the open invitationals which begin today and end on Saturday, April 15.
Assistant Coach John "JB" Bolton was especially satisfied with the ideal weather conditions.
"We finally got some good weather and we loved it!" he said.
At one point during the relays, both the men's and women's teams held a 130-point lead for first place with the second place teams not even registering triple digits until later in the meets.
Heading into the meet, sophomore Amari Weatherford held the No. 1 ranking in both the 100-meter and 200-meter dash events. Weatherford finished first in both events and set a new personal and state best in the 100-meter with a time of 11.58 seconds and maintained her No. 1 ranking in the state as the best 100-meter and 200-meter women's sprinter in California.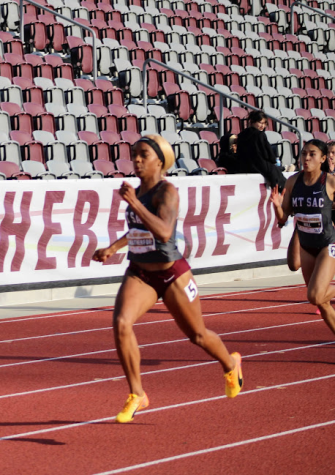 Her teammate, freshman Jaiden Hill, finished first in the 400-meter dash event with a time of 55.88 seconds for the new state lead and second to Weatherford in the 200-meter dash with a time of 24.36 seconds.
After the race, Hill and Weatherford shared a moment as they embraced and Hill said to her, "Every time I'm out here, you're setting personal records and I'm chasing you! I love it."
Mt. SAC also finished first in the 4×100-meter relays with a combined time of 46.53 seconds, finishing over two-seconds ahead of the second place Riverside Tigers.
Sophomore Hannah Brown received a State A standard for running under 4:55.00 with a time of 4:50.05 in the women's 1500-meter run. Though she started the race in the middle of the pack, Brown used her cross country background to close the distance and take the lead with teammates freshman Natalyn Membrano and sophomore Claudia Vera who finished second and third respectively.
In her first races back, sophomore Delaysia Allen finished first in the women's 110 hurdles with a time of 14.40 and finished in the top 10 in the 100-meter dash posting a time of 12.52 seconds.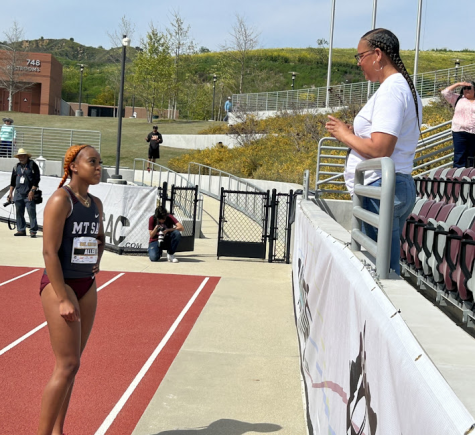 Last but definitely not least, sophomore Karla Galvan ran the only under-20-minute time in the 5000 meter run as she finished first by a wide margin with a time of 19:19.29 with second place coming in at 20:36.76. She was over one minute ahead of freshman Dakota Zamarripa of the Riverside Tigers.
Now, some of the outstanding performances on the men's team.
Three Mounties finished first, second and third in the 100-meter dash event: freshman Jacob Williams finished first with a time of 10.43 seconds, in second place was freshman Jake Jensen who posted a 10.5 flat and rounding out the top three was sophomore Namir Hemphil with a 10.56 timed finish.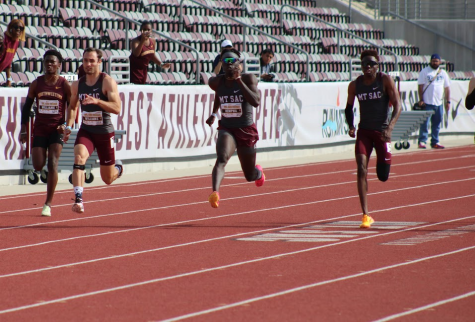 In the 400-meter dash, freshmen Kerry Smith and Thomas Scofano captured first and second place finishes posting times of 48.15 and 48.4 flat respectively. Freshman Nicholas Vargas also finished in the top five with a time of 48.93 seconds.
Smith and Namir finished first and third in the 200-meter dash with a timed finish at 21.17 and 21.58 respectively. Namir placed third, a mere 0.03 seconds behind College of Sequoias' Derrick Jones who ran 10.55.
Freshman Jesus "Jessie" Alvarado finished second in the men's 1500-meter with a 4:00.01 time and received a State A standard. Alvarado held a sizable lead through the first 1200 meters and was caught by the eventual winner, the Riverside Tigers' sophomore Kyle Reden, whose long strides allowed him to overtake Alvarado in the final 250 meters of the event.
During the javelin throw event, sophomores Matthew Mannino and Michael Stine III finished first and second with combined scores of 55.25 meters and 52.95 meters respectively.
Freshman Tylor Connelly finished second in the hammer throw event with a combined score of 49.78 meters. He also finished sixth in shot put with a cumulative score of 14.15 meters, one of his better outings this season.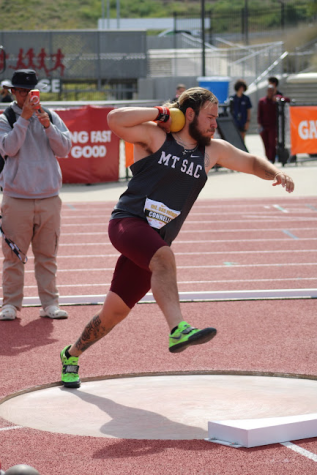 Bolton shared his thoughts on both teams' stellar performances, saying, "Yesterday was a great showing against some of the state's best competition. We haven't had the chance to face this type of competition all season."
As coaches are one to do, their attention now shifts to their upcoming Mt. SAC Open Invitational and reiterated the importance of rest and carrying their momentum from Saturday's meet.
"[This meet] got us ready for next week in a big way," Bolton said. "I'm starting to ease up on the workload so our group will be fresher for the big Mt. SAC relays and our races post [April 15]."
The Mt. SAC Open Invitational, beginning today and concluding on Saturday, April 15, will include high schools, universities and community colleges from across the country competing for potential Olympic roster spots and qualifiers for later meets in the summer.
The official times and results of Saturday's meet are here.
Leave a Comment
About the Contributor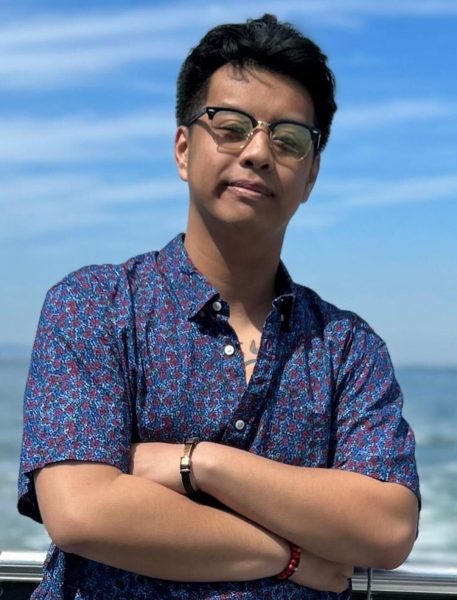 Robbie Doctor, Managing Editor
Robbie Doctor is the Managing Editor.