Paige Gutowski: Nothing but beachy vibes
Meet the women's volleyball player who dominates indoors and on the beach with a smile on her face
"It takes no more time to see the good side of life than the bad." – Jimmy Buffet
On game day, she made sure to have a breakfast, like every morning, Birkenstocks on her feet before pulling up to the sand courts an hour before the first match of the day, bumping "Cheeseburger in Paradise" by Jimmy Buffet to get the mood right for another fantastic day of playing beach volleyball.
This is Paige Gutowski.
Born and raised in Chino, California, Gutowski is an 18-year old freshman student athlete majoring in kinesiology at Mt. SAC. She is the youngest of two siblings to her parents, Kristie and Quinn. Her older brother Mason, 21, is also studying at Mt. SAC in fire technology. She also has a chihuahua named Sneakers.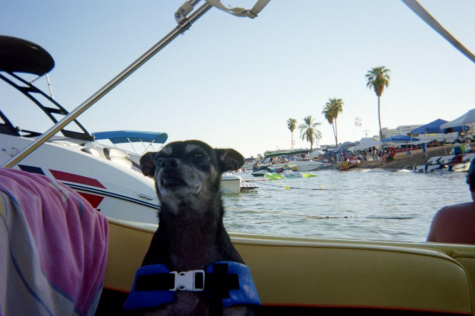 From a young age, Gutowski has always been infatuated with sports. But volleyball was not the first sport she played.
"When I first started playing sports, I played soccer," Gutowski said. "I played for about three years and I hated every second of it. Soccer was just not for me. I started volleyball when I was about eight and I instantly fell in love with the sport. So volleyball wasn't my first sport but it was my first love as a sport."
But sports wasn't just a hobby or something to do as a kid, it innately gave her purpose and direction.
"When I was growing up, I knew I wanted to do something with sports," she said "My favorite class was always physical education, so I knew majoring in kinesiology was the way to go for me."
Her earliest memories of playing volleyball was when she was 9.
"I was playing for the 12s team for Mavericks and I remember we all as a team got these neon green knee-high socks and we all wore and loved them for some reason," she said.
Always have to rep the new team gear proudly.
The green socks would foreshadow the colors making a comeback into her life, as she played libero for the Chino Hills Huskies all four years on varsity. During her high school career, she played in different clubs: Forza1 North in all four years, a year in A4 Volley and a year for Tstreet. She also captured a Division III State Championship in her final year as a Husky.
Coming to Mt. SAC, in her mind, was an easy economical decision.
"I liked how close it is because I live in Chino Hills, so it's not very far," Gutowski said. "I could commute. It's not super pricey and I could get my GEDs done for a good price and then transfer."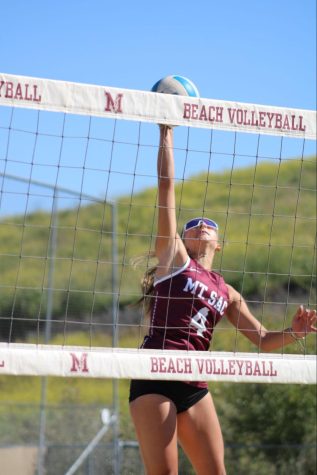 However, adjusting from high school to college is never easy.
For some, the transition may not be as drastic. For Gutowski, the adjustment, as she put it, came from "having my first class at 9:45. In high school, classes started at 7:30 a.m. and I could never imagine going to school five days a week at that [late of a] time," she said. Gutowski also added "picking my own schedule and having a couple classes throughout the week" was different for her.
On the court, every athlete goes through an adjustment period. As she puts it, "I don't work and I have only practice and school to worry about but for me the conditioning I would say is my biggest adjustment I've made."
There is a noticeable gap in conditioning and commitment from high school to college sports. Most athletes make the seamless transition rather easily.
Gutowski not only is a standout indoor volleyball player, but excels at beach volleyball. She does have a preference between the two.
"I played indoor for a while, but I prefer [playing] beach because it's more independent, chill and relaxed. That's why I like it better," she said.
To most non-volleyball players, if you played indoor you should be able to play beach. False.
"It's definitely a faster tempo and you have to communicate more," Gutowski said. "There's six players on the court for indoor [volleyball] and there's only you and your partner on the court for beach [volleyball]. You kind of have to do everything and you lean on your partner as opposed to having a lot more people on the court."
When you're outside and on the beach, it's hard to not be in a good mood and make memories. One of her fondest memories includes gloomy weather.
"Playing against San Diego Mesa College this year, it was in the rain and that's probably why [the experience] sticks out to me because I never get to play in the rain. It was so fun," she said.
Do not mistake her chill and laid-back persona for not being a killer on the court. She and her beach partner, Riley De Groot, 19, rattled off a 16-straight win streak earlier this season. The burden of staying undefeated did not faze her at all.
"I'm super competitive and I want to win," she emphasized.
Winning is the utmost priority for the beach volleyball program. It can even be felt throughout the coaching staff. When asked who has helped her progress the most in her beach volleyball career, she immediately gave two names.
"I would have to say Harrison [Smith]," she said. "He's a really great coach. And I would say Danielle [Diaz] too, because she is usually the one coaching us in our games. She really pushes us and keeps us going."
Even her personal saying and mantra implies her competitive nature and go-getter mentality.
"'Trying isn't doing,'" she said is a phrase she lives by. "And I know people can take that negatively. People are always like, 'oh I'm trying,' or 'I'm trying to do something' but you're not actually doing anything so you need to keep working at it and do what you're supposed to do."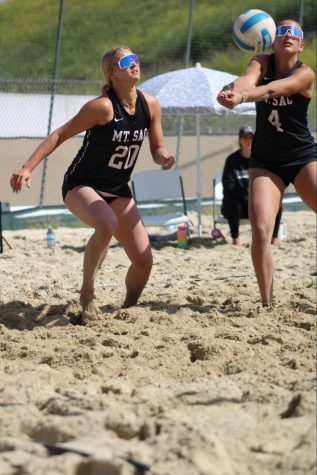 Winning and adding to a lineage of tradition at Mt. SAC is important to all athletes here, but especially for Gutowski who has won at all levels.
"I really want to win our conference and make it far in state [playoffs] if not win it all," she said. "Hopefully, we win but that's the goal and what I want my legacy to be."
Leave a Comment
About the Contributor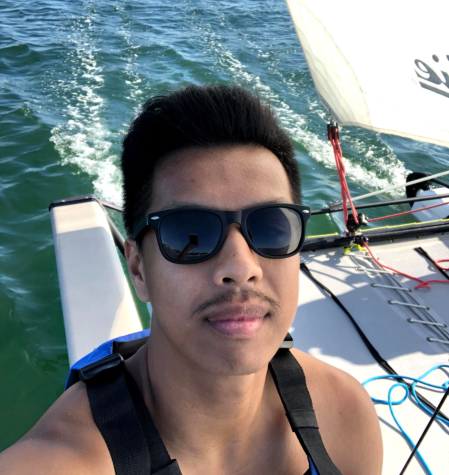 Robbie Doctor, Staff Reporter
Robbie Doctor is a staff reporter and writer for SAC.Media.