West Covina to move forward on requiring permits for street parking
The council considers changing the city's street parking rules similar to the city of Walnut
On Tuesday, April 18, the West Covina City Council voted to move forward on changes to rules regarding street parking and paving while a last-minute discussion regarding homeless issues sparked debate.
Agenda item No. 3 was intended for the council to receive and file a report to implement a new weekly street sweeping program that would significantly change the rules surrounding street parking in the city. The proposed changes would also require the city to install "no parking, street sweeping" signs throughout the city.
According to the meeting agenda posted on the city of West Covina's website, the estimated first-year fiscal impact of these new changes would be $2,084,472.
During public comments, residents voiced their concerns regarding the agenda item. Among these concerns are issues with how these new rules will take effect, how they will be enforced and their impact on certain residents of the city over others.
.@SAConScene West Covina resident Jerri Potras speaks during public comments. Potras also used her time to speak out against the council's proposal to amend the city's street parking policies.#LocalNews #SGV #WestCovina pic.twitter.com/0Bjc38N2wm

— Rubén Montoya (@Rmontoya47) April 19, 2023
"This is a very opaque rollout of a very major change to the residents and that is a concern to me," said West Covina resident Jerri Potras.
.@SAConScene West Covina resident Steve Bennett addresses the council regarding his concern's with the city's proposed changes to street parking policies.#WestCovina #LocalNews #SGV pic.twitter.com/aobQmRpMJc

— Rubén Montoya (@Rmontoya47) April 19, 2023
"You have cars that are left out there and they are going to be penalized for being out there, that is a tax in a roundabout way, that is going to hurt the people who have the smallest driveways in the city," said Steve Bennett, another resident.
"I promise you go drive through South Hills, they don't have an issue with driveway space," he continued.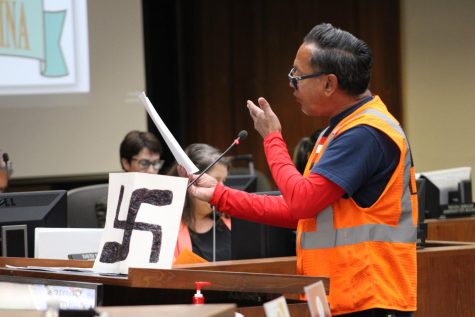 Local provocateur Armando Herman made another appearance during public comments, the norm as of late at city hall. While at the podium, he displayed a drawing of a swastika while wearing an orange vest with an expletive.
After the conclusion of public comments, Councilwoman Letty Lopez-Viado voted to pull three agenda items off of the consent calendar for discussion, including agenda item No. 3. The motion was then seconded by Mayor Pro Tem Brian Tabatabai.
After a presentation from public works engineer John Oskoui, agenda item No. 3 was passed by a unanimous 5-0 vote, meaning that the city will move forward on implementing these new rules regarding street sweeping and street parking.
The other notable agenda item that was pulled for discussion from the council was agenda item No. 6, a consideration of a construction agreement for fiscal year 2022-2023 streets rehabilitation program. The consideration also included adopting Resolution No. 2023-23, the total cost of which would be $3,858,065, according to the agenda posted on the city of West Covina's website.
As the meeting reached its conclusion, Lopez-Viado asked the city staff to consider implementing legislation that would monitor unhoused people within the city.
City Manager David Carmany clarified Lopez-Viado's request.
"The chief of police and I discussed it and we had some brief discussion about that particular article and practice with the city attorney, in that case, they were talking about, as I recall, IDing and requiring locals only for people that were returning or they were attempting to require to make that rule that will require a local identification or something for people that were returning to a homeless encampment," said Carmany.
"If it were in fact a homeless center or shelter then the city attorney mentioned he was aware of policies that the council could adopt, but if it's just homeless coming to your town or returning to an encampment somewhere, I'm not sure that rule would apply," he continued.
Nonetheless, after more clarifying questions from Lopez-Viado, City Attorney Thomas Duarte said that he will further look into how exactly the city could move forward on voting on a similar policy.
The next West Covina City Council meeting is scheduled for Tuesday, May 2, at 7 p.m. at West Covina City Hall.
View Comments (3)
About the Contributor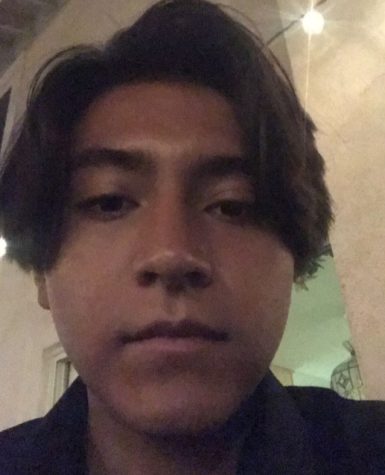 Ruben Montoya, Opinion Editor
Ruben Montoya is the Opinion Editor for SACMedia. As a journalist, he enjoys spicier, hot takes on the news. In his free time, he is a huge hyperpop and EDM listener, gamer and major fan of the Dodgers, Lakers and Arsenal FC.