Women's wrestling season recap: Making history
Breaking down barriers and setting a new standard
When starting something new, there's a sense of unfamiliarity, nervousness and doubt. But not for Mt. SAC's women's wrestling team.
After finishing second at the first ever California Community College Athletic Association Women's Wrestling Championships on April 22, held at Cerritos College, this Mountie squad etched their names into the history books.
The first CCCAA Women's Wrestling Championship saw a field of 10 schools compete in the tournament. Racking up 110.5 points in their effort, Mt. SAC came in only behind host Cerritos College who finished first with 129 points and ahead of East Los Angeles College who finished third with 77 points.
Three Mounties captured individual state championships: freshman Ruby Rivas in the 102-109 pound division, sophomore Megan Irwin in the 128 pound weight class and sophomore Sofia Vergara at 136 pounds.
Freshman Hailey Teodoro placed second in her weight class at 116 pounds while sophomore Elizabeth Carrillo took third at 148 pounds division.
Vergara has been nothing short of dominant and impressive in her debut season. Every match was a master class in fundamentals and imposing her will on her opponents which manifested itself as one of the first state champions in Mt. SAC's storied athletics history. Reflecting on her season, Vergara shared this thought on her experience as a charter member of the program.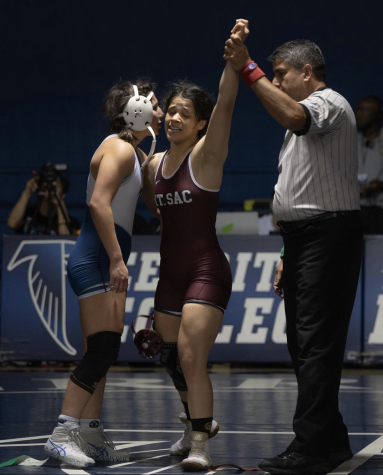 "My experience here at Mt. SAC has come full circle. I came here knowing there wasn't a women's team and I would have to compete with the men," she said. "We were given a team and now we have several state champions including myself. My entire season was an overwhelming success for me and went better than I had imagined. I am very happy and thankful for all the opportunities I've gotten at Mt. SAC as an athlete and student. It has opened many doors for me and my future. It was never easy and there were ups and down but I wouldn't have had it any other way."
Teammate and fellow champion Ruby Rivas shared a similar sentiment and was aware of the history she and her teammates were making.
"My experience for this season was amazing," Rivas said. "Everyone on the coaching staff is so supportive, are all amazing coaches and helped improve my wrestling game a lot. My record for this season was 7-1. Losing my first match ever woke me up and it only went up from there. I became the first ever Mt. SAC women's state champion along with two other of my teammates."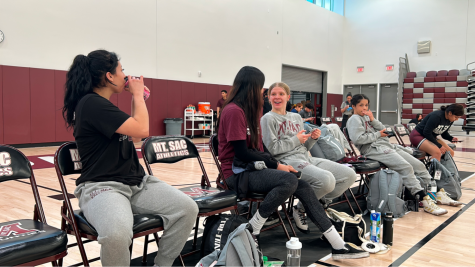 Vergara and Rivas were not shy about the new standard this Mounties team has set for the program moving forward and embrace that challenge.
"Yes, there is absolutely a new standard set here at Mt. SAC and on the Junior college scene. I only see the standard going higher and higher each and every year after this. I am very optimistic that it will grow," Vergara said.
Rivas added: "This is definitely the new standard and the team and coaches have talked about how it is the new standard and they expect this and more for next season. I believe next season we'll be state champions as a team. It's not that far of a reach."
To be successful, you have to have your heart in your passion, and your passion in your heart. That's how champions are built.
Leave a Comment
About the Contributor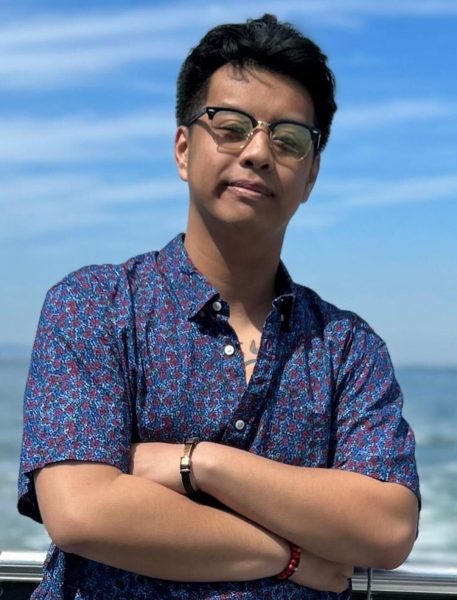 Robbie Doctor, Managing Editor
Robbie Doctor is the Managing Editor.