Beach volleyball season recap: Digging deep for a state championship run
A season of dominance ending in a push to best team in the state
Expectation is a burden few have the privilege to bare and endure.
Though the beach volleyball team ultimately fell short of qualifying as a team and capturing a state championship, history was made. Two pairs qualified for state and four total pairs earned South Coast Conference All-Team pairs and an overall record of 23-2 and 13-0 in conference.
The Mounties have displayed constant dedication to their craft, a burning desire to compete on a weekly basis, resiliency to bounce back when down and a passion for the game of volleyball that is unwavering and unmatched.
Head Coach Danielle Diaz reflected on the ambivalent and bittersweet end to their season.
"Unfortunately, we were one match away, one pair winning away to be specific, from qualifying to the team state championship," she said. "It was definitely a heartbreak for us as we knew how close we were to our goal. We really had a special group of women who played for one another, supported one another and worked endlessly to achieve everything that we did this season."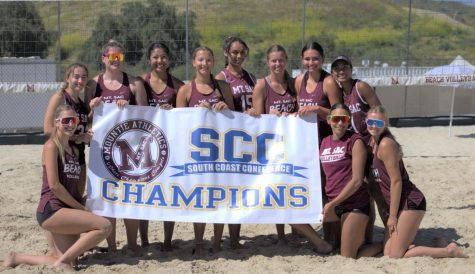 This team made history.
While we reflect and celebrate this team's achievements, Diaz acknowledged there is still much room for improvement and growth.
"Although our season has come to an end for our team earlier than we had hoped it would, I think it's important for us to acknowledge all of the incredible accomplishments we have been able to achieve," she said. "This team has won its first ever [South Coast] Conference Championship title in Mt. SAC beach history with an undefeated conference record and finished with the best overall record and winning percentage in Mt. SAC beach history of 23-2 with a 92.0% win rate."
Being the first to accomplish something is always special, but when the team shares the desire to win it all, sometimes you overlook the small steps along the way. Diaz highlighted some of those noteworthy achievements and steps to build on.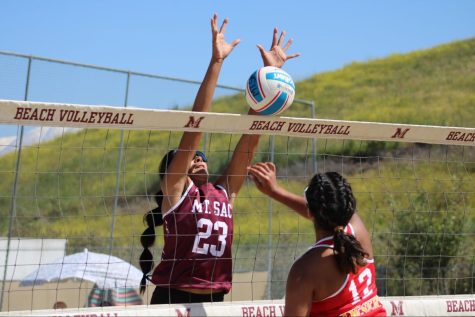 "We also had three pairs qualify for Day 2 of the Conference Pairs Tournament for the first time and two pairs earned a spot to regional pairs playoffs," she said. "I am so blessed and thankful for this season and to have been able to coach such an amazing group of women!"
Earning First-Team Pairs honors were Mt. SAC's No. 1 pair of sophomore Riley De Groot (20) and freshman Paige Gutowski (4) and No. 2 pair of sophomores Allison Whiteman (23) and Bristol Christelman (3).
Second-Team Pairs honors went to No. 4 pair of Angelina Burton (15) and Riannel Arevalo (1) and No. 5 pair Elizabeth Ortiz (21) and Capri Salmon (22).
During the season, the Mounties would seldom drop sets to their opponents and frequent sweeps occurred because of their skill and will to win.
A team is only as steadfast and committed to the cause as their leaders are. Under Diaz, the team reached new heights and a championship DNA has been instilled. After the season, she was awarded the 2023 Coach of the Year.
Upon taking over the program in March 2020, the team has maintained a level of dominance and conference championship aspirations are the floor while capturing a state championship is the ceiling.
It's not just the coaches' leadership that trickled down throughout the team but their captains too. With Gutowski and De Groot as the heart and soul, the team adopted a laid-back yet killer mentality by dominating their opponents on the court with smiles on their faces.
When asked about their leadership style, De Groot explained that they try to keep it loose in practice and welcome all of their teammates.
"We all want to win, obviously, but we want to have fun too," De Groot said.
Her pair partner and fellow captain also shared this sentiment and wants to keep the vibes chill at practice but handle their business on game days.
"I'm super competitive and I want to win, but beach [volleyball] is supposed to be super chill and fun," Gutwoski said.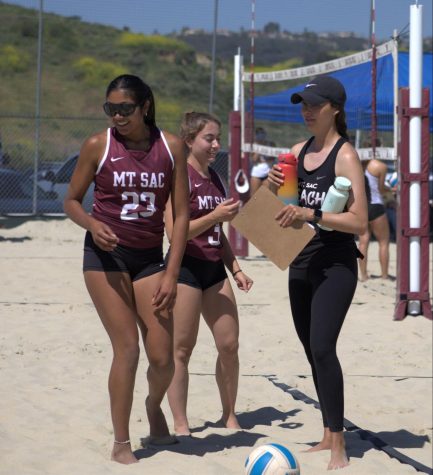 Earlier in the year, De Groot and Gutowski made it clear their goal was to make a deep push, if not win a state championship.
Both the pair of De Groot/Gutowski and Whiteman/Christelman qualified for the Conference Pairs Tournament and both finished in the Top 20 pairs in the state. De Groot and Gutowski tied for ninth place and Whiteman and Christelman finished 17th. For context, 190 pairs competed in this tournament, making these two pairs some of the elite beach volleyball players in the state.
Diaz surmised on the two pairs' performances with pride and sincerity.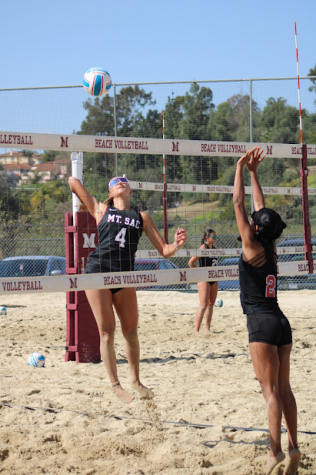 "I'm incredibly proud of the two pairs and how they finished overall," she said. "It's sad to wrap up the end of an amazing season, but I know these sophomores are going to go off and continue to do amazing things in their volleyball career and I know the freshman will be that much more ready and hungry for the 2024 season."
Leave a Comment
About the Contributors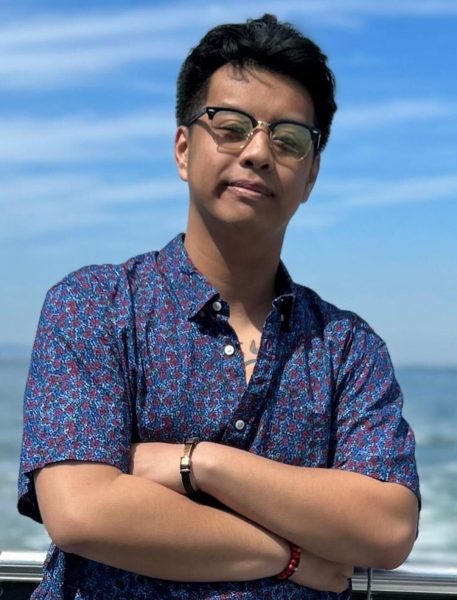 Robbie Doctor, Managing Editor
Robbie Doctor is the Managing Editor.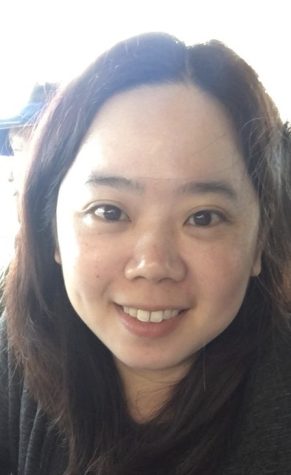 Christie Yeung, Managing Editor
Christie Yeung is Managing Editor and former features and gaming/tech editor of SAC.Media. She falls somewhere between a nerdie or a foodie, or is both. She likes to spend her spare time playing video games, listening to music, and watching funny videos on Youtube. She has a sweet tooth and has no immunity against anything with Nutella on or in it.