DPR LIVE and DPR IAN take on Head In The Clouds Festival in New York
The rapping-singing duo of the independent label DPR wow the crowd with a performance worth remembering
On May 21, rapper DPR LIVE and singer DPR IAN proved themselves a force to be reckoned with through their synergetic performances at the 88Rising's festival Head In The Clouds at Forest Hills Stadium in New York. The hour-long stage set featured their hit songs and received exceptional reception from the crowd.
DPR LIVE
DPR LIVE, real name Hong Dabin, is a Korean-born, Guam-raised rapper known for his energetic songs that touch the subject of love, self reflection and success. The rapper is known for his hit songs such as "Text Me," "Martini Blue," "Jasmine" and many more. LIVE has garnered a huge following worldwide, having almost 2 million listeners on Spotify alongside selling a 40-stop world tour over the course of a few months.
Opening up his 30-minute set with his song "Legacy" LIVE lit up the crowd with booming energy that turned the Head In The Clouds Festival into a DPR concert with fans of all ages and ethnic backgrounds singing and screaming, singing along to the lyrics. As soon as the opening lyric, "POTENTIAL" was heard the audience was sent into a frenzy to record the opening song as Hong walked onto the stage with the confidence and aura that Dreamers, DPR's fandom name, recognize and admire.
The rapper then went on to perform "OUT OF CONTROL," a song about feeling lost and yet again finding himself when he performs on stage for fans around the globe – a perfect song for a perfect set. Hong displayed attentiveness by walking from the left side of the stage to the right side, giving the audience the ability to record and enjoy the scenic view of himself performing with his heart on his sleeve.
Next, LIVE performed "Laputa," a song featuring fellow singer-rapper Crush. Although Crush himself wasn't there to perform his verse, Dabin took the liberty of covering the part, proving his versatility and determination to execute the song with full force.
During his introduction, the artist then introduced himself for the crowd members who both did and did not know him.
"I'm a musician from South Korea," the rapper said. "And honestly these are the moments I live for. I appreciate the well, warm welcome."
After the singer introduced himself, fans proceeded to break out in a barking chant which he found amusing, telling fans to stop it in a tone of bashfulness.
"You guys like my pink attire?" he said, showing off the curated pink and blue denim two-piece outfit DPR stylist Joonyong set up for him.
In true Hong Dabin casanova fashion, he followed up his sentence with, "I don't usually wear pink, but when I know I'm going to meet a beautiful woman I do."
Moving forward, LIVE went on to sing his song "KISS ME," an ode to the beautiful woman of his dreams in which he confesses his love for her in the form of song. "Girl/," he sang. "Take your fucking makeup off right now, I want to love my girl underneath all those artificial lies, I know sometimes you're shy."
As he geared up to sing his hit song "Jasmine," the rapper was amazed by the 11 thousand capacity-filled stadium knowing the song word for word, displaying shock with a facial expression just before mouthing the singular word, "wow."
After Hong excitedly performed "Text Me," he moved onto "Hula Hoops," a song featuring Korean rapper Beenzino and Hwasa, a member of the Korean girl group MAMAMOO. He was more than willing to cover Beenzino's verse in the track.
For his final song, LIVE closed up his set with his most popular song "Martini Blue." The singer did have a hiccup while performing as he stood on the speaker to get closer to the audience and tipped the speaker over, which had fans laughing in adoration and admiration of LIVE's hilariously clumsy nature.
DPR LIVE, to put it short, killed his 30 minute set and gave it his all, giving his fans a performance that was worth a nearly 11–hour wait.
For his closing words, DPR LIVE said his goodbyes and introduced DPR IAN as his "best friend," giving IAN enough time to settle on stage and begin his own individual performance.
DPR IAN
DPR IAN is an Australian-born Korean artist whose music touches the subject of mental health and self reflection. Formerly a member of Korean boy group C-CLOWN, IAN makes it a point to identify his bipolar disorder in his art, in which he has stated many times has both helped and destroyed him in the process of making music.
Diagnosed with Bipolar Disorder Type I, Christian Yu, the artist's real name, has made music that people around the world dealing with different types of mental disorders can resonate with, allowing them to feel and understand mental health and what makes him, uniquely him. The singer has accumulated a large following, gaining over 2 million Spotify listeners in just his short time as a frontman of his label.
To start off his set, IAN and LIVE proceeded to perform their two collaboration songs "No Blueberries" and "Boom" alongside a live band.
"No Blueberries" features fellow DPR member DPR LIVE and Korean pop singer and former 2NE1 member CL, both who are long-term friends with IAN. Written by the artist himself, the song describes the feeling of being surrounded by people with bad intentions who the singer cannot relate to.
"I like no blueberries in my ice cream cake" is an allegory for the negative individuals in one's life.
With his entire heart, Yu sang the lyrics as if he had eaten the CD, sounding just as he did on the track. During "Boom", the crowd was sent into a wave of cheers as IAN made his way to the front of the stage and stood over a group of fans, allowing them to see him up close and personal.
Moving onto "So Beautiful," IAN showcased his superb dance skills with twists and turns all while executing vocals that sound better than the actual studio recorded track. He then proceeded to sing "Dope Lovers," a track about the consequences of falling in love.
For his song "Calico," the singer gave the audience a solo bit in which he pulled out a bass guitar from where the live band was standing and played his bass guitar solo. IAN showcased his talent with his bass skills, plucking the strings in a manner that made it look effortless. During "Scaredy Cat" the screen behind the artist displayed a colorful array of cats dancing to which he danced along with.
Shortly after, he shared a few words with the audience and expressed his gratuity for the audience members who decided to show out. The singer gave a piece of advice to those who attended his set, allowing himself to be vulnerable in that moment.
"Seriously, every single moment where I begin to doubt and question myself, I come to this (pointing to the audience) and everything seems just okay all of a sudden," he said.
IAN then confided in the crowd, stating "it's okay to not be okay sometimes, you know? But everything gets better. And then everything doesn't, that's just life."
During "Nerves," Yu made his way to the center-left position of the stage where he sang the lyrics "I will sing this song to you/To tell you I really cared."
For his most streamed song, "Ballroom Extravaganza," IAN dedicated the song to Dreamers, his fans. To close off his set, he thanked his band as they closed off with an extended version of the song, allowing him to pay his final goodbyes to the audience as he stood directly above them.
"Thank you, thank you. Get home safe," the singer said as his farewell.
DPR, overall, proved themselves to be strong in terms of musicality and artistic creativity. The group is composed of DJs, business men, producers, performers, photographers and videographers, who worked simultaneously to make the show one to remember.
DPR's next U.S. schedule will be held at Head In The Clouds Festival in Los Angeles on Aug. 5 and Lollapalooza in Chicago on Aug. 6.
Leave a Comment
About the Contributor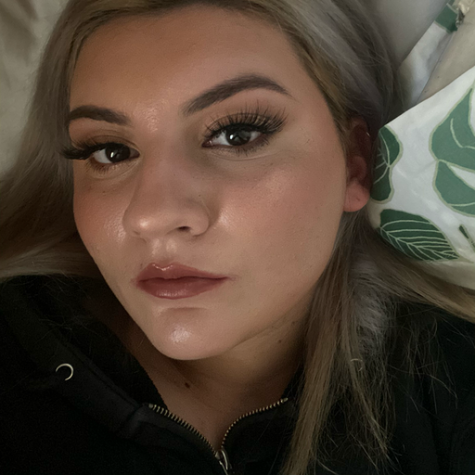 Samantha Acevedo, Staff Reporter
Samantha Acevedo is a staff reporter and writer for SAC.Media.