Before the bell: June and final edition
Events sure to light up the summer sky
June is here to ring in the beginning of summer with numerous exciting title fights taking place including an attempt from one combathlete to attain gold in a third weight division.
ONE Championship returns to Thailand and Bellator makes its way to Chicago, Illinois, in key events with numerous championships on the line. The UFC is bringing the Women's Bantamweight Championship to Vancouver for Canadian fans to enjoy. The regular season of the Professional Fighters League continues this month with three total events that will solidify the fighter's standings before the playoffs.
Let's recap everything that went down during last month's festivities ranging from trilogy fights, title defenses and even ex-champions making their anticipated comeback.
May results: Main event and co-main
One Fight Night 10: Demetrious Johnson defeated Adriano Moraes in the trilogy via a unanimous decision to defend the Flyweight Championship and top off an intense nine-fight main card. Rodtang Jitmuangnon dispatched Edgar Tabares with a powerful elbow which resulted in a second-round knockout.
#ANDSTILL BANTAMWEIGHT CHAMPION OF THE WORLD!!@FunkMasterMMA with the split decision over Henry Cejudo at #UFC288! pic.twitter.com/nUrECCcwtT

— UFC (@ufc) May 7, 2023
UFC 288: Aljamain Sterling won a close fight by a split decision to retain the Bantamweight Championship against returning former champion Henry Cejudo. Belal Muhammad decisively defeated Gilbert Burns, who was injured early in the fight, with a unanimous decision victory.
Bellator 296: Fabian Edwards cemented his title shot hopes in Paris with a win over Gegard Mousasi during the main event by unanimous decision. Brent Primus secured his spot in the second round of the Lightweight Grand Prix after defeating French fans' favorite Mansour Barnaoui with a hard-fought unanimous decision.
Rozenstruik vs. Almeida: Jailton Almeida used his grappling prowess to nullify and defeat dangerous striker Jairzinho Rozenstruik by submission during the Heavyweight main event. Johnny Walker delivered a tactical performance against Anthony Smith during the co-main event to win the Light Heavyweight bout by unanimous decision.
June events and combat sports news
One Fight Night 11: Eersel vs. Menshikov
ONE Championship makes its return back to Asia after last month's historic U.S. debut. A two-sport champion is set to defend his title and a grappling prodigy will do the same in submission grappling.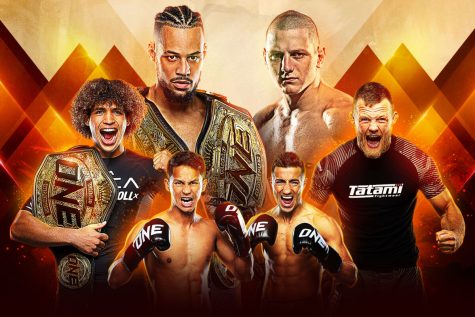 Regian "The Immortal" Eersel is set to defend his Lightweight Muay Thai Championship when he faces Dmitry Menshikov. Both fighters are riding on impressive win streaks, and for Menshikov, this will be a promotional debut that immediately thrusts him into the spotlight. Eersel is also a Kickboxing Champion and is returning from back-to-back victories over Sinsamut Klinmee.
Kade Ruotolo is defending the Lightweight Submission Grappling Championship against Tommy Langaker in the co-main event. Ruotolo won the 2022 ADCC World Championships in the 77-kilogram division, and Langaker also won the IBJJF European Open in 2020, so it should make for a competitive matchup.
ONE returns to Lumpinee Boxing Stadium in Bangkok, Thailand, on June 9 with live coverage of these matchups starting at 5 p.m. on Amazon Prime Video.
UFC 289: Nunes vs. Aldana
The UFC makes its first visit back to Canada in nearly four years with a women's Bantamweight Championship on the line and a top contender matchup in the Lightweight division.
Starting the countdown for our return to Vancouver 🏆🇨🇦 #UFC289 is just ONE WEEK AWAY!

Sat. June 10 | Live on ESPN+ PPV 🔗 Link In Bio pic.twitter.com/eRhwPIyUkN

— UFC Canada (@UFC_CA) June 3, 2023
Amanda "Lioness" Nunes is highly regarded as one of the best women's MMA fighters and looks to prove why when she defends her title during the main event against challenger Irene Aldana. Aldana hopes to be the next Mexican title challenger to fulfill their title run aspirations as she returns after two decisive victories in the division.
Former Lightweight Champion Charles "do Bronx" Oliveira will showdown with Beneil Dariush during the co-main event to see who might be next to challenge for gold in the division. This will be Oliveira's first fight back since losing the championship in October of 2022, and Dariush has been on a warpath winning eight fights in a row since 2018.
The action returns back to the great white north when the UFC takes over Rogers Arena in Vancouver, Canada. The main card will go live June 10 at 7 p.m. on ESPN+ PPV and the prelims will be available at 5 p.m. for regular ESPN and ESPN+ subscribers.
Bellator 297: Nemkov vs. Romero
Bellator will showcase its talented roster during a June event where fans will witness a dominant champion attempt to defend his title against a force of nature, while another champion defends and tries to prevent another fighter from making MMA history.
Simple question – who you got? 🤔#Bellator297 | Fri, June 16th | @SHOsports pic.twitter.com/h6A0WjzjBZ

— Bellator MMA (@BellatorMMA) June 2, 2023
Vadim Nemkov wants to position himself as one the best Light Heavyweight fighters in the world when he defends the championship against former UFC-standout Yoel "Soldier of God" Romero. Nemkov has looked impressive during a 10-fight win streak and on the opposite side, Romero has the main stage since signing with Bellator in 2021 and wants to attain the title while he still has powerful forward momentum in his career.
During the co-main event Sergio "The Phenom" Pettis will return to defend the Bantamweight Championship against the current Featherweight Champ Patricio "Pitbull" Freire. Pettis makes his return after an injury that sidelined him, but he still has the force of a five-fight win streak behind him. "Pitbull" is looking to make history by becoming the first champion to ever hold titles in three weight divisions in a major promotion.
This historical night in Bellator and MMA history will go down from Wintrust Arena in Chicago, on June 16. Tune in to Showtime for live coverage of the main card at 6 p.m. and free prelims available at 3 p.m. on YouTube.
PFL 5 2023: Heavyweight and Women's Featherweights
The PFL continues its regular season action with spots in the playoffs still able to be swayed one way or another by the results of these contests. The Heavyweight and Women's Featherweights will clash and a 2022 Champion will make his later return to the season putting the pressure on him for a big performance.
Heavyweights look to lock their spot in the PFL Playoffs 🔒

[ Friday, June 16th | 10pm ET on ESPN | #PFLRegularSeason | 🎟️https://t.co/Skcq84WsdE] pic.twitter.com/ra5JLOsh7C

— PFL (@PFLMMA) May 31, 2023
Ante Delija is back to compete for the first time in the 2023 season and is set to go to war with Maurice Greene in the Heavyweight main event. Delija pulled out of his first fight of the season on April 7 due to an undisclosed injury, so the late entrance of the returning champion will put pressure on him to deliver an early finish to gain extra points. Greene delivered a second-round TKO in his last performance, this sits him currently in second place for the Heavyweights.
During the co-main event returning 2022 champion, Larissa Pacheco will face off against Amber Leibrock to determine who will grab a spot in the playoffs. Pacheco is on a six-fight win streak but her latest decision victory only gave her three points which put her in jeopardy for the playoffs. Leibrock sits in first currently after her latest first-round knockout, but her spot is far from safe right now.
PFL makes their way back to the East Coast from Overtime Elite Arena in Atlanta, Georgia, on June 16. This high-stakes regular season action with playoff implications will be live at 7 p.m. on ESPN and ESPN+.
PFL announces Ngannou signing
Former UFC Heavyweight Champion Francis Ngannou has signed a contract with the PFL that could be seen as one of the biggest signings in MMA history.
It was revealed that the contract offers Ngannou "a multimillion-dollar contract with added flexibility and long-term incentives."
Ngannou is initially scheduled to fight starting in 2024 in two to three bouts in the PFL's newly announced Super Fight Division, which will be their PPV offering. Now the question remains, does this give the ex-champion enough time to still pursue his openly advertised boxing intentions?
The following video from the PFL briefly explains the signing and the Heavyweight athlete's new role in this future partnership.
Bellator vs. Rizin 2 is scheduled for July
Bellator MMA and Rizin FF will face off once again during Bellator vs. Rizin 2 from the iconic Saitama Super Arena in Tokyo on July 30.
𝐁𝐄𝐋𝐋𝐀𝐓𝐎𝐑 𝐗 𝐑𝐈𝐙𝐈𝐍 𝟐 🇯🇵

President @ScottCoker announces that Bellator will join forces with @rizin_English for another 𝙨𝙪𝙥𝙚𝙧𝙨𝙝𝙤𝙬.@ajmckee101 faces @PatrickyPitbull in the final #BellatorLWGP quarterfinal & @kyoji1012 takes on @makoto0705mma for the… pic.twitter.com/29DXSEElVG

— Bellator MMA (@BellatorMMA) May 27, 2023
The first meeting between these two factions was on New Year's Eve and delivered some impressive performances with Bellator fighters sweeping the main event.
This event will be a little different as one key headlining event is scheduled to be the last quarterfinal matchup in the Bellator Lightweight Grand Prix. Two former champions will collide when A.J. McKee and Patricky "Pitbull" Freire clash to determine who moves forward in the million-dollar Lightweight tournament.
Also with the announcement of the Inaugural Bellator Flyweight Title Fight between Kyoji Horiguchi and Makoto Shinryu, plus plenty of key promotion vs. promotion matchups, this event could be one of the hottest events of the summer.
Netflix documentary puts McGregor in the spotlight
The four-part documentary "McGregor Forever" was released on May 17 on Netflix and gives a unique behind-the-scenes look at the superstar's life for the last few years. The footage is so unbelievably raw and rare it really gives you a deeper insight into what drives an athlete of his stature to keep pushing to the top and continue fighting for a comeback. The series touches on his past, but starts sharing the behind-the-scenes footage around his infamous fight against Khabib Nurmagomedov in 2018 and leads all the way up to the present day.
To get a sneak peek at this enthralling content this documentary contains, check out the trailer below from Netflix.
"The Ultimate Fighter" season 31 is here
The new season of "The Ultimate Fighter" premiered on Tuesday, May 30, when fans got the first real episodes starring athlete coaches Conor McGregor and Michael Chandler. During this first episode, the concept of prospects vs. veterans was introduced and both teams were selected. This season will contain Bantamweight and Lightweight athletes who all hope to win the competition and have a shot at a new UFC contract.
McGregor and Chandler already had some interesting interactions which can only get fans more hyped at the future reality of these two Lightweight contenders throwing down later this year. The YouTube video below contains a brief clip from the season when both athletes first met and got to size each other up.
With international fight week and a plethora of other fight announcements continually being unraveled this summer is looking to be extremely exciting for all combat sports fans.
#UFC290 is absolutely S T A C K E D 🤯 pic.twitter.com/YxYNODvf5j

— UFC (@ufc) May 10, 2023
Unfortunately, this ride must come to an end as my time with SAC Media and Mt. San Antonio College is quickly winding down. Thank you sincerely to anyone who followed along and read with us through the semesters.
If you're like me, you can't keep away from combat sports, so I don't see myself staying away from this realm for too long in one aspect or another.
The world of combat sports can be unpredictable at times, so all fight cards are subject to change due to unforeseen circumstances.
The journey has been fun and just remember to always protect yourself at all times out there fight fans.
Leave a Comment