Chino Valley school board bans pride flags, delays discussions for policy targeting transgender students
Policy to ban pride flags in classrooms passes by a 4-1 vote
On June 15, the Chino Valley Unified School District Board of Education voted 4-1 to revise an administrative regulation that provides guidelines for ceremonies and observances, effectively prohibiting pride flags from being displayed on school district property.
The board meeting, set at Don Lugo High School in Chino, California, unfolded with a sizable and heated audience.
The flag ban was not the only agenda item targeted at LGBTQ+ students. The board was also set to discuss a board policy that would require schools to out transgender youth to their parents but shelved it due to time constraints. As a result, it will be pursued at a future board meeting.
Specifically, the flag regulation only authorizes flags — other than the U.S. and California flag — that belong to countries, states or the U.S. military and only for "educational purposes" relevant to curriculum.
Flags of higher education institutions may also be permitted as a part of the district's college and career program.
Any flag that does not meet these standards would have to be approved by the superintendent or designee, according to the new provisions.
School board President Sonja Shaw and board members James Na, Andrew Cruz and Jonathan Monroe voted yes while board member Donald Bridge dissented.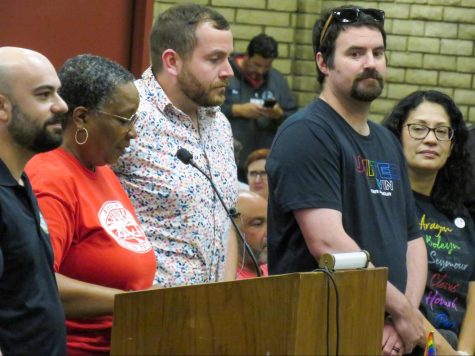 As the meeting got underway, Associated Chino Teachers President Brenda Walker took to the podium alongside a large group of educators to speak out against the board's proposed policies.
Speaking firstly on the banning of pride flags, Walker stated, "It is surprising to me that the district legal counsel has not advised against bringing this item forward."
"ACT was not given the opportunity to consult, or meet and confer on this matter, so this unilateral change, if passed, could be interpreted as bad faith bargaining," she continued. "There are impacts and effects that have not been discussed with ACT, one of which would be any disciplinary actions the district might attempt to take against ACT union members."
Walker also said that the proposed policy to out transgender students would put educators in the middle of a sticky legal situation between California Education Code policy and CVUSD policy.
"If passed by this board [the policy] would require the district to direct educators to violate California law," Walker said.
"It places educators in the untenable position of having to choose between following the law, or following an unlawful district policy and facing disciplinary actions imposed on them by the district," she continued.
During public comments, Estefania Hernandez, a student at Chino Hills High School and one of the few students to speak that night, gave her perspective on the matter.
"Pride flags provide a symbol of hope and acceptance, it's a visual sign that a student could feel accepted and welcomed whatever their gender or sexual identity might be," Hernandez said
"In school we are constantly taught about history and how we need to avoid repeating the mistakes of the past, it seems to me that this meeting is full of mistaken policies that we shouldn't be repeating," she continued.
The ban on pride flags comes during Pride Month and at a time when LGBTQ+ rights have been threatened across the country.
As the meeting closed, the board members were finally allowed time for comments after an extensive public comment period. Shaw used this time to address the opposition.
"For me, shame on the media for using your headlines of 'outing.' No," Shaw said. "How about the Chino Valley Unified school board is looking for ways to inform and keep parents informed of their children's lives, that's what the headlines should say."
Critics of Shaw have noted that according to data from the Trevor Project, only 32% of transgender youth report their homes as supportive and affirming to their identity.
Additionally, Shaw addressed the criticisms of her policies as putting teacher's in a tough legal situation.
"I would never make somebody break the law, thank you," Shaw said, as she adjourned the meeting shortly after.
While many local parents came out on both sides of this issue, some in the crowd were not constituents of the school district.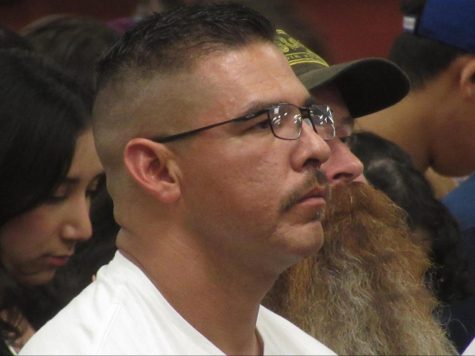 Louie Mario Flores Jr., who sat in the audience for much of the meeting wearing a shirt that read "Leave Our Kids Alone," has been accused of being a member of the Proud Boys by transgender rights activist Alejandra Caraballo on Twitter.
Caraballo claimed in a Twitter thread that the executive director of "Gays Against Groomers" and anti-trans activist Frank Rodriguez had been escorted into the April 7 CVUSD board meeting by Flores.
Additionally, in a separate thread, Caraballo alleged thar Flores was also in the crowd outside of a June 6 Glendale Unified School District board meeting that turned violent.
The next CVUSD board meeting is scheduled for July 20 and will be the first board meeting of the 2023-24 school year.
View Comments(1)
About the Contributor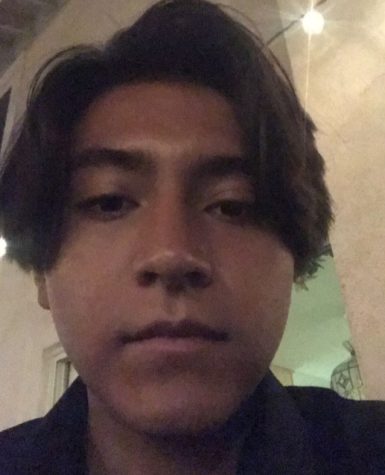 Ruben Montoya, Opinion Editor
Ruben Montoya is the Opinion Editor for SACMedia. As a journalist, he enjoys spicier, hot takes on the news. In his free time, he is a huge hyperpop and EDM listener, gamer and major fan of the Dodgers, Lakers and Arsenal FC.