On Thursday, Sept. 7, the Mt. SAC men's soccer team looked to improve their 1-1-2 record as they defended their homefield against the Saddleback Bobcats.
The visiting Bobcats, currently 1-1, started the game off with possession of the ball, but the Mounties quickly changed that early in the first half of the game.
Though the volume and pace tremendously favored the Mounties, they came up short with each try as each of the Bobcat goalies recorded five saves per half.
The Mounties offense outpaced Saddleback's with five times the amount of shots on goal, 10 attempts for the Mounties and two for the Bobcats. Freshman goalkeeper Edson Mendez (30), who played the entirety of the 90 minute game, recorded two saves to double his save total on the year to four.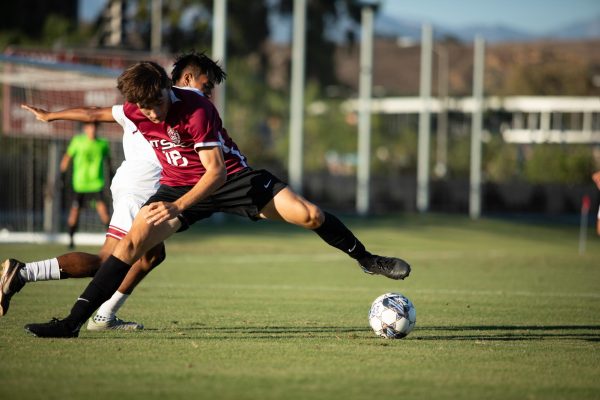 A total of four yellow cards were issued: two to each side altogether, one on each team in each half and one team penalty on the Mounties bench.
After the game, sophomore midfielder Diego Marchan (7) lamented that the game was not as good as the Mounties were hoping for. "I think we could have done a lot better, but we have to keep working hard and focus on the main goal which is state," Marchan said.
Throughout the game there were several close calls regarding goals but ultimately neither team was able to successfully score. The final score, a tie at 0-0.
This is the Mounties third tie of the season so far.
According to head coach Juan Sanchez, the Mounties were strong defensively but need to continue to get stronger as the season continues.
"It's early in the season and we have a big game next week against Oxnard who are the defending state champions, so it should be fun," Sanchez said.
The Mounties will resume action on Sept. 12 and look to recapture their offensive mojo against the Oxnard Condors at home.