This story was updated at 1:22 p.m. on Sept. 23.
According to a firsthand account, four faculty and a staff member were the first on the scene of the stabbing incident on Sept. 20. Multiple students were also involved in securing and providing first aid at the scene. 
The male student arrested has been identified as Gavin Flores. While the stabbing victim has not been identified, it has been confirmed he is in stable condition. His ex-girlfriend, who was identified as the female student involved, was in the process of filing a restraining order against him and had previously notified the Title IX office and police for harassment and stalking.
Mt. SAC Police and Campus Safety took approximately 10 minutes to arrive on scene with EMS and Los Angeles Sheriff's following about three minutes later. It was with the assistance from a faculty member and a student on the phone with dispatchers guiding them to the precise location as campus construction was blocking the common route. 
It was 40 minutes after the incident occurred when Mt. SAC sent a campus-wide alert, not 10 minutes as the original story reported. 
The alert also did not instruct students in building 26 to evacuate.
Shiloh Blacksher, psychology professor, was one of the faculty members to first intervene in the incident. Blacksher recounted in a public statement to Mt. SAC Academic Senate on Sept. 21, the response and coordination by the campus safety, crisis team and administration was "poor" and left those involved feeling "betrayed," a sentiment shared by many fellow staff and faculty members. 
In her statement, Blacksher conveyed her deep disappointment regarding the unacceptable response and lack of concern and control to respond to the scene. "… public safety took too long to get to the scene, and that when they arrived there were far to few officers–personally I saw one– at least one officer was rude and verbally yelled at a faculty member assisting the victim, and at no time did they ask if we were okay and take control of the scene to relieve faculty, " the statement read. 
Blacksher also condemned the crisis team including the trauma counselors who took approximately an hour after being contacted to arrive on scene. "It left faculty and students trying to calm and comfort hysterical witnesses," Blacksher stated.
Furthermore, she highlighted the lack of assistance from administrators to evacuate building 26 let alone aid in the intervention. In fact, several were spotted and recorded bystanding and observing as other faculty and staff coordinated and executed evacuations.
According to the statement: 
Overall, Faculty feel a sense of institutional betrayal. There was a lack of coordination. A lack of support. An overall lack of an institutional response. We still have not been asked if we are okay by any administrators other than our deans. 24 hours later and there has been no campus wide acknowledgment of this traumatizing campus experience that has impacted faculty, staff and students' sense of safety and mental health.
Over 48 hours after the incident, Mt. SAC President Martha Garcia sent an email to the campus addressing the situation. "… I recognize that we have opportunities to improve emergency response procedures.  I acknowledge that continuous training on emergency preparedness for our campus community is important," the email read.
The email did not state how the college would work to improve emergency response or preparedness procedures. 
Mt. SAC Campus Police Chief Mike Williams made a statement with SAC.media and clarified some conflicting reports from other news outlets. 
Williams said that he was not aware of the situation with the individuals nor contacted prior for any incidents involving the three students. He said the stabbing victim was taken to a nearby hospital on the ground and not airlifted as some eyewitnesses claimed on X and various social media outlets.
Williams also clarified the original 911 call was for a "fight" and "altercation between two males." The caller, whose name was not given, witnessed the fight unfold then reported "blood" and individual cuts were seen as they stayed on the line with dispatch. Williams said no reported "stabbing wounds" were initially made. 
He was not aware of the campus releasing statements about who responded first and has turned jurisdiction of the case over to Walnut Sheriff's Department. 
Williams said the preferred steps and course of action for situations like this are "for the parties involved (to take initiative) to call our office before it gets this far. We would've immediately intervened with our staff: TITLE IX folks, counselors and psychologists and others. Ideally." 
Williams emphasized that the school and campus security are working diligently to modify and improve current safety measures and are planning to organize an open community forum to talk about safety concerns. The possibility and discussion for more cameras, regular conversations with campus about safety, more campus security on campus, etc are among the discussions. He added that all possibilities will be discussed and considered.
It has not been scheduled officially, but Williams and school officials hope to hold the open forum "within two weeks, if not sooner."
Students will be emailed and invited to join and share their concerns with the school board, campus security and their peers.
Updates to follow. 
Warning: graphic content is featured. Viewer discretion is advised.
On Sept. 20 just after 11:30 a.m., an altercation escalated into a stabbing resulting in one male suffering multiple wounds including a possible stabbed neck.
The incident was reported to campus security by students at approximately 11:35 a.m.
Campus Safety was the first on scene to respond to two individuals fighting outside building 26A, located at the heart of Mt. SAC's campus. The Walnut Sheriff's Department was called at 11:35 and arrived shortly after.
Preliminary investigations from the Mt. SAC Police allege that there were three people involved in the incident: the suspect, his girlfriend and the victim.
According to Mt. SAC officials, the victim was allegedly harassing the suspect's girlfriend. A verbal exchange between the suspect and his girlfriend resulted in the suspect and the victim getting into a physical altercation.
The suspect then pulled out a knife and stabbed the victim multiple times in the torso and neck according to Mt. SAC officials.
It is not yet confirmed if the three individuals involved are students.
seeing a fellow student at Mt Sac get stabbed in the neck and possibly die was not on my bingo card today

— blahalien (@blahalien1) September 20, 2023
Nearly 10 minutes after the incident, Mt. SAC's emergency notification system sent a text informing the campus of the incident.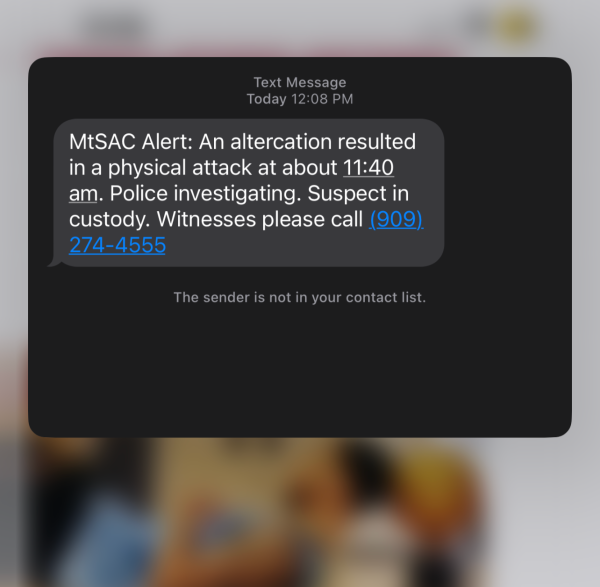 Though the incident was reported to happen at 11:40 a.m., witnesses and reports indicated the text update from the school to be inaccurate and occurred 10 minutes prior (via Robbie Doctor).
The victim is in unknown condition and one person was taken into custody, authorities said.
The entire building 26 was evacuated at approximately 12:35 p.m.
Updates soon to come.