I rummaged through the Orange County Fairgrounds on Sept. 23 to find delectable plant-based foods at the annual SoCalVegFest, a vegan food festival for every food person.
The main entrance leads into the Costa Mesa building, one of the event's main hubs filled with cruelty-free vendors, dog adoption booths and interactive gardening workshops.
The cooking demonstration stage was occupied back-to-back with professional chefs who handed out samples of their demos as the 7-hour event transpired.
Adjacent to the Costa Mesa building was the Santa Ana building that boasted more cruelty-free vendors, a kids' corner and a speaker stage to present more food for thought.
Those were just the vendor buildings.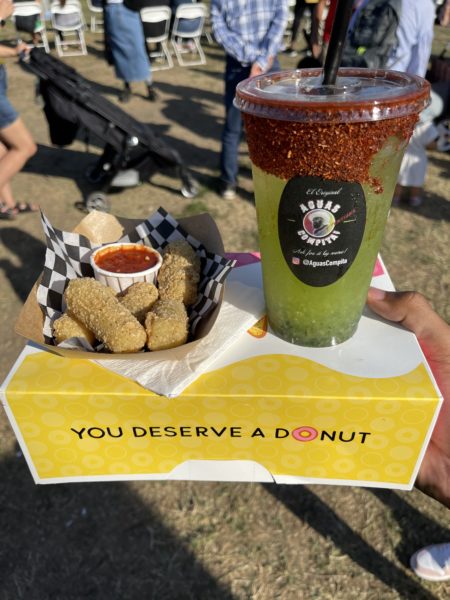 A step outside of the Costa Mesa and Santa Ana buildings, there is an abundance of food trucks, all slated with different meals is an excellent way to satiate any hunger.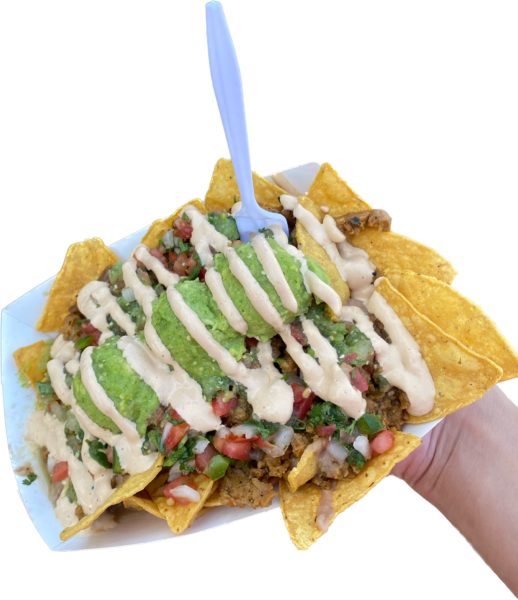 The grande nachos from Cena Vegan are topped with freshly chopped salsa, seasoned carne asada and scoops of guacamole. Crema is glazed over the tray and a fork is provided if you don't want to get messy. This was the perfect finger food to pick at while waiting in line.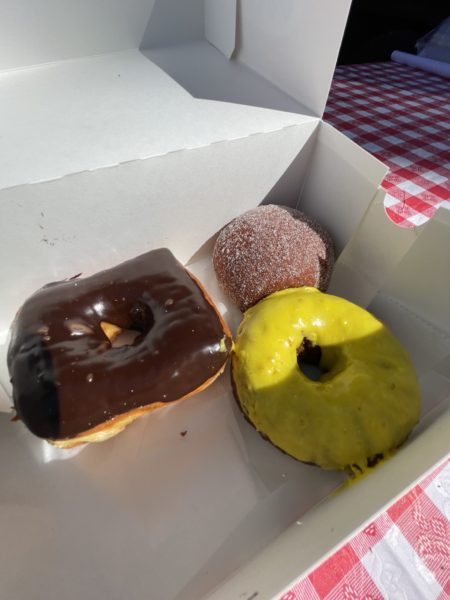 There were loads of food trucks filled with puff pastries and sweet desserts. The Donuttery glass-cased exterior showcased their array of tasty artisan treats which is what instantly pulled me into line.
Donuts were constantly being made in the back as you sorted through each delight. The chocolate donut is a certified classic that has lived to compete with Donuttery's unique flavors like the vanilla bean cream filled and lemon cream donuts.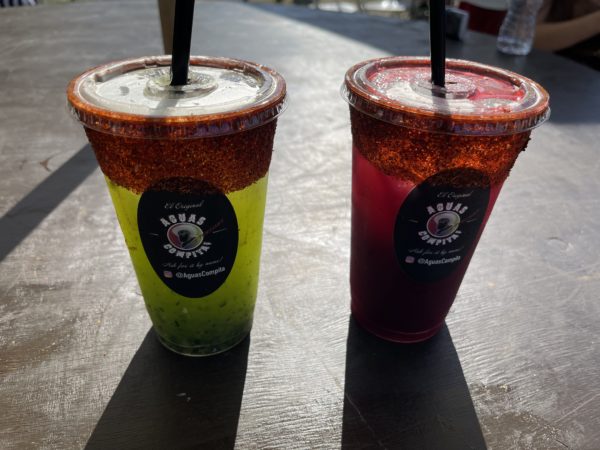 Aguas Compita saved my entire experience! I went straight into their line after the worker gave me multiple different samples to buy my own 24-ounce pepino con limon and jamaica.
My guardian angel was dressed in an apron equipped with sample cups and a pitcher of horchata.
The blaring sun drained every liter of moisture in me after waiting in lines, food samples induced me into a food coma and I started to write my will as I slowly passed out on the back of a food truck. The Aguas kept me refreshed and hydrated as I made my way back to the car.
My dehydration dilemma scores and highlights some tips to be conscious of.
Firstly, be mindful of the weather conditions because the event will be packed, lines will be long and the food will take longer. Bring some water to quench your thirst in between all the free samples.
Once you get some food, walk amongst the cruelty-free marketplaces inside the Costa Mesa and Santa Ana buildings to enjoy more plant-based food for thought.
If you can't find seating but don't need a table to enjoy the meal, you can find seating amongst the scheduled cooking demos and inspirational speakers or sit on the grass and experience some live music.
For a final tip, make sure to arrive early. Food trucks have sold out of items and entire menus within three hours of the festival so have a personal selection of three must-eats and get in those lines early.
SoCalVegFest is run by dedicated volunteers as a project of Simply Vegan and the Animal Protection and Rescue League, two nonprofit organizations advocating for the education of environmental responsibility, animal compassion and plant-based nutrition.
Simply Vegan's educational mission with events like SoCalVegFest is to introduce, inspire and support anyone who wants to reap the benefits of healthy conscious living through free plant-based food samplings, musical entertainment, cooking demonstrations, humane organizations and more.
"We encourage people and organizations to rethink the use of animals for food, clothing, and entertainment," Simply Vegan Project stated.
Find out more information on the next event and previous ones on SoCalVegFest.org.