On Tuesday, Sept. 26, Mt. SAC's women's soccer had an opportunity to extend their win streak to four in a row as they hosted the Desert Roadrunners.
The game started off in a defensive stalemate between the two teams until freshman midfielder Vivian Lopez (6) scored Mt. SAC's first goal off an assist from freshman midfielder Briana Bernal (12) at the 43:00 mark.
Several injury stoppages occurred throughout the first half, including during the second half that left a Mountie and Roadrunner down and shaken up. The athletic training staff had their hands full tending to several injuries for both the Mounties and Roadrunner.
1-0 at halftime.
As the second half unfolded, the Mounties almost doubled their lead off a shot on goal by Lopez that missed wide-left and short.
The tension grew between the two teams as time went on after two controversial yellow cards were issued to the Mounties: one against sophomore defender Yenneli Gonzalez-Soriano (4) at the 63:00 mark and one on sophomore midfielder Alina Valdez (24) at the 84:00 mark.
With the Mounties increasing their tempo, freshman midfielder Elena Ochoa (8) was able to score an unassisted goal while catching the Roadrunner defense in transition. Ochoa scored after the ball deflected off a Roadrunner into the goal.
2-0, Mounties with 27 minutes left in regulation.
In the last few minutes of the game freshman midfielder/forward Kristin Mijares (11) scored the last goal of the game while being guarded by five Roadrunners, putting the final nail in the coffin with six minutes left in the contest.
3-0, your Mounties win.
After the game, Head Coach Juan Sanchez said that this was a tough game to win because he felt that the Mounties didn't play as intense as they normally do while the Roadrunners matched that intensity. "I think if we get earlier goals earlier on in the game that will help us," Sanchez said.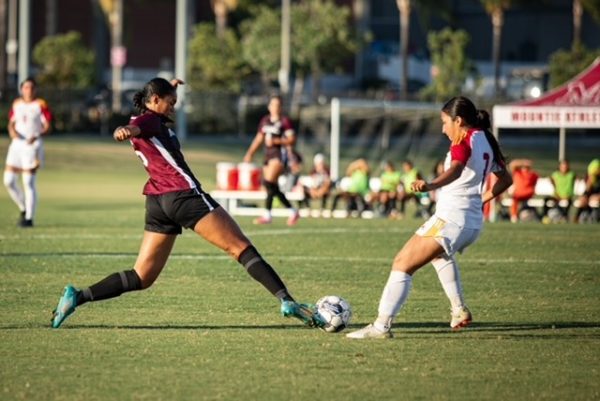 After the game freshman defender Leilani White (5) expressed that the game went really well for Mt. SAC and the team came together and put in a lot of work. "The goal for us the rest of the season is to have only wins and no losses and to ultimately be state champs," White said.
The next game for the Mounties will be an intense one as they go against Chaffey on Sept. 29 at Mt. SAC.