The Mt. SAC football team remains undefeated after emerging victorious against the Cerritos Falcons on Oct. 14 at Hilmer Lodge.
SAC's defense held the Falcons to 20% efficiency on third-down conversions while forcing three turnovers and held Cerritos to an average of 3.7 yards per play.
Sophomore quarterback Alex Flores (15) finished the game 24-for-39 on pass attempts for 193 yards while throwing three touchdowns.
"[The defense] made some big plays when they had to in the red zone," Head Coach Bob Jastrab said. "I think that was the difference."
Mt. SAC opened their first drive with a 35-yard run by sophomore running back Nicholas Floyd (17) to Cerritos' 27-yard line. SAC received an additional 15 yards on a personal foul by Cerritos that set up a 12-yard touchdown pass to sophomore wide receiver Jordan Williams (6), less than a minute after the first quarter started.
The Falcons answered quickly by scoring during their first drive on a 6-yard pass to freshman wide receiver Isaiah Blair (5) from freshman quarterback Andre Lampley (14) to tie the game, 7-7, with 10:53 minutes left in the first quarter.
Aside from the opening drive, Cerritos' defense managed to contain Mt. SAC's offense for most of the first quarter.
A coffin-pin punt from Flores hung long enough in the air and into the Falcons' end zone was not fair caught by Cerritos sophomore punt returner Tyler Henry (2) allowing the Mt. SAC special teams to tackle Henry and earn two points for a safety.
Mt. SAC leads, 9-7.
The momentum shifted after the safety as Mt. SAC's defense quickly took control of the game and did not allow the Falcons to score anymore.
With 10:18 minutes left in the second quarter, sophomore wide receiver De'Shon Thompson (14) caught a 7-yard pass from Flores for a touchdown to give SAC a 16-7 lead.
Mt. SAC added to its lead on a 32-yard field goal by sophomore kicker Diego Esqueda (49) after failing to gain two yards to pick up a first down on an incomplete pass to sophomore wide receiver Antwan Ficklen (11).
The field goal gave SAC a 19-7 lead over the Falcons in the third quarter with 12:32 minutes to go.
With 5:15 left in the third, Flores threw a 15-yard touchdown to freshman wide receiver Dadrek Taylor-Atkins (5) to increase the lead to 26-7.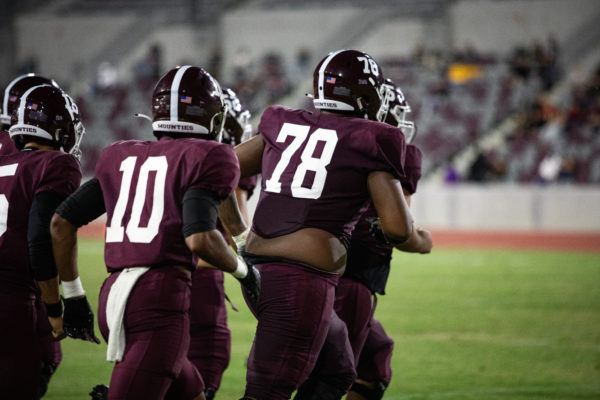 A 27-yard field goal by Esqueda at the start of the fourth quarter would be the final points of the game for either team to seal Mt. SAC's sixth win of the season and third in the conference.
SAC remains undefeated this season.
"It's one game at a time, you know. Like I said, they need to stay humble," Jastrab said. "We made mistakes that we need to clean up if we want to keep winning because every week it gets tougher and tougher."
Mt. SAC will travel to East LA next Saturday, Oct. 21 to face the Huskies in another South Coast Conference matchup. Their next home game will be on Saturday, Oct. 28 as they take on the Orange Coast Pirates on Mt. SAC's Alumni Night.