On Oct. 21-22, Mt. SAC welcomed over 11,000 high school student cross-country runners to the 75th annual Mt. SAC Cross Country Invite.
The invite started the previous week when the college and youth races took place where athletes from almost 500 schools tackled the challenging course that consists of three long hills.
Historically, the event is split between the college and high school sections of the competitions. The high school portion of the invite started on Oct. 21 where Division III, IV and V schools competed. The following day, Division I and II schools competed.
Due to excessive heat on Friday, 21 races total were changed to a two-mile course instead of the original three. This change was unknown to a handful of athletes until they were about to start.
As the temperature went down in the evening, the sweepstakes races went back to running the three-mile course.
The invite featured so many schools that races were going on nonstop. Most of the events had more than one race going on at once. Some races experienced overlap due to starts overlapping one another. To keep track of the runners the athletes wore different colored bands so there was no confusion.
After combining all the team scores for the three-mile course, the Great Oak Wolfpack won the boys' section with 244 points and the Claremont Wolves won the girls' section with 196 points.
These racers took home the individual titles in the three-mile race — senior Emmanuel Perez from Cathedral for the boys with a time of 14:38 and sophomore Chiara Dailey from La Jolla in the girls section with a time of 16:52.
The final 100 meters of the race where athletes sprint to the finish (Megan Sanders).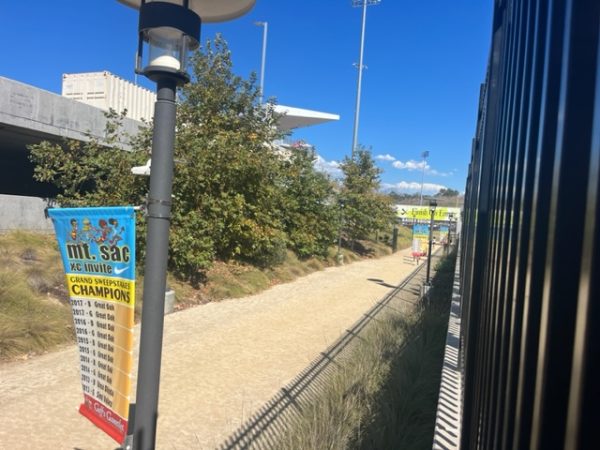 According to Samantha Padilla, a spectator at the invite, "the races ran smoothly for how many athletes competed, and it was nice to see more vendors this year than in years past," she said.
On the final day of the invite, professional middle-distance runner Craig Engels made a visit to watch some of the races. Engels even made an appearance as the race starter.
This was not the first time this season that high-caliber athletes ran at Mt. SAC.
At the beginning of the season, many teams participated in the Fastback Shootout, a shortened preseason race that gives athletes a taste of what the full Mt. SAC Invitational is like.
For the top teams, this is just the beginning of their journey on this course.
If a team advances beyond league play, Southern Section CIF preliminaries, held at Mt. SAC will determine their spot in the Southern Section CIF Finals. Runners compete individually or as a team for the state meets in Fresno.