Logan Paul and Dillion Danis are two of the worst people on the internet and their presence in the media is a danger to our youth.
Underwhelming matchups, controversial referee calls and stoppages, outrageous behavior during build-up and postgame semantics are unnecessary and a bad look on the sport.
In other sports, when celebrities make an appearance, it's all a bit of a laugh and handshake after.
Nowadays, careers are being built collecting cans with "boxers" like Jake Paul's ability or worse.
Danis is a former mixed martial artist and Paul is one of the largest social media influencers in the world. Both competed against each other on the Oct. 14 Misfits Boxing card, showcasing their horrible antics on display for all to watch.
As an avid follower of combat sports, their presence in the community is a disgrace to combat sports.
Danis is, ironically, seen in a higher regard than Paul, even though his past doesn't exactly make him a saint. He is a former Abu Dhabi Combat Club challenger and MMA fighter who specializes in grappling. Being a part of ADCC and the Ultimate Fighter Championship puts him in high regard.
However, throughout his career, he has gained a reputation for lying and being an internet troll. Danis constantly swings up at bigger and more marque names to instigate a possible matchup with fighters who would, quite literally, kill him in a sanctioned match.
Don't believe me? Shortly after his defeat to Paul, Danis immediately took to X and called out UFC welterweight staple and crowd favorite, Nate Diaz, as his new target he has his sights set on.
Danis then tried to garner attention for this fight by attacking Paul's fiance, Nina Agdal. Danis searched the internet for anything to destroy the character of Agdal, including nude pictures and edited photos of her. He said vile things about her to put pressure on Logan and get in his head. Many of his posts on X are too inappropriate to share.
Danis also went after Paul for scamming his fans through CryptoZoo. The scam gave consumers false hope of becoming a crypto millionaire. This made Paul and his contemporaries a lot of money.
This would be an amazing thing to hold above any opponent's head but, Danis has done worse. Danis himself promoted an NFT scam. Popular YouTuber Coffeezilla tricked Danis and proved he was scamming his followers. According to Coffeezilla, they offered Danis money to promote their brand and he did so without disclosing he was paid.
We just tricked Dillon Danis into promoting a fake NFT project. We paid him $1,000 to post, he didn't disclose it was an #AD, and posted copy that literally spells out S.C.A.M. 💀💀 pic.twitter.com/SVo2SCoN9q

— Coffeezilla (@coffeebreak_YT) February 3, 2023
However, Paul isn't much better. He's worse.
He is actively marketing everything toward kids by being in the World Wrestling Entertainment or WWE, and with his PRIME drink. Logan has recently been called out for his steroid use which he claims he doesn't.
Everybody with eyes and a brain can see that he's on more than creatine. Being in this shape year-round without using performance-enhancing drugs is nearly impossible. Not to mention how his biceps are so huge they seem like a cartoon or how his head blew up like a balloon.
In Paul's podcast "Impaulsive," he said, "Steroids are banned in both the sports that I do…"
Logan currently competes in the WWE and boxing, but he forgets to mention that he is a sponsor for almost every event that he does for boxing so he competes without testing. The WWE is infamous for steroid use, especially in not disclosing this to the fans.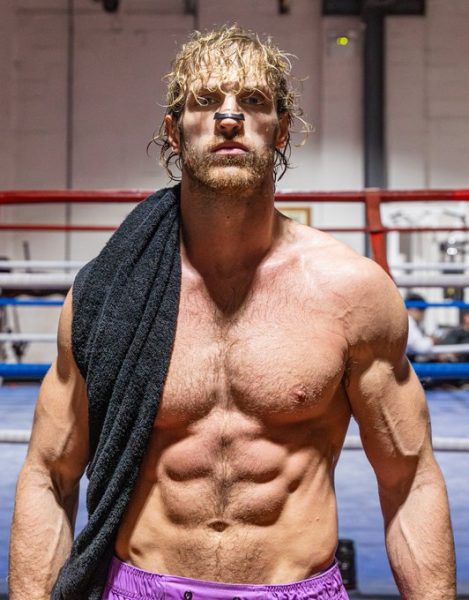 Paul's past gets worse the more you go down the rabbit hole.
He's famous for backstabbing his friends like when he targeted the religion of George Janko, a former Impaulsive co-host. Scamming his fans when he gets the chance, and faking videos that often get on the trending page. Even recording a dead body hanging in a forest in 2017.
All of these disgusting behaviors he markets to kids. All he seems to care about is how much money he's sucking out of our youth, and how many eyes are on him.
These two grown children fought on a Misfits boxing card on Oct. 14. It is a fake boxing promotion to generate clicks.
The fight was a disappointment.
Paul won a match that wasn't worth the $54.99 Pay-per-view to watch- an embarrassment for combat sports.
There are a hundred million other reasons to hate these two and that makes it even more depressing that kids are inclined to watch this fight. There is no winner, only losers. Both of them are scum of the earth and the next generation is looking up to them.
The biggest losers are the younger fans who are going to grow up being crazy drug-using "fighters" who only care about themselves.