On Wednesday, Nov. 8, Mt. SAC volleyball demolished the LA Harbor Seahawks in a three-set sweep. Mt. SAC brought large energy for their last home game of the season and it reflected in the box score.
Before the game started, Mt. SAC recognized their sophomore players by inviting them and their families to center court and gifting them presents. After a ceremonial team picture, the action from the opening serve started fast.
Right off the break, SAC stepped on the Seahawks' throats and commanded the front and back row.
According to sophomore middle blocker Kyra Miller (21), the mentality was to dominate early and not let up. "We went into the game with the mindset of we are going to go all out and have fun, and I believe we did just that," she said.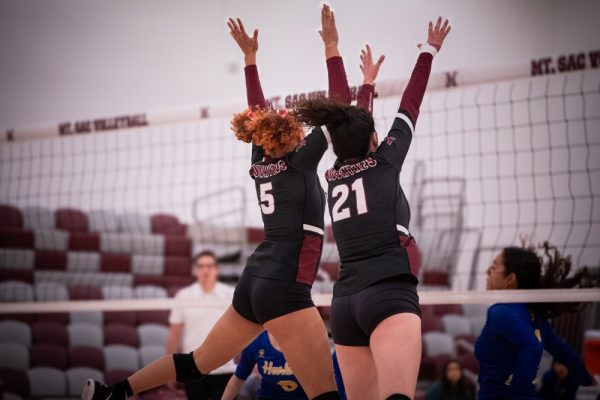 During the first set, it seemed Mt. SAC was scoring at will. It wasn't until they had an 11-point lead before the Seahawks were able to score their first point of the game. SAC kept the pressure on LA Harbor and did not even allow the Seahawks to crack double digits on the scoreboard.
First set went to the home team, 25-3.
As the second set began, Mt. SAC started sluggish, missing multiple serves but shook it off as they regained their focus to finish the set with as much energy and fight as the first.
Set two goes to the home team, 25-9.
Despite the third set being the closest in scores, the home team continued to build an impressive lead to start the set. Though the Seahawks barely cracked double digits, the score for this set was not indicative of how challenging it was until the end of the game.
The score, 25-11, as SAC swept the Seahawks, 3-0.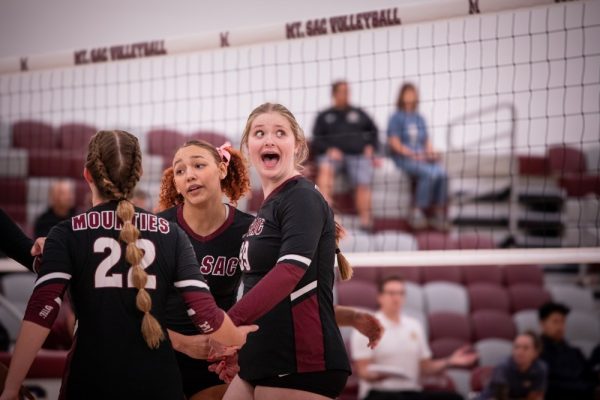 Mt. SAC tripled the offensive output of LA Harbor for the entire match, 75-23. The gym was buzzing with energy during the whole game with countless chants from the sidelines along with cheering one another on from on the court.
"We worked really cohesively and it was just a really good time both on the bench and on the court," sophomore opposite Sam Parks (99) said after the game.
From start to finish, Mt. SAC showed poise and extreme focus. Even if they missed a point, a quick side out oftentimes followed as they did not relent control of any set.
According to Freshman libero Naara Ortega (23), there is always room for improvement but the game went really well. "Consistency is just one thing we have been working on a lot this whole season, trying to find our rhythm, and keep it rolling," Ortega said.
The next game for Mt. SAC volleyball will be an away game on Nov. 10 against the Cerritos Falcons.