Mt. SAC "withdrew sponsorship" from an Equity Center event about a presentation on Palestinian history from "an indigenous perspective" citing a "potential bias concerning the conflict in Gaza," following a complaint from another faculty member citing "antisemitism."
The Equity Center event, "Indigenous Solidarity: An Indigenous Perspective of the Tragedy in Gaza, and its Parallel Story to the 19th Century Native Americans" was to be hosted on Nov. 2 by Professor Raul Chavez, 63, who earned a doctorate in Native American History.
Chavez said that his Equity Center event was about the parallels between Native American removal in America and the Nakba in Palestine. "I was going to talk about those things so that we can empathize," he said. "It's Native American Heritage Month and I thought this would be a good way to start it off."
Before Chavez's event was canceled, he said he appreciated the Equity Center's help setting up his event. "The Equity Center was absolutely marvelous about putting things together," Chavez said. "The whole crew was there, Doctor Eric Lata and his people, Catherine Parks, you know, they all helped me get ready."
"We made the announcement," Chavez added. "It took us so long to get the flyer out to put it together the way we wanted it to. We really didn't get it until one day before [the event]."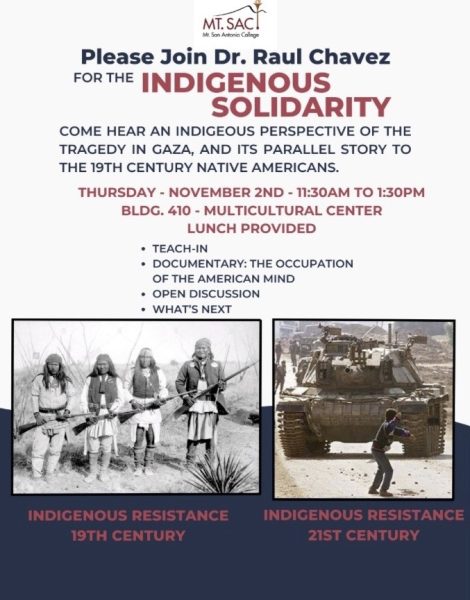 Geography professor Dafna Golden, 48, said she saw Chavez's announcement and believes the movie Chavez was going to show, "The Occupation of the American Mind" was antisemitic.
According to The Link, "The documentary 'Occupation of the American Mind' showcases the propaganda distributed of the Israeli-Palestinian conflict, and urges people to notice the dehumanizing of the Palestinian peoples in media coverage."
Chavez contends Golden's accusations of the film being antisemitic. "['Occupation of the American Mind'] has nothing to do with Jews … This is where I have issues with Dr. Castro's decision," Chavez said. "What is happening in Gaza right now, that has happened to Palestinians over the course of the last 75 years has to do with land. It's a land grab, it's a land occupation."
When Golden learned about Chavez's event, she said, "I contacted multiple administrators, [including] my dean. I tried contacting the equity center administrators at student life and administrators through instruction."
"I also contacted campus police," she added.
According to Chavez, an hour after the announcement, Golden emailed him, Student Success and Equity Associate Dean Eric Lara and Equity Center Administrative Assistant Cathrine Parks, claiming Chavez's presentation was "antisemitic."
"The proposed 'Indigenous Solidarity' event scheduled for tomorrow presents antisemitic and historically inaccurate information," Golden stated. "The campus has made multiple resolutions against antisemitism and this event does not align with those values."
At the end of the email, Golden stated: "This event needs to be canceled immediately!"
After Golden's email, Vice President of Student Services Melba Castro contacted Chavez indicating Mt. SAC "withdrew their sponsorship" to Chavez's workshop. "Once they did that, I was denied all access to any Mt. SAC facility," Chavez said. "I was supposed to have the events in the Multicultural Center and that was taken away from me."
"So now the only places I could do the teaching are on sidewalks, the parking lot and driveways," Chavez added. "That was it. I had no places whatsoever. So I was forced to cancel."
In an email clarifying Mt. SAC's position on Chavez's workshop, Castro stated, "I want to provide clarification that the Equity Center did not cancel the event; rather, they withdrew their sponsorship due to concerns related to potential bias concerning the conflict in Gaza."
"
"I was insulted by the fact that [Castro] thought I might be biased because as an indigenous man, a person of color, of course, I was going to be biased. I see human rights being violated. I see unnecessary death. I see people who are ruling over other people through military force. As an indigenous man, I can't report. 'Oh, that's both sides.' No, it's not both sides."
— Raul Chavez
English Professor Thomas Edson discovered Chavez's event would no longer run and stated in a letter to faculty that the "cancellation" of the Indigenous Solidarity event violated BP 4030 (2016).


In the same email, Castro stated the Equity Center is working on another location for Chavez's event. "Nevertheless, the Equity Center has offered its support in identifying an alternative location for the event … in alignment with the provisions of BP/AP 3900," Castro stated.
Many others like American-Arab Anti-Discrimination Committee member Khelil Bouarrouj and German journalist Alida Miroci are outraged by Mt. SAC's decision.
In an email to Mt. SAC trustees, Associate Students and SAC Media, Miroci stated Mt. SAC's decision violated freedom of speech.
"The decision to censor the workshop is a slight to the academic experiences of students, their sense of belonging and freedom of speech," Miroci stated.
ADC member Bourrouj mentioned in an email to a Mt. SAC administrative member the American Civil Liberties Union urges colleges to protect the free speech rights of students and faculty regarding the conflict in Gaza.
"We believe that open dialogue and discussion are crucial for the intellectual growth and inclusivity of the diverse student body at Mt. SAC," Bourrouj stated. "Furthermore, we wish to express that the ADC reserves the right to take legal action if necessary to ensure the protection of these rights."
Chavez said he will host his event in his classroom in building 79, room 2270 on Thursday, Nov. 16 from 11 a.m. to 1 p.m. Mt. SAC will not promote his event through the school announcement or posters.
The conversation surrounding Palestinian freedom at Mt. SAC will continue as students organize and vocalize their concerns for the Palestinian people.