On Nov. 8, the Veterans Resource Center hosted a breakfast to salute those who have answered the call in the service of our country.
Current students, alumni, staff and members of the Board of Trustees were amongst those in attendance enjoying cuisine, coffee and comradery in last week's observance of Veterans Day.
Manuel Baca, currently serving on Mt. SAC's Board of Trustees, was a "Marine grunt" for three years and served one tour in Vietnam for 13 months.
Baca was asked what students should know about our veterans on campus. His response was candid and emphasized that paths in life vary from person to person. "Their journey in education is different and the environment of their training may cause them to relate to others differently," Baca said. "But they're focused with a disciplined interest in achievement. [However, the] most important thing the general public can do, is show respect to the service that's been given and why they served."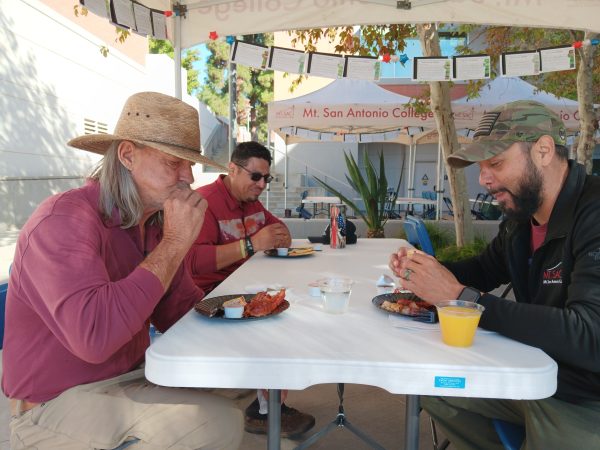 Nearly a dozen students were in attendance for breakfast, sharing memories, laughs and giving support to one another.
To some, this may seem like a small turnout but much like their service days, a smaller tightly-knit group provides deeper support and comradery they miss from their deployment days.
Navy veteran Raimundo Herrera reminisced on the time his ship landed at Portsmouth, England during an intense soccer match between Manchester United and Barcelona. "We had pass that day and while waiting to board the ship, we began to chant what the fans were chanting and nearly caused a riot," Herrera said. "We [ended up] meeting a few Master Chiefs and got grilled for a good minute. Those were good times."
Community plays a tremendous part in the transitional stage of a veteran's life with many needing guidance to navigate as a civilian.
London Richmond, a Marine veteran and Mt. SAC alum of class 2015, recalls how the Veterans Resource Center not only helped him find his path to educational success but provided that community all students seek.
"I was originally supposed to go to Citrus, but the process was so difficult," Richmond said. "Then I came here, and the Veteran Resource Center was so welcoming. It's [their] process of handling paperwork … it's one of the better ones in the state if not the country … a real diamond in the rough."
When asked what students should understand about veterans on campus, Richmond said, "Where students like you all. The whole thing though is about service, so come in and say hi, or ask us questions if you're interested in the military. Just come inside and get to know your veterans."
Veterans Day gets its roots from Armistice Day, a holiday in Europe commemorating the end of WW1 on November 11, 1918. In 1938 U.S. Congress made Armistice Day a national holiday. The name was changed in the 1950s to Veterans Day due to WW2 and the Korean War to commemorate all who had served their country.
Salute to the fallen, those who have and are serving and the friends and family supporting our troops. You are the real heroes.