On Nov. 18, Mt. SAC men's soccer hosted the Irvine Valley Lasers in the first round of California Community College Athletic Association (3C2A) Southern California playoffs.
The stands were packed with high energy coming from the crowd.
Several parents from both schools chanted and yelled throughout the game showing their excitement and passion towards the competition and exemplifying a true playoff atmosphere.
Both SAC and the Lasers were seeded close together, SAC seeding first in its conference and the Lasers second in their own, making for a super competitive first matchup.
It lived up to the billing and was a back-and-forth game that came down to 30 minutes of overtime.
Several yellow cards throughout the game were issued with four coming from Irvine and six from Mt. SAC causing several medical timeouts and stoppages throughout the contest.
The Lasers' offense put pressure on SAC's sophomore goalie Daniel Ramirez (1), but that didn't get to Ramirez as his seven saves halted Irvine from registering a single goal. A true herculean defensive effort on Ramirez's part.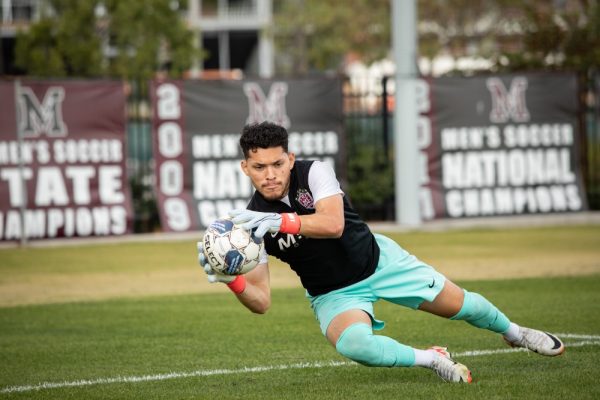 After the game, Ramirez said that the team takes it one day at a time and doesn't like to look into the future too much. "It was all about team effort. All week we were grinding and we saw the outcome, 1-0," Ramirez said.
Both goalies matched each other, save for save, dive for dive and play after play. Mt. SAC needed to regroup.
As the second half was underway, SAC continued to press and drew an ejection at the 60-minute mark. As several scoring rallies and counterattacks were attempted, people in the stands were on their feet chanting with some parents pacing back and forth trying to contain their nerves.
During the overtime periods, players on both sides seemed to come back onto the field sensing victory in grasp with a sense of urgency shrouded the field, but the Lasers just didn't have enough.
Finally, Mt. SAC's sophomore forward Frank Gonzalez (11) broke the scoreless stalemate in the second overtime period off an unassisted goal at the 102-minute mark.
The final score was 1-0.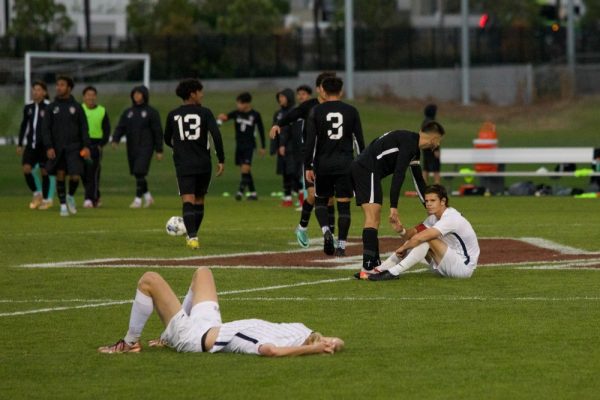 As soon as the game ended, players from Irvine were so devastated that their season ended that night that they laid down on the field and others cried in their parents' arms, knowing they left it all out on the field.
Mt. SAC had a moment of celebration, then exhibited good sportsmanship by congratulating the Lasers and helping some of the players up.
According to sophomore forward Hunter Devlin (5), the team understands that if they want to be successful they need to work hard. "Our main goal right now is to recover and go into the next game focused and work hard," Devlin said.
Mt. SAC will go head-to-head with the El Camino Warriors on Nov. 21 on the road for the second round of 3C2A Southern California playoffs.