Hold your breath for one long minute. Now let it go.
The feeling of needing to take a breath as you hold it is exactly how Christopher Inclán felt for 20 years. When he walked into his first Alcoholics Anonymous meeting, he finally let that breath go.
Inclán, 34, is a current Mt. SAC student who is studying psychology and has received his associate's degree for transfer in drug and alcohol counseling.
It's difficult to know his past just from looking at him. While he has many tattoos, a closer look reveals that they represent various religious figures, and it's hard to see the father-to-be, who lovingly holds his wife's hand as he plays with his dogs, as a former alcoholic now five years sober.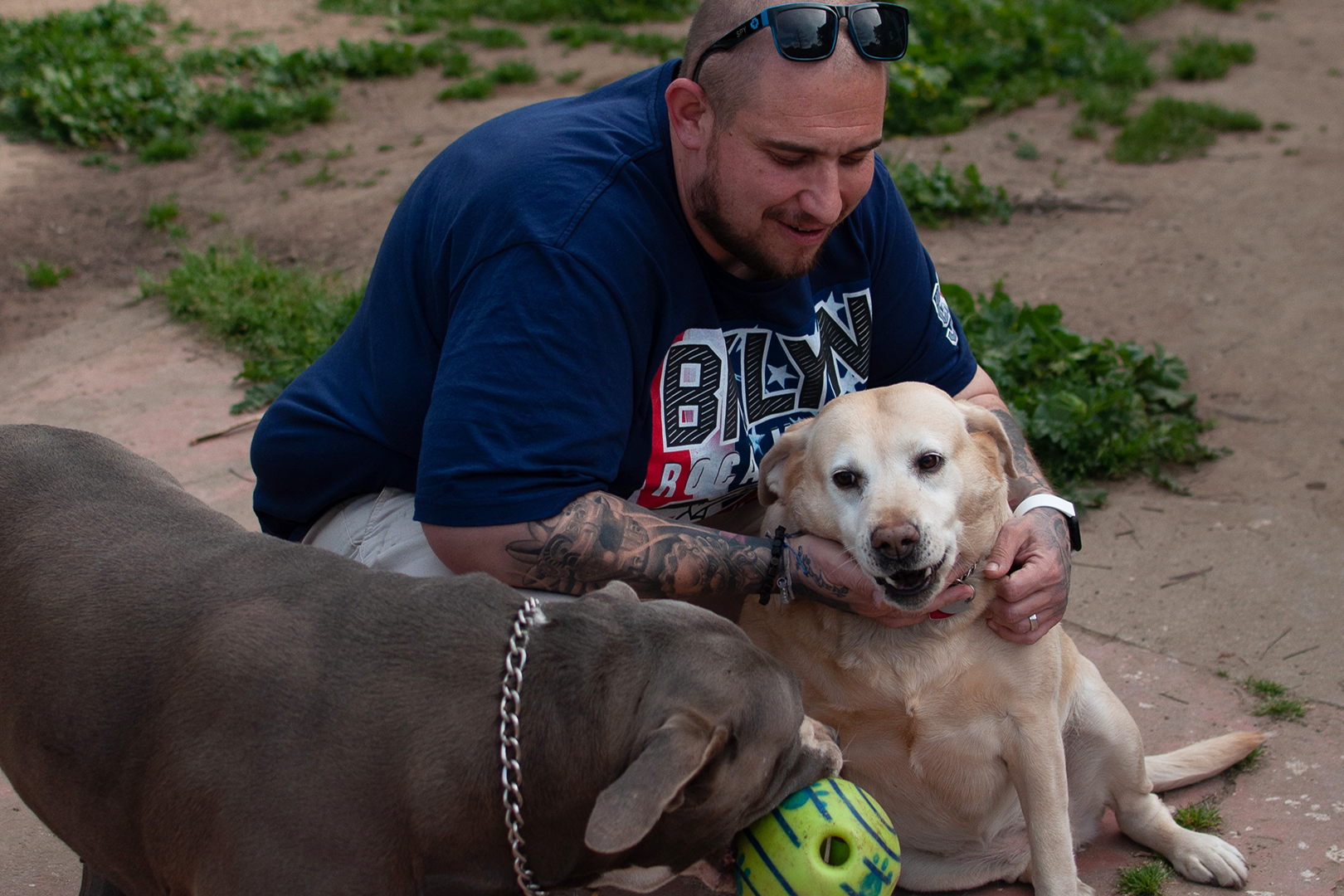 His story so far, while initially enshrouded in darkness, is in fact one of redemption, compassion and spirituality.
Inclán grew up in a home with his grandmother and mother, his father having been an absent alcoholic for most of his young life. During his youth, he was tangled in conflicts with the law, going in and out of juvenile hall and camps. He also experienced personal consistent drug and alcohol abuse from a very young age, and according to him, he had been using marijuana since he was 9.
However, around the age of 28, he realized something wasn't right.
"I had a spiritual awakening for myself, realizing that my life was in turmoil and that I was going to die unless I made some changes," he said.
One of the reasons he came to understand this need for change was his relationship with his wife.
Inclán met his wife, Sarah, online about nine years ago while he was still in the midst of his addiction, and she originally lived hours north of him. He called themselves "two sick people looking for something at the end of the day."
"For me, I wanted harder, and for her, she wasn't completely sane," Inclán said. "I was not the greatest catch at the time, right? She's hooking up with some guy that lives eight hours away from her that is an alcoholic."
Despite that, Sarah was still drawn to him.
"[What drew me to him was] his charm. And his sense of humor. He made me laugh," she said. "He just makes you like him instantly. He's just one of those people. I mean, anyone that he meets, likes him."
Although Inclán was still a troubled alcoholic, she eventually moved to southern California to live with him, where she played a vital role in his journey to sober up.
"[Without her] I would be dead," he said as Sarah teared up.
Inclán said that during this relationship, he became consumed by his alcohol addiction. The addiction became so severe that it affected his demeanor around his wife.
"When I drank, it was like my medicine. It made me feel better, and I was okay," he said. "When I didn't drink, I didn't know how to deal with life. I was an angry person, and she had to put up with it."
This behavior eventually caused her to say, "I actually like you better when you're drinking."
He laughed a little bit as he recalled that moment. But he also said it hurt. To Inclán, this meant that because he acted so differently and became affectionate while he was drinking, she, in reality, did not like him the majority of the time.
"When he was drunk, he was really fun and loving. And, you know, it was great," Sarah said. "But as soon as he would not have his alcohol, or he would sober up, he was angry and mean, and just not pleasant to be around."
"But that's how alcoholism is," she added. "When you don't have that drive, that thing to feed your addiction, you're miserable. And he was making other people miserable."
This moment, he said, was one of the points where he hit rock bottom.
While he tried to change for the better, his journey did hit some roadblocks. Inclán had been sober for a year and a half when the addiction came back. When he went for drinks with his cousin, rationalizing that he could drink on occasion, he felt the obsession crawl back into him.
Inclán said, "It's a three-fold disease. It's an obsession of the mind, an allergy of the body and a spiritual malady."
"Once you put it back in your body, it immediately triggers the obsessions. Most people that are normal don't get it," he added. "They think it's a matter of willpower. They think, just be strong. Just say no. You want to, but it doesn't work like that for alcoholics."
Inclán did the only thing he knew he could do: he got on his knees and prayed.
"I was so lost and confused and scared and hopeless that I just went to God," he said. "I'm not a religious person, but I do believe in the existence of something out there that I can't explain."
Once he did, he felt a voice within remind him about a promise he made.
Earlier in the year, he agreed with his father to go to an AA meeting if he drank again. Inclán said this wasn't the answer he wanted, considering he felt as though it wasn't necessary to go to a meeting, but he felt the voice push him to keep that promise.
This power, along with his now sober father, were what he said led him to AA.
This isn't to say he was eager to go. He deliberated the idea of a program with his father, but all he aimed to do was to just go to a meeting, and not the 6:45 a.m. one his father suggested. Inclán eventually came around to the idea, though, and finally attended Alcoholics Anonymous for the first time in the early morning.
The instant Inclán walked into the room, he said he felt a surge of power hit him. He felt a spiritual connection, and this helped him as he walked through AA's 12 steps of recovery and gained a sponsor.
Inclán said, "It felt like I was able to breathe for the first time ever in my life. And I felt like I was home."
There was still one problem, though: he was consistently using marijuana as he went to the AA meetings.
He said, "The funny thing is, I was still smoking weed at that time. And I didn't realize that I was going to have to give up weed too."
But when he reached out to his higher being, he realized that needed to change as well. One day, he called his cousin and asked him to take all pipes and bongs he owned, or he would destroy and trash every single one by the next day.
From there, he felt a change in himself.
"A lot of character defects started to diminish, and I started to see the world in a different way," Inclán said.
Sarah agreed.
"It's completely different. He's completely different. Everything about our life is different," she said. "There's just no way we would have made it. We wouldn't have been able to just stay together if it weren't for him getting sober."
This change spread to many different aspects of his life.
One part was his personal daily routine. His day-to-day schedule of eating, getting ready, school and work may appear similar to the average person's, but Inclán also strives to include some time for meditation and praying. This allows him to have a moment of quiet in which he connects with a higher being and realize the kind of person he'd like to exemplify for the day, a far cry from the troubled person he was in his youth.
Inclán also became a vegetarian about six months ago and has since become a full vegan. While he originally ate meat on a regular basis, he eventually became a vegetarian when he saw the documentary "Love & Bananas: An Elephant Story."
The compassion for animals that grew deep within him from the documentary and his sobering up caused him to immediately resolve to become vegetarian, even though the documentary did not touch on the topic at all. This, along with his volunteer experience in an elephant sanctuary in Thailand, was a turning point for him. He felt that he could not claim to love animals yet continue to eat them because it would have been hypocritical.
"Everybody's a hypocrite," Inclán said. "I try to be less of a hypocrite."
The act of sobering up has played a key role in his career as well.
Inclán works as a counselor at the National Council on Alcoholism and Drug Dependence in Covina, where he regularly works with clients who struggle with alcohol and drug addiction. Although he initially began as a business major in college and intended to work with his own business, he later found his true calling in helping others because of his compassion for others.
"One of the things about helping people is that it's the most rewarding thing that you can ever do," he said.
His job as a counselor usually consists of individual sessions with different types of clients: some who may have been caught with drugs, parents whose children have been taken away due to personal addiction or formerly incarcerated people who are sent to treatment while on probation.
Equally important are the group sessions that he frequently facilitates. Inclán's practice of meditation branches into these group sessions, where he gives the clients five minutes to meditate by themselves. Although he said that 12 minutes is ideal for a person, the five minutes are simply to give his clients a sample of what meditation can bring, and he allows them the time in hopes they bring the practice home.
While he has found his true calling in helping others who may find themselves cemented in a dark place, he plans to do much more with his career.
He will be transferring to Sonoma State University to attain a bachelor's degree in psychology, and Inclán then plans to pursue a master's degree in social work. From there, he would like to become a licensed clinical social worker and eventually become the executive director of a treatment facility, where he would be at the helm. He also said that one day, he intends to become a full-time professor and personally begin a clothing company.
It is clear that the man Christopher Inclán is today is light years away from who he used to be. He held his breath for 20 years, and yet found a way to finally learn to take a breath.
Inclán still has hurdles to leap over and goals to attain. In fact, his Instagram account @fromreefertokefir documents his progress as he strives to become healthier and more spiritual. He also shares photos of his family, which includes his two dogs Dixie and Juno, wife Sarah, and their son, who is set to be born September 2019.
The man who, with his wife, endearingly calls their duo "Team Shnook," who already has a onesie for their baby printed with the words "Baby Shnook," and who constantly and proudly records his health plans all on Instagram is the man Christopher is now.
Despite this development, he continues to ask for help, and he never stops growing.
"Every day I get up, and I pray, and I ask for guidance," he said. "I try to be a better person today than I was yesterday."