Mental Health Withers With Us While COVID Carries On
COVID-19 is wearing away at more than just morale
As we pass the six-month mark of COVID-19 lockdown measures, many are struggling with their mental health as a result of the ongoing extension of social distancing measures and confinement.
According to a study in The Lancet, "Confinement, loss of usual routine, and reduced social and physical contact with others [was] frequently shown to cause boredom, frustration, and a sense of isolation from the rest of the world, which was distressing to participants."
Mt. SAC Public relations major, Adren Flores, 24, feels stuck inside and misses socializing face to face. "I don't like having so many consecutive days being home. I feel unproductive without my normal routine, which has caused a lot of negative feelings to arise that only push me to be more unproductive," he said.
Flores then added that he sees his loved ones as a source of support that he just doesn't have right now.
A sense of normalcy has been lost as the social distancing measures drag on. With the prevention of normal activities and social contact people are showing signs of mental decline. The Kaiser Family Foundation has conducted multiple polls throughout the pandemic tracking the significant changes in mental health in the country. Each poll has made it evident that there has been an increase in anxiety and depression due to the coronavirus pandemic.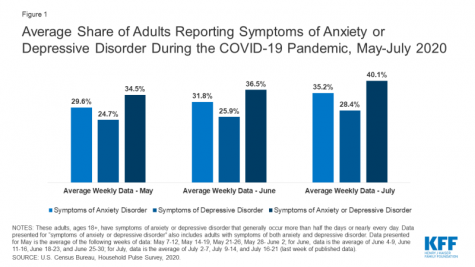 An article by Roll Call on the pandemic's affect on suicide rates stated that, "the National Alliance on Mental Illness Help Line has seen a 65 percent increase in calls and emails since March, according to the organization, though it is not a crisis hotline."
Anchorage Daily News published an article with the same alarming message stating that, "suicide mortality rates that were rising over the past two decades combined with the current pandemic are a 'perfect storm,'" according to astudy published in the Journal of the American Medical Association in April.
Rachael Groetzinger, 20, psychology major said, "I'd say my mental health has plummeted. It's just gotten worse and worse as time has passed."
Groetzinger added that she feels that COVID-19 has worsened her anxiety and depression.
Users have taken to Twitter with this same sentiment, saying that quarantine has caused either mental instability or an increase in negative feelings or symptoms.
quarantine feels like that scene in New Moon where Bella watches all the months pass out her window while in a severe depression, except less sad screaming nightmares

— Carrie Plunk (@CarriePlunk) August 24, 2020
My mental health is so fucked. No motivation, no ability to think, I have nothing to say in videos, I don't even wanna make videos rn but I need to literally make money and I just don't feel like I remember what life used to be or see it coming back??

— CHRIS KLEMENS (@ChrisKlemens) August 26, 2020
This quarantine has been ROUGH, I never realized how much social events and seeing friends really helped to keep my depression/anxiety in check.

To everyone else out there struggling, YOU ARE NOT ALONE 💛

— Kinsey Burke (@KinsZilla) August 7, 2020
At that point where it's like "is this depression or quarantine" and then go "meh what's the point in figuring out which," and you carry on and finish the dishes.

— Eve Ettinger (@eve_ettinger) August 13, 2020
With these thoughts and feelings becoming so widespread, major health organizations have put out information on how to cope. According to the Centers for Disease Control and Prevention website, "ways to cope with stress: take breaks from watching, reading or listening to news stories, take care of your body, make time to unwind, connect with others." The Anxiety and Depression Association of America has also put out information similar to that of the CDC. According to their website, "Reframe 'I am stuck inside' to 'I can finally focus on my home and myself', stay close to your normal routine, avoid obsessing over endless Coronavirus coverage, start a new quarantine ritual."
The Suicide Prevention Lifeline is a resource for those in crisis during this time. The Lifeline provides 24/7, free and confidential support for people in distress and can be reached at 1-800-273-8255.
Mt. SAC also provides access to one-on-one personal counseling with our Student Health Center therapists through TeleMentalHealth. To schedule a private and confidential appointment, students should call (909) 274-4400, Monday-Friday, 8AM-4:30PM, or email [email protected]. Mt. SAC Psychology Faculty have also compiled a list of resources for students.
COVID-19 has put a great strain on mental health throughout the country. It is evidently clear that individuals must take time to properly cope and confront any negative feelings arising during this historic time. The above resources, as well as many others, are available to those who need it.
Leave a Comment
About the Contributor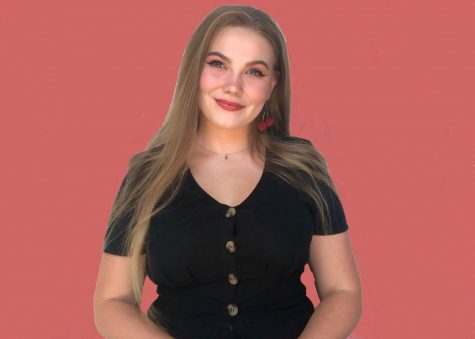 Jaylen Minnich Hall, News Editor
Jaylen Minnich Hall is the news editor for SAC.Media. She is student at Mt. SAC majoring in journalism and hoping to have a career in A&E news.