Eight Tales of True Crime Terror
Delve into eight of California's grizzly crimes in time for Halloween
Have you ever heard of a murder case that is so disturbing it just sits at the back of your head and you think about it at the most random times? No? Okay, I guess it's just me. I've always been intrigued by true crime and paranormal cases and I know I'm not the only one. There are countless podcasts, TV shows, movies and Youtube videos based on covering paranormal and true crime cases around the world. If you're not watching scary videos on Youtube, what are you watching? Here are eight true crime cases that are extremely spooky…you've been warned!
Trigger warning: there is some graphic language and topics in this story that deal with rape, murder and sexual assault. 
1. Melanie Howell Case
The case of Melanie Howell is one of those cases that makes people really upset because LAPD still hasn't given justice to Melanie or her family. In 1976, Melanie Howell was murdered in her apartment after being beaten and stabbed by a man who still hasn't been found. Neighbors of Melanie told LAPD they heard and saw a man talking to Melanie at her front door, but didn't think anything of it because the tone of the conversation didn't raise alarm. Later that night, the same neighbor called the police because they saw a man in a red shirt leaving her apartment after they heard screaming and glass breaking coming from Melanie's apartment. This case is still open today.
2. The Hillside Stranglers
The Hillside Stranglers' murders also took place in Los Angeles. Two cousins, Kenneth Bianchi and Angelo Buono Jr. murdered ten women during their killing spree. The murders happened between 1977-1978, making it less than a year from beginning to the end of their massacre. At first, the two cousins targeted sex workers, but they would later work their way into a middle-class neighborhood where they abducted and murdered five teenagers from the ages of 12-18. They buried the bodies on different hillsides throughout Los Angeles, hence the nickname Hillside Stranglers. Both men were convicted with life in prison without the chance of parole. The podcast, "Crime Junkie" covered this story for one of their episodes.
3. Los Feliz Murder House
2475 Glendower Place, Los Angeles is referred to as the murder house because Dr. Harold Perelson murdered his wife in their home. Perelson also attempted to murder his eldest daughter, Debbie, but did not succeed. Family and friends of the Perelson family reported Harold Perelson's bizarre actions to the LAPD months prior to the murder. The doctor was quick to blame it on the house and it's weird, negative energy. The house has been vacant for years and was recently renovated.
4. Tate Murders
This murder has been one of the most infamous murder cases in Hollywood. Actress Sharon Tate, along with her friends, were brutally murdered in her home in Los Angeles in 1969. This murder was perpetrated by members of the Manson Family. Charles Manson commanded five members of his cult to murder the people residing at the Benedict Canyon house. The followers who committed the crime were Susan Atkins, Tex Watson and Patrcia Krenwinkel.
This true crime was extremely disturbing because Sharon Tate was pregnant at the time of the murder. Atkins even went as far as to attempt to remove the fetus from Tate's body, but Linda Kasabian told the rest of the followers that help was on the way. This was just the beginning of the murders committed by the Manson cult.
5. The Black Dahlia Murder
In 1957, a young aspiring actress named Elizabeth Short was found dismembered in Leimert Park. Short's blood was drained from her body and different parts of her body were cut off. The Los Angeles Coroner's Office pointed out bruises and cuts to the police officers and believe she was tied up and tortured before being murdered. There are a ton of conspiracy theories about this true crime case. Since the blood was drained from her body and because of the perfectly cut limbs, many believe it was a doctor who murdered Short because only a medical professional would know how to complete something like this. LAPD never really cracked down on who committed the murder, but they did have a list of potential suspects. This case still hasn't been solved. Buzzfeed Unsolved has a very informing and somewhat hilarious video discussing the murder.
6. Golden State Killer
The "Golden State Killer" murdered 12 people and raped over 40 women from the years of 1976 to 1986. Police officers in San Francisco didn't have any leads on who they thought the murderer was. Over time, SFPD collected DNA samples of the murderer from DNA found on the victim's bodies. Unfortunately, the DNA didn't match anyone who was already in the system.
Years passed since the killings and the murder still hadn't been caught, but in 2018 there was a DNA match to the murderer that came from a family tree kit. It turns out, a family member of the killer completed an ancestry test that matched the DNA the police had on file. Thanks to the test, their open case went from millions of suspects to a single family.
Joseph DeAngelo was arrested in 2018 for the murders of 13 women. DeAngelo used his knowledge of being a former police officer to leave the scene of the crime without getting caught. DeAngelo was only charged for the murders, but not for the sexual assault crimes he committed because of California's statute of limitations law. He was sentenced to life in prison without the possibility of parole.
"Crime Junkie" also dedicated an episode going over the case and explained in detail what happened.
7. The Elyse Pahler Case
In 1995, Elyse Pahler made the decision to sneak out and meet up with three teenage boys who were around her age. One of the three boys told her he and some of his friends planned on smoking weed at a park near her house, so she agreed to go. When they got there, Elyse was repeatedly stabbed, tortured, and raped by Jacob Delashmutt, Royce Casey and Joseph Fiorella.
Her body was left at Eucalyptus Grove in Arroyo Grande, California where it would lay undiscovered for eight months before Casey led the authorities to her body. An investigator asked Casey why they murdered Pahler and he said that, "it was to receive power from the devil to help them play guitar better." All three culprits were sentenced to 26 years in prison.
The cult classic, "Jennifer's Body" is loosely based on this murder case.
8. Murder Of Trang Phuong Ho
The murder case of Trang Phuong Ho is still one of the most disturbing murder cases I have learned about.
Trang Phuong Ho was an immigrant who moved to American with her father. The pair fled Vietnam in hopes of having a better life. Sinedu Tadesse shared a similar background to Ho. Both students were attending Harvard, both were immigrants and they both knew what it was like to feel like an outcast. Tadesse and Ho met through school because they were roommates. As the semester went on, Ho started meeting new people and making new friends whereas Tadesse found it difficult to form new relationships with people. Tadesse felt alone and started sending out letters to other students at Harvard asking if they would be willing to be her friend.
Tadesse watched Ho make new friends, go out, and live a typical college life and grew jealous that she couldn't do the same. At the time, Ho passed all her classes and kept her GPA while Tadesse barely passed hers. Since she had a hard time adapting to a new place, Tadesse's mental health went into a downward spiral.
A couple days before the murder Tadesse wrote to Harvard's college newspaper, The Harvard Crimson, and said, "Keep this picture. There will soon be a very juicy story involving this woman." Less than a week later, Tadesse murdered Ho by stabbing her over 30 times and then hung herself in their college dorm bathroom.
YouTuber Brooke Makenna has a video on her channel where she really dives into the case.
Leave a Comment
About the Contributor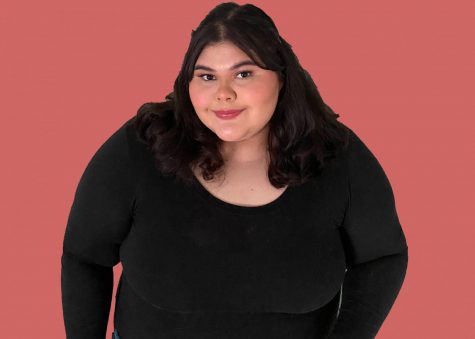 Amber Ortiz, Pop & ENews Editor
Amber Ortiz is the Editor in Chief of Substance Magazine, Pop Editor of SAC.Media,  and a part of the social media team.