Your Favorite Latinx Celebs want you to vote
From Camila Cabello to George Lopez, these latinx celebrities are trying to get their followers to vote
As the U.S. nears election day, more and more celebrities are encouraging their fans and followers to use their voices and exercise their right to vote. We at SOMOS compiled some of the biggest Latinx celebrities and what they're doing to encourage voting.
Camila Cabello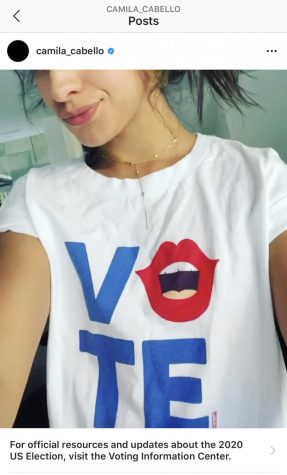 Cuban-American singer-songwriter Camila Cabello boasts over 50-million followers on Instagram. On Oct. 4, she posted a boomerang showing off her vote shirt while encouraging her followers to vote. She also posted several other resources to her story about registration deadlines and how to register to vote. Cabello is no stranger to celebrating her heritage and that is one of the reasons her audience connects to her so much.
Barbie Ferreira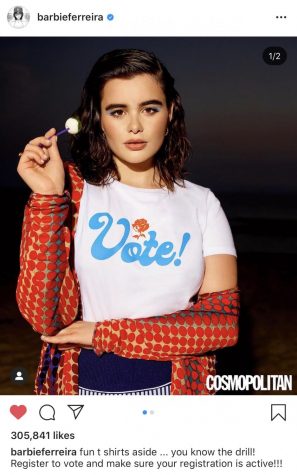 Brazilian-American actress Barbie Ferreira rose to fame in 2019 after her role as Kat Hernandez on HBO series Euphoria. In 2020, she made her film debut in HBO drama "Unpregnant," opposite Haley Lu Richardson. Ferreira has become an advocate for body positivity, many of her fans hailing her approach to modeling and acting. She now has a following of over 2 million on Instagram. On Sept. 30, she posted a photo from her most recent Cosmopolitan cover also sporting a vote t-shirt, while encouraging her followers to register to vote and make sure that their voter registration was active.
Eva Longoria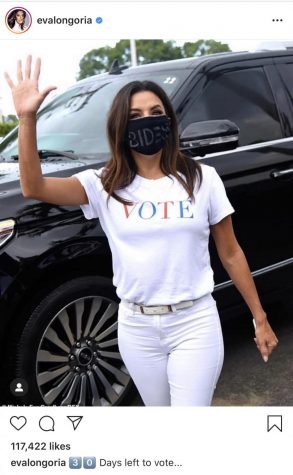 Mexican-American actress, activist, producer and director Eva Longoria rose to fame after starring in the series Desperate Housewives in 2004. Since then, she has starred in countless films and television shows, as well as directing and producing many more. She has a following of 8 million on Instagram. She is consistently encouraging her followers to vote, posting "real talks" to her page with Ana Navarro, a political strategist and commentator, where they discuss topics relating to voting and politics.
Demi Lovato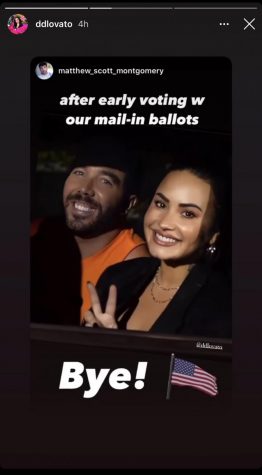 Mexican-American singer, songwriter and actress Demi Lovato rose to fame after years on Disney Channel and quickly became a household name. Since then, she has become a huge figure in pop culture, releasing music regularly. She also has become an advocate for mental health and ally of the LGBTQ+ community. On National Voter Registration Day, she reminded her 93.2-million followers to register as well as posted a register guide on Oct. 6. On Oct. 8, she also let her followers know via Instagram story that she had voted after mailing in her ballot.
Rita Moreno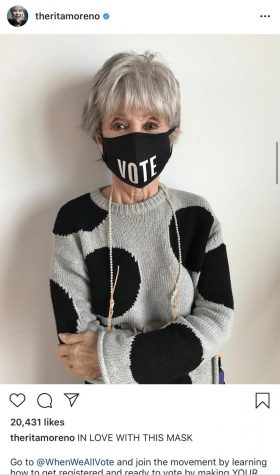 Rita Moreno is a Puerto Rican actress, dancer and singer. Her career started at just 11-years-old. Now at 88 she continues to act, most recently in the 2017 remake of "One Day at a Time" which is currently in its fourth season. She is also one of the very few artists to have Emmy, Grammy, Oscar and Tony Awards. Recently, she has shown her support for When We All Vote, a non profit organization which seeks to increase voting participation by encouraging everyone to make a plan to vote and provide resources to increase participation.
George Lopez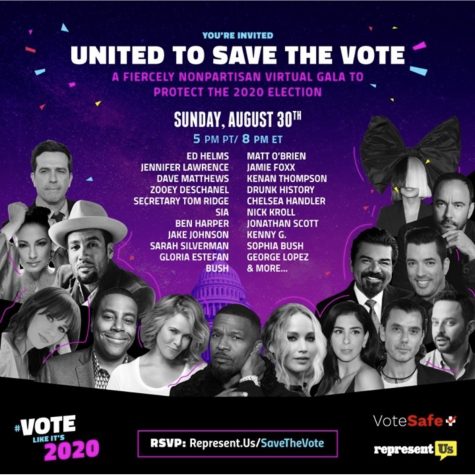 George Lopez is a Mexican-American comedian and actor. His career has been dedicated to bringing awareness and celebrating culture through comedy. Recently, he has voiced his support for the nonprofit organization Represent Us, an organization which seeks to end corruption in politics. Similarly, celebrities such as Mark Ruffalo, Sarah Silverman, Amy Schumer and Josh Gad participated in a campaign to show support.
Jennifer Lopez
Jennifer Lopez is a Puerto Rican actress, singer and producer. She was catapulted into fame after starring as Selena Quintanila in the biopic of her life story in 1997. Since then, she has been an inspiration for Latinas everywhere. Recently, she has participated in the #VoteLikeAMadre campaign, which encourages Latinx families to vote with their children's future in mind, specifically in terms of climate change. Along with Lopez, Salma Hayek, Zoe Saldana, Karla Souza and Eva Longoria are a few celebrities who participated in the campaign. The campaign video can be seen on their website.
Lin-Manuel Miranda
Lin-Manuel Miranda is a Puerto Rican-American producer, composer, playwright, actor and singer. He is most notably known for writing and composing "Hamilton," which was a huge success and has recently been made available on Disney+. Recently, Miranda and the cast of Hamilton joined forces with "When We all Vote" to release a video encouraging fans to vote and make sure they are registered, which has been viewed over 379 thousand times. The video can be found on YouTube.
Selena Gomez
Selena Gomez is a Mexican-American singer, actress, producer and activist. Like Lovato, she also got her start on Disney Channel, and has since become a household name advocating for mental health. She recently participated in a new campaign, "Civics for the Culture", a campaign designed to encourage young people of color to vote in the upcoming election. This is just weeks after her Allure magazine cover urging her fans to vote.
THREAD: We are excited to launch #CivicsForTheCulture to work with leading voices across the country to amplify the importance of voting and how you can make your voice heard this November.

Watch @selenagomez explain more below 👇🏾👇🏼👇🏿 pic.twitter.com/GB11VVfcgn

— Fair Fight (@fairfightaction) October 7, 2020
Leave a Comment