5 Celebs Canceled in 2020
This year has been tough. Here are the celebrities who have faced the wrath of the internet
Ah, yes. 2020, the year of chaos, tragedy, and quarantine. This year has everyone walking on eggshells, scared of another tragedy happening. Time also doesn't exist anymore. I swear it was just March. When students were just adjusting to Zoom university, people were playing Animal Crossing for hours on end, quarantine was just beginning, and Harry Styles fans still had hope for his 2020 world tour; a much simpler time. Now, almost everything has been put on hold; except for calling out and cancelling problematic celebrities. Over time we have learned that no celebrity is immune to cancel culture. Taylor Swift was canceled in 2015 because of the drama with Kim Kardashian-West and Kanye West which the public recently learned she was innocent for. (I always believed you, Taylor. I'm a Swiftie first, human second.) Here are 5 celebrities who have been canceled in 2020.
Kylie Jenner and Kendall Jenner
Oh, Kylie. The youngest of the Kardashian/Jenner clan and the world's youngest billionaire was canceled earlier this year because of rumors concerning her and her sister's brand, Kendall + Kylie. There were claims that the company they work with refused to pay their factory workers in Bangladesh due to the ongoing COVID-19 pandemic. An article published by Remake goes into depth about what was really happening to these factory workers who were taken advantage of. The Kendall + Kylie brand addressed the claims on their Instagram page. Once everything was cleared up with their clothing brand. The Jenner sisters were still under attack because neither of the sisters publicly supported the Black Lives Matter movement, but tended to steal trends from Black culture to popularize them and profit off of these trends.
Ellen Degeneres
Turns out she's not so generous. Get it? No? Okay. Degeneres was one of the biggest and most unexpected celebrities to be canceled this year. Earlier this year, a comedian named Kevin T. Porter uploaded a tweet saying he was going to donate $2 to the LA Food Bank for every insane story he got about working for and with Ellen. Boy, did he reach his goal in no time. The tweet snowballed into much more. Not only were people sharing their experiences on the Twitter thread, but there were also groups on Reddit, and forums on other websites discussing the negative ways Degeneres would treat her staff. It was later confirmed the staff weren't allowed vacation days and health insurance. Many of Degeneres' old staff claim it was the most toxic place to work in Hollywood.
J.K. Rowling
The author of the iconic Harry Potter novels was canceled earlier this year because she was publicly being transphobic on Twitter. Vox has published an article going into depth about the transphobic situation with Rowling. Rowling's supporters were extremely disappointed because they love the Harry Potter series, but aren't sure if they can support it anymore since Rowling does receive royalties for any of the merchandise and films. Emma Watson, who plays Hermione Granger, has publicly stated that she disagrees with Rowling and her beliefs.
Lana Del Rey
Lana Del Rey has been canceled about three times this year. She was first canceled because people found out her (now ex) boyfriend was a police officer in the state of New York, but people soon forgave her after the couple called it quits not long after.
She was canceled a second time for a post she made on her Instagram. The Summertime Sadness singer was upset that the general public didn't believe her music is empowering to women. She made an Instagram post naming celebrities to prove her point that her music does not glamorize abuse and artists like Ariana Grande, Beyonce, and Cardi B are able to make music about "being sexy, wearing no clothes," but she wasn't able to write about her past relationships. Her fan base and the general public were upset with her because the artists that she named were mostly women of color, Black artists specifically. The hashtag "#LanaDelReycist" started trending not long after her post.
When she was canceled, the most recent time was because Del Rey hosted a book signing in the middle of a global pandemic, and to top it off she wasn't wearing a proper mask. The singer showed up to her pop-up book signing wearing a mesh mask and met a lot of her fans while not wearing the proper protective equipment. Again, many of her fans were disappointed with the artist. She has yet to apologize for the mask and the book signing.
Shane Dawson
TRIGGER WARNING: Pedophila
Shane Dawson is one of those people who repeatedly gets canceled, but somehow finds his way back into the media. Dawson has been canceled before for multiple different reasons. One was because on an old Podcast of his, he defended pedophila. He got away with it because he told his audience it was a joke that shouldn't have been said. Another time was because on the same podcast he told his co-host he had sex with his cat. He told his audience it was a joke and his humor was different back then. He has even been canceled for intimidating Black women by doing Blackface on his YouTube channel. Guess what? He also said it was a joke that he shouldn't have made and he is terribly sorry for. Hm, there's a pattern here, Shane.
Most recently he was canceled because an older video resurfaced from around 2011 of Dawson standing next to a Willow Smith poster making movements as if he were maturbating to her photo. This is not only disturbing because Willow Smith was only 11 years-old at the time, but because he apologized and tried to say it was also a joke that shouldn't have been done. After being under fire for the video and his drama with YouTuber, Tati Westbrooke. Dawson decided to take a break from social media and hasn't been back since
Leave a Comment
About the Contributor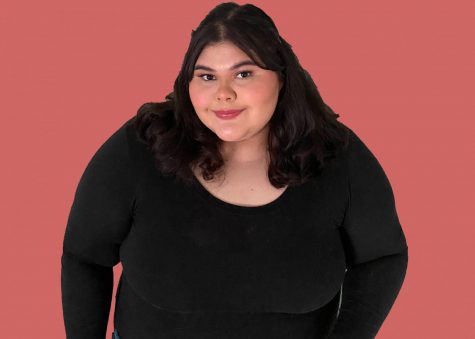 Amber Ortiz, Pop & ENews Editor
Amber Ortiz is the Editor in Chief of Substance Magazine, Pop Editor of SAC.Media,  and a part of the social media team.