Stay Spooky and Safe this Halloween with Phasmophobia
You can still hang out with your friends with this co-op horror game
Phasmophobia was released on Sept. 18 and rated "overwhelmingly positive" on steam. Despite being an early access game, it has become very popular among streamers and gamers alike. It was created by indie game developer Kinetic Games and it is available on PC through Steam with virtual reality (VR) support. This is a psychological horror game that can be played in single-player mode or up to four-player online co-op.
According to Twitch Tracker, in the last seven days, there were on average over 46,000 viewers and it was streamed on over 2,400 channels on Twitch.
This game currently has seven maps, over 10 types of ghosts, and over 20 kinds of equipment. The maps come in different sizes and settings, from a small street house to a large asylum. Each ghost requires various evidence to be identified and better equipment can be purchased.
During investigations, players are given objectives to complete. They can carry a limited number of tools to help collect evidence. Throughout their missions, they can go back to their base to exchange equipment. But they can also bring more equipment if they made space.
Those who have watched ghost hunting shows should be familiar with the names of the tools being used. Electric and magnetic, EMF, readers, spirit boxes, ultraviolet, UV, flashlights, crucifixes and salt. EMF readers were often used to locate the presence of a ghost. UV flashlights would show the handprints or fingerprints that ghosts left behind.
Twitter user, @pistola_me tweeted a creative way to use flashlights and UV flashlights.
van party @KineticGame @keeblrsgrl @Silver_Rook pic.twitter.com/A81SSS8Da3

— ItsaMePistola (@pistola_me) October 24, 2020
As players complete each investigation, they receive money that can be used to purchase better equipment. Since different ghosts react to various tools, players would need to switch tools around to collect evidence of paranormal activities.
While collecting evidence, players also need to manage their sanity. Players with low sanity are prone to haunt and hunt when the ghost got provoked or became aggressive.
One of the unique features Phasmophobia offered was full voice recognition. Players could interact with the ghosts by asking questions through the Ouija board and spirit box.
Twitter user, @K3vin_Jolly demonstrated another technique that worked for him.
Chat told me to try cussing the ghost out….it worked! #Phasmophobia pic.twitter.com/3nlOUYAl3v

— H0llyw00d28 Gaming (@K3vinJolly) October 25, 2020
There are still improvements that need to be made in parts of the game to make it better. Graphics glitches are one of those areas.
Twitter user, @L0V3L3TT3RR tweeted about them.
https://twitter.com/L0V3L3TT3RR/status/1320129757648859136
Kinetic Games planned on releasing Phasmophobia sometime in 2021, but that might change depending on early access progression.
Whether playing alone or with friends, it is good to remember to practice social distancing as COVID-19 cases are on the rise again.
Leave a Comment
About the Contributor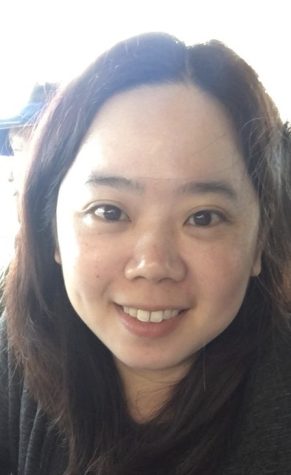 Christie Yeung, Managing Editor
Christie Yeung is Managing Editor and former features and gaming/tech editor of SAC.Media. She falls somewhere between a nerdie or a foodie, or is both. She likes to spend her spare time playing video games, listening to music, and watching funny videos on Youtube. She has a sweet tooth and has no immunity against anything with Nutella on or in it.