The World Series Win Has Me Bleeding Dodger Blue
Game 2 was the first full ball game I ever sat through. And now I'm that much closer to my Dodger spirit than I was before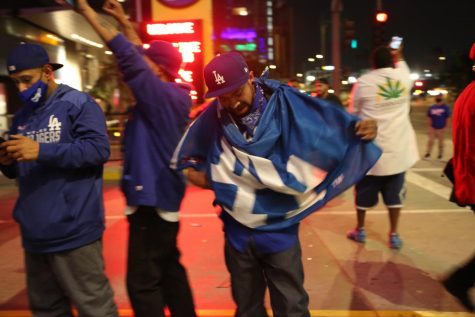 This was my first World Series as a baseball fan. I sat down to watch Game 2 of the World Series as my first full game of baseball, and it was the hook that kept me there.
After learning that the Los Angeles Dodgers hadn't won a world series since 1988, I realized that I was witnessing history; it changed the game entirely for me.It all hit home when the best-of-seven series between the Dodgers and the Tampa Bay Rays was 3-2, and everything for the Dodgers depended on Game 6. That was the first time I felt like I understood this part of the spirit of Los Angeles. The fanatics all made sense to me all at once.
Sitting down to watch Game 6 honestly felt like torture. I thought that I was about to watch all of Los Angeles have their hearts broken. The Rays were up by one during most of the game, but as soon as LA got one and tied, I grabbed my camera and went straight into Downtown Los Angeles.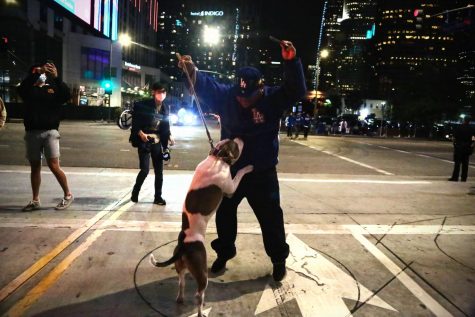 There was a small crowd of fans standing on the sidewalk watching the game playing in the sports bars lining Olympic Boulevard near the Staples Center. They were all chattering with electric anticipation. The Dodgers were up 2-1 by the time I
got there, and it was still anybody's game. Every fan was on their toes with anticipation, twitching at every swing and pitch.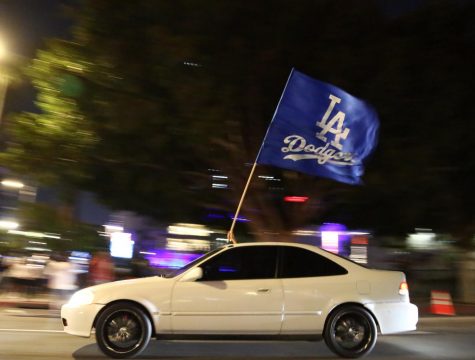 It was after the ninth inning when the Dodgers brought it back after 32 long years that the city exploded. All of a sudden the small crowd grew to a mighty gathering of screaming, cheering and crying fans jumping and shouting, "Let's go Dodgers! Let's go Dodgers!"
Fans materialized out of nowhere and gathered all over the city. On 11th Street and Flower Avenue, what started as a group of fans donning Dodgers jerseys trying to cross the street turned into a mob of blue, waving flags and holding up blue blankets and signs. The city was buzzing with blue all over, from the City Hall to the Intercontinental Hotel.
For lifelong Dodgers fan Francisco Espina, 28, this was the first time he had seen the team win the World Series, their last being four years before he was even born.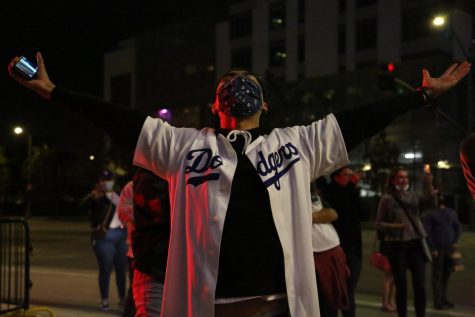 "I'm so excited I can't even breathe," he shouted over the roar of the crowd on the street. "I'm a fan because of my grandpa! My older brother Scooter! He's the reason why I bleed Dodger blue!"
This year in sports has taken a turn for the best in Los Angeles. Los Angeles Dodger fans didn't forget about this year's biggest loss, as fireworks echoed through the streets, the crowd was shouting up and down, "we did it for Kobe!"
And now I'm part of the team. And I understand what it means to bleed dodger blue.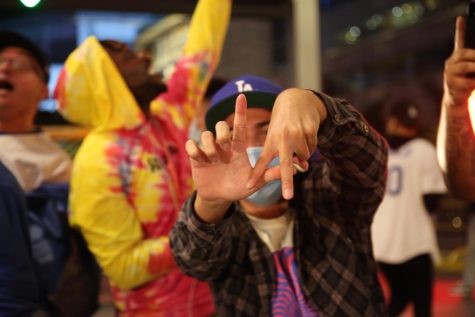 Leave a Comment