Campus Resembles a Ghost Town Since Pandemic Closure
SAC.Media's exclusive look at the abandoned campus
Flyers with frayed edges from March 2020 pinned to corkboards across campus. Dark deserted halls that echo an eerie silence. Desolate parking lots once filled with cars and students fighting over parking spaces. The scene is reminiscent of a zombie apocalypse.
On March 19, following the stay at home order by Governor Gavin Newsom, Mt. SAC closed its campus. Shortly after, major transitions were made during a three-week period to move classes online. Fall semester was almost all online with the exception of a few programs that were deemed necessary to have in-person, such as welding. This news, however, is common knowledge for students and staff informed by the school's vigilant health alerts sent via email and updated on the website. What most of us don't know is what's happening on campus.
Few people have seen the campus since March; those who have, have described it as a ghost town or a scene from an apocalyptic movie. Buildings are left untouched, bathrooms are locked, and common areas are empty. The only place seeming to have any form of life is the farm.
Radio Broadcasting Professor and Mt. SAC Radio Program Coordinator, Jason Shiff, has been back to attend the campus radio stations on two occasions since the beginning of the pandemic in March. About these visits he said, "each time [was] more surreal than the next."
Shiff's first visit was on a rainy day in April. He said, "I knew things were not normal when I was escorted in the parking lot by campus police."
He returned to campus a second time in early October. "To be honest, this visit rattled me," he said.
Shiff described the campus as something out of an old western movie featuring a deserted desert town. "Fliers and advertisements for Spring 2020 semester activities are still hanging," he said. "Very much a scene from a disaster movie!"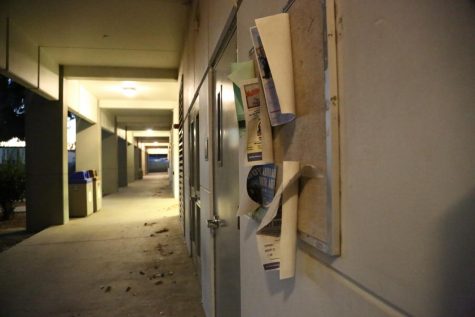 This year has definitely felt like a disaster movie and it seems that the state of the campus is reflecting that. Since March there have been multiple crime logs by Mt. Sac's police and campus safety. These logs include grand theft, vandalism and burglary. People seem to be taking advantage of the abandoned campus just fine.
Abraham Navarro, SAC.Media's Editor-in-Chief, visited the campus this month to capture its current state of affairs. He said that besides the few security outside of the main entrances making sure no cars came in there was no security patrolling the campus.
"It was honestly kind of unreal," he said. "There was nobody on campus, aside from the essential classes, but they stuck to their cars in the parking lot or to their classrooms."
He described the campus as dirty with weeds growing out of the concrete where people would normally be treading everyday. "Buildings had lights on but they felt abandoned," he said. "I peeked into a classroom and it looked frozen in time. There were a few chairs out of place and there was a water bottle sitting on the front desk, like it had been since March."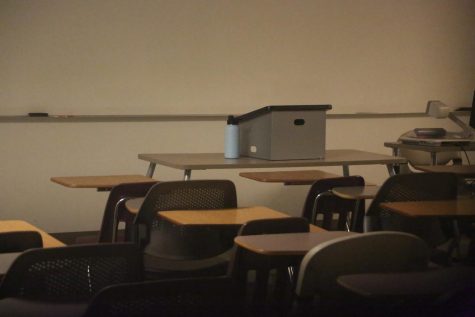 Just like Shiff, Navarro mentioned the old posters left from March, "all curling up from the sun, wind and wet."
There were even stickers on the floor six feet apart saying "welcome back," "Like they were expecting people to come back sooner," Navarro said.
Professor of Journalism and Adviser of Student Media Toni Albertson had a similar reaction to the visiting the campus, post-closure. She returned last month to pick up some things from her office and was shook by the experience. She recounted the visit.
"It was like time had stood still. My office still had the calendar page from March, everything untouched on my desk and chairs in the newsroom exactly as we left them. Student editors who thought they'd be back, left their desks, decorated with their photos and memorabilia, to never return. It was unsettling, and sad."
Albertson has yet to see her students in person since.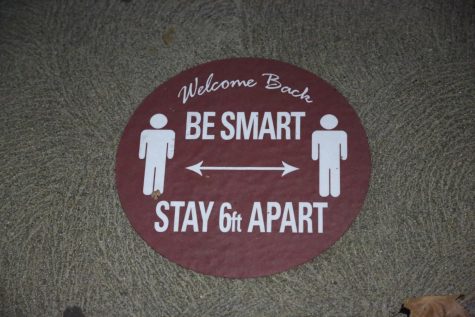 The question is, with these dystopian descriptions of campus, what's been going on at Mt. SAC? Is it being kept up? Are facilities and utilities being maintained the way they need to be? Are things just shut off? Is the school saving money because of this and if so where is that money going?
All these questions were answered by Kenneth McAlpin, Mt. SAC's custodial and grounds department manager.
In regard to the maintenance of campus, McAlpin said, "despite the appearance [of campus], our Maintenance and Operations staff are working daily on various work schedules and continue to provide essential services to the college."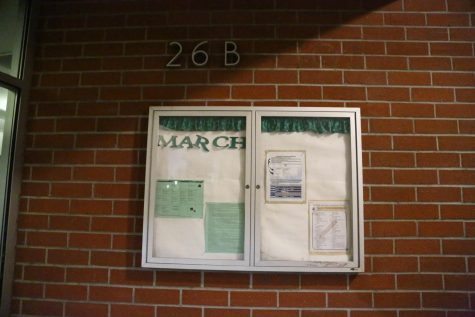 Essential services include ensuring that all building and operating systems are maintained and ready to be brought back online the moment campus leadership determines its safe to do so.
McAlpin also explained that resumed programs such as nursing, fire academy, welding and HVAC are maintaining program equipment for their prospective area and that only facilities that directly support these current in-person classes are open for safety reasons.
However, he reassured that all building systems and equipment are being maintained.
As for any money being saved by utilities being off, McAlpin said, "we anticipate an overall savings on utilities for the period [that] the college has operated at less than 100%."
"Utilities are paid from the general fund so net savings would mean those funds can be redirected to other operations needs of the college," he said. Those operating needs have yet to be determined.
About how much would be saved, McAplin said, "It appears that a net savings of as much as 20% is certainly possible but we can't be sure until a full review is completed."
McAplin  said that the farm staff was unchanged and all requirements of the grounds and care for animals continued.
McAplin said that, "state leadership has deemed construction [of the Student Center] essential and the Building and Construction programs have continued uninterrupted."
There are still decisions to be made regarding savings dispersals and reopening strategies.
Hopefully answers to these lingering questions will be answered shortly as COVID-19 vaccines slowly roll out.
Leave a Comment
About the Contributor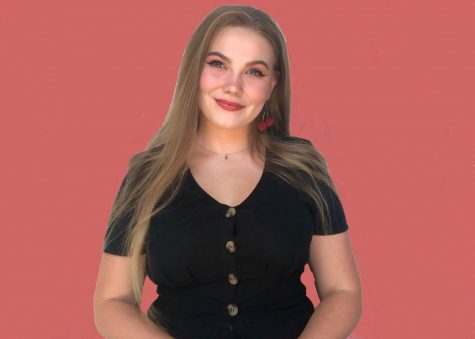 Jaylen Minnich Hall, News Editor
Jaylen Minnich Hall is the news editor for SAC.Media. She is student at Mt. SAC majoring in journalism and hoping to have a career in A&E news.