U.S. Agencies Spying On Muslim Americans During Prayer
The FBI is harvesting Muslim American data via a prayer app.
On Feb. 18, 2021, 18 progressive members of the House of Representatives signed a letter to Defense Secretary Loyd Austin and Director of National Intelligence Avril Haines inquiring whether the United States Army purchased the data of American Muslims.
Post 9/11, the U.S. Federal Government, as well as the FBI, went to unheard standards to surveil, intimidate and profile Muslim Americans according to a Pullitzer prize winning report by the Associated Press in 2011. The strategies may have become digitized 20 years later.
Muslim Pro has about 100 million downloads and includes functions, such as reminders to pray and verses from the Quran.
The simple app that reminds users of the times to pray and the direction of Mecca is now mired in controversy for selling all sorts of its users data to the U.S. Army. How do Muslim Americans cope?
Adeeb Hamwi, the Vice President of the Mt. SAC Muslim Student Association, said that he loves the app and uses it regularly.
According to an article published by Vice on Nov. 16, 2020, a data sale between the United States Special Operations Command, and two third-party data brokers, X-Mode and Babel Street, was made.
X-Mode and Babel Street supply what are known as "software development kits" or SDKs. According to Vice, these are pieces of software app-developers, like Muslim Pro, embed in their apps to gain revenue—similar to advertising. The app developer sells information to data brokers like X-Mode and Babel street.
In this case, it was geo-location and other data points that—according to Vice—could easily be deanonymized to reveal the users personal information such as their name, whereabouts and other online interactions.
Hamwi said that it is common and was, "not surprised that the U.S. Military sought out this information."
Sumaia Baggia, Inter Club Council representative, said that she feels there is no trust.
"If America is about having trust in all of our different kinds of people," she asked, "why are you trying to look through everyone's information?"
These acts of data breach are not unique to foreign policy but are increasingly becoming a standard part of domestic enforcement and surveillance. On Dec. 3, 2020, the American Civil Liberties Union filed a Freedom of Information Act request seeking the release of three years' worth of records. While the data was purchased by USSOCOM, the request was sent to several agencies including the DEA, CIA and FBI.
Baggia feels that the government targeting one minority group makes it easier for them to overreach and infringe on the civil rights of other groups.
"We're all minorities, we're all kind of experiencing the same problems usually where there is this extreme hate towards us," she said. "I think it would be easier because each community has their own way of communication."
"Our names, to them, look suspicious," Hamwi said "My nose to them is a threat!"
Dr. Sabrina Alimahomed-Wilson is a Professor of Sociology at California State University, Long Beach and a research fellow at the Civil Rights Division of the Council of American Islamic Relations.
In her article, "When the FBI Knocks: Racialized State Surveillance of Muslims" she wrote that racialized surveillance becomes, "a technology of social control where surveillance, practices, policies and performances concern the production of norms pertaining to race and exercise a 'power to define what is in or out of place.'"
She said this allows for the normalization of viewing fellow citizens as a threat, as shown in the media representation of Muslims. This, according to Alimahomed-Wilson, opens Muslims up to unwarranted surveillance and bullying by their own peers, not just government agencies.
Baggia said that she saw parallels between herself and other minority groups in how Black parents and her own would warn their children about how to act. She described how her parents would tell her, "don't act suspicious," that she had her hijab ripped off her at a young age and even that her father, the only Muslim at his workplace, had to shave parts of his beard due to harrassment at his work.
"[There are] parallels because honestly, people that discriminate against these different groups don't really know much about them, they just know that they hate them," she said. "They see us as the same."
In light of the Jan. 6, Capitol riot, lawmakers have been asking to give more money to the surveillance programs of the FBI, but there has been pushback against this idea from the ACLU.
Hamwi agrees with the ACLU, that these resources will more likely be used against minority groups.
"I haven't seen evidence that they're trying to surveil White supremacists, the numbers are not decreasing," he said.
Hamwi still remains optimistic, regardless of the circumstance.
Hamwi remains hopeful that the country is progressing on the right path, he said, "It's truly to be great, not again but to always strive further to be greater."
Leave a Comment
About the Contributor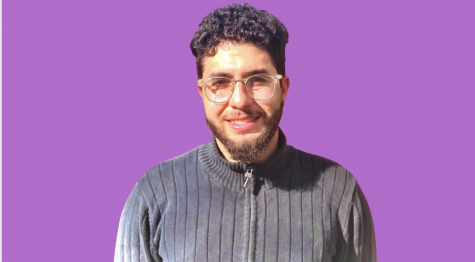 Fares Abdullah, Staff Reporter
Fares Abdullah is a student at Mt. SAC and a staff reporter for SAC.Media.