Predicting Summer Fashion Trends
What will summer fashion look like after last year's summer was put on hold?
Dressing up your loungewear is the name of the game this season. As we transition out of those sweatpant-quarantine days I predict we will find ourselves desperately wanting to dress up to fight our natural instinct of comfy-casual, with fancier silhouettes.
Textured Wear
Everything knit, crochet and fishnet seem to be popping up all over the runway this year. Crocheted tops or "granny squares," as they have become known on Tik Tok, have especially become the biggest statement pieces recently. Reminiscent of 1970s fashion; these colorful patches of fabric have been seen incorporated in sweaters, skirts, tops and as hair accessories. I have a feeling that these funky patterns will appeal to the coziness factor that people this season will be craving, while also satisfying the itch to wear something a bit more flattering.
Sheer Tops
Fashion seems to go through phases of sheerness. In the 70s,it was sheer crochet dresses. in the 90s was the introduction to glitter sheer; crop tops to prom dresses flaunting the sexy style that has now come back in a professional form– sheer button-ups. These tops have become increasingly more popular, and while the early 2000s might have dealt with sheer tops by adding layers of clothing underneath, today we welcome in the style with layers on top of it. Corset belts, fitted tanks and sweater vests have all been seen paired over these tops for a business-casual meets schoolgirl kind of look. I predict these styles we saw so often in the winter will be easily translated over to the pool as beach cover-ups and outfits for the hot days enter the fashion cycle once again.
Ruffles
An easy way to wear an elevated outfit while also keeping cozy is ruffles. Big and billowy silhouettes have become increasingly more common and I think that the effort for big fashion statements like this stems from a quarantined indulgence for many: "Bridgerton." This Netflix original left many desperate to attend a ball or simply run barefoot through a field of colorful flowers. We want to feel regal, and how are we going to do that? By wearing ruffled EVERYTHING. From skirts to blouses, we have seen floral patterns like hibiscus leaves become big recently. Adding ruffles for that flirty touch leaves us understanding one thing this year: the spring and summer traditional floral looks will definitely not be subdued this season.
Interesting Pants
Skinny jeans? Booooooring. I don't care if it is bootcut, flare, plaid or colored; skinny jeans are definitely out and it has opened the doors for more eclectic styles. My biggest prediction for summer bottoms however are cut-outs. Though it is likely one of those love it or hate it kind of trends, I am certain that pants with hip cut-outs and other asymmetrical patterns will be seen a lot more. While some may not dare venture into this fashion statement, I also predict that distressed jeans will be seen less and replaced with solid-colored denim,and even denim with sparkling sequences for that early 2000s flare that we can never seem to get enough of.
Leave a Comment
About the Contributor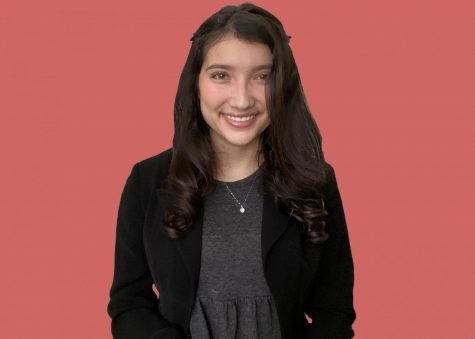 Kristen Sanchez, Features Editor
Kristen Sanchez is the Features Editor for SAC.Media. She also works as part of the the public relations and social media team for the Mt. SAC journalism program and its student publications.