"Cruella" Movie Review and Its Inclusive Cast
"Cruella" can easily be described as a fresh take on a classic villain that many would agree is long overdue
Engaging. Exceptional. Well-crafted. From start to end "Cruella" was all of these things. Disney's "Cruella" was released on Disney Plus and in theaters on May 28. The film was directed and exquisitely made by Craig Gillespie, a Australian-American film, television and music video director. The film not only gave audiences an inside look of a Disney villain's life but one who is well deserving to have their story told.
Actress Emma Stone is the one who took on the role of Cruella. Stone has been in numerous films and does a tremendous job stepping into the role. As she adds this piece of work to her repertoire the role of Cruella seems as though it was made for her. Stone's Cruella is different from what Cruella is thought to be. This may be the case due to Stone's Cruella being younger in the film, which earns her much sympathy due to the amount of loss she experiences in the film. Because of what she lost you can't help but root for her to get what she wants in the end. The character of Cruella has always been one that is supposed to be disliked but that changes in this film.
Notable actress Emma Thompson who is known for her roles in films such as "Nanny McPhee", "Love Actually" and many others played a major part in this film as the Baroness. She did a stellar job at being everything the Baroness should be all while trying to compete with Cruella's character. Other characters within the film contributed to not only make the film come together but added comic relief. The acting in the film was superb and came together nicely to create a strong and seamless film.
Not only did the acting make this movie come together but the music within the film makes so much sense. Music in certain films is quite forgettable or goes unnoticed but in "Cruella" the music adds to the storytelling of the film. Additionally, the details in the film's aesthetic design were spectacular; in a scene where the Baroness held her occasional parties, clearly much detail went into the dresses the women wore, the set and even the desserts and food. Disney per usual was keen on making sure the quality in each scene was perfect.
The film's purpose was to give the audience the backstory to Cruella's life and was successful. Certain character names from the animated film "101 Dalmatians" were purposefully placed within the film in hopes the audience would catch these characters. With additions in the film such as the names of characters from "101 Dalmatians" it seems as though that everything from the music, to the camera placement, to the actors they casted were calculated decisions.
In our modern day there has been much discussion of inclusivity of groups of people such as those a part of the LGBTQ community inside films. For Disney there is much controversy on what is deemed acceptable and what is unacceptable because of Disney's image as they target young kids.
Political figure Omar Navarro shared to Twitter his displeasure towards the inclusion of a gay character within the film.
The new Disney Cruella with Emma Stone just ruined my childhood with an openly flamboyant gay in the movie.

Disney persist shoving the LGBT agenda down our throat.

— Omar Navarro (@RealOmarNavarro) May 31, 2021
There were also other Twitter users who appreciated Disney including such a character into the film. Actor John Stamos shut down what Navarro had to say when he took to Twitter and replied about how he hopes that Navarro didn't watch the show he was on called "Full House."
If that ruined your childhood, I hope you didn't watch Full House. Three single men, living under one roof raising kids in San Francisco…. https://t.co/oCadf3xnIK

— John Stamos (@JohnStamos) June 1, 2021
It's not easy to keep everyone happy when it comes to making a film and impossible to live up to the expectations of fans who grew up with the character of Cruella. "Cruella" is a well-crafted, must-see Disney film that will have you wanting to see more of what's in store for Cruella.
Leave a Comment
About the Contributor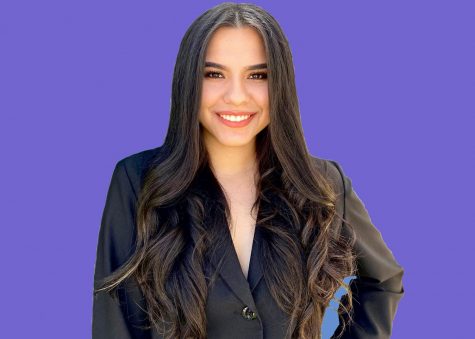 Delilah Perez, Arts & Entertainment Editor
Delilah Perez is the Arts and Entertainment editor at SAC.Media. She is also a part of the editing team of the Latinx platform Somos and is part of the public relations and social media team for the Mt. SAC journalism program and its student publications. Delilah has a passion for writing, and in her free time, she enjoys watching movies, going to concerts, and spending time with her family.