California To Become A Sanctuary For Transgender Youth
Pride Center member weighs in on proposed legislation that may protect families of transgender youth
California may soon become a refuge state for transgender youth and their families that face prosecution or lack of access to gender affirming care.
This is as a result of the advancement of SB 107, proposed by Democratic Sen. Scott Wiener of San Francisco.
The bill is in response to multiple states in the country implementing policies that directly attack the transgender community, especially in the case of effectively restricting access to gender affirming medical care and criminalizing gender-affirming medical procedures. Even more so, in the case that minors are seeking such treatment.
SB 107 will protect parents of transgender identifying youth living in different states across the U.S. from facing criminal charges as a consequence for supporting their child's access to gender affirming care. Meaning, if they come to California, they will not face the threat of having their children taken out of their custody simply for supporting their child's transgender identity.
The bill also protects the information of those who seek out such care, as it prohibits health care providers from releasing medical information about their gender affirming care for means of prosecution or criminal/civil action.
Pride Center member and political science major Cesar Tlatoani Alvarado, 22, believed this bill comes at an entirely appropriate time, given the current political climate, and referred to the recent bills regarding transgender rights that have been proposed and enacted into law in the past year.
Alvarado acknowledged that most of the discriminatory legislation is coming from Republican states. He found that the reason for such legislation comes from the GOP's need to find a scapegoat.
"You can't bully gay people anymore," he said. "I viewed the Republican platform to shift from, 'Oh now we can't attack gay people anymore. Who's our next vulnerable target? Who's different or who have we considered to be weird or out of the norm or who we might not understand,'" he continued.
He went on to highlight some of the resources that students can utilize at the Pride Center which include access to counselors, access to therapists, free food for students that are food insecure, a donation box for clothing, everyday school items that they might need, access to binders and a safe environment.
Alvarado believed that the existence of the Pride Center and SB 107 are both important, but also expressed concern over more needing to be done to protect the LGBTQ community, especially when it comes to transgender people.
"[The Pride Center] budget recently got cut and we had a multitude of student workers that were not able to return because of that budget cut. And although we are extremely grateful to even have a Pride Center here, it's not enough. It really is not enough," he said.
"We should never compare the struggles of different groups because all the struggles are valid, but we can also acknowledge that the queer community is a community that is especially vulnerable and does go through a lot more things that other groups have no idea of or cannot even comprehend and I think that [the Pride Center and SB 107] sends the right message, but we can definitely be doing more," he continued.
To better support transgender people, Alvarado recommended expanding the Pride Center by encouraging people to become educated on transgender related issues and identities. He also stressed the importance of having a greater transgender presence in political institutions and transgender people having a seat at the table to avoid any misrepresentation or further marginalization.
"I think we should definitely, when we craft legislation, we should definitely reach out to these communities," he said.
He also believed that befriending those who are transgender and uplifting their voices could make a huge difference in the current tense political climate moving forward and found that in his opinion trans people are some of the strongest people he knows.
"As a bisexual man, I cannot speak to the trans experience and I want to acknowledge that. However, I know many people that are part of the trans community that I really hold near and dear to my heart and I've listened to their stories and I've heard their voices and the things that they go through and their bravery and their courage and their perseverance honestly really inspires me and it really motivates me to keep on going when I need a pick me up or if I realize it's like these people around me," Alvarado said.
Like they keep on going. You can keep on going too. And I think that that's something that I want to acknowledge. If you want to see bravery, it's like go to the Pride Center. If you want to see perseverance, you'll find it in the Pride Center. If you want to see rising above the odds from absolutely horrible situation, it's like you can find that in the Pride Center."
As of Sept. 9, 2022, SB 107 had been enrolled and awaits Gov. Gavin Newsom's approval.
Alvarado's final emphasis was on the fact that resiliency is a theme amongst the queer community.
"The first Pride was a riot. It was and I think that struggle continues to this day. I hope to continue that struggle and teach other people about that struggle and empower people to embrace the struggle. Because at the end of the day, this is about our lives. This is our voice, this is about our freedom."
Leave a Comment
About the Contributor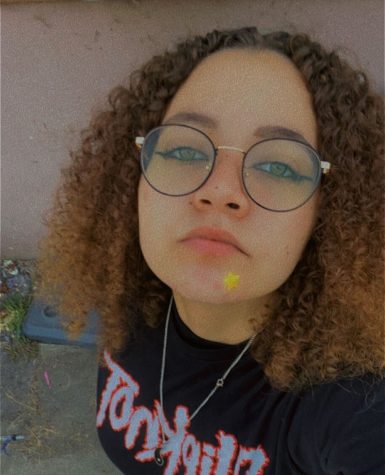 Delila Grubaugh, Features Editor
Delila Grubaugh is SACMedia's Features Editor. She is a first generation college student majoring in journalism and social justice. She dreams of being able to write a book one day and successfully make at least one short film in her lifetime. As a current peer navigator for the EOPS/CARE program she finds it to be incredibly important to work to help others, and she loves journalism as it can at times be democracy and social justice at its finest. She believes that if we are granted the right to freedom of press and freedom of speech we should be able to utilize it to benefit the people. She loves tea, Halloween, sunflowers, rock music and poetry. She is a California girl at heart and supports almost any Los Angeles team there is. A lover of journalism and advocacy, naturally someone she looks up to is Kara Danvers-aka Supergirl. She hopes to be as strong as her one day.