Opinion: Hurricane Ian response mirrors Katrina fiasco
Florida Gov. Ron DeSantis' message: "You loot, we shoot!"
Recovery continues on Florida's southwest coast one week following Hurricane Ian. Widespread blackouts, alongside climbing death tolls which passed over 100 casualties, have made the Category 4 one of the deadliest in the state's history. Facing criticism from dissatisfied residents and concerned storm experts alike over initial evacuation efforts and response in the aftermath, Florida Gov. Ron DeSantis gave a speech Tuesday. He chose to take advantage of the situation to make a political point on the impacts of illegal immigration and looters in concern to the hurricane relief. DeSantis' heinous attempt to score himself political points among his base for his "law-and-order" posturing also dangerously promotes a policy of cruelty similar to what was seen following Hurricane Katrina.
According to a report by ABC News, as of Tuesday, Hurricane Ian caused the deaths of 109 people, 105 of whom were reported in Florida and four from North Carolina. Additionally, PowerOutages.Us reported continuous blackouts for more than 400,000 Florida residents.
Speaking in Fort Myers, Florida, with the Federal Emergency Management Agency and other officials aiding the relief effort behind him, DeSantis said, "They boarded up all the businesses and there are people that wrote on their plywood, 'you loot, we shoot.'"
"At the end of the day, we are not going to allow lawlessness to take advantage of this situation. We are a law-and-order state, and this is a law-and-order community, so do not think that you're going to go take advantage of people who've suffered misfortune," he continued.
"When the looting starts, the shooting starts" was a term coined in the state of Florida. It was first used by former Miami police chief Walter E. Headley in 1967 in response to a rise in crime in the area.
Fast forward to 2005, the phrase became official policy when orders sent to officers of the New Orleans Police Department in the aftermath of Hurricane Katrina demanded they maintain "law-and-order."
In practice, the orders ultimately targeted the most desperate New Orleans residents who filled the flooded streets in search of food in what had remained of the city. The policy also led police to commit unspeakable acts of brutality, most notably the Danziger Bridge shooting, in which six people were left wounded and two were killed, all of whom were unarmed and innocent.
Ultimately, in the aftermath of Katrina, officers were involved in the shootings of 11 civilians, only one of whom had allegedly been involved in looting, according to an investigation by ProPublica.
DeSantis, who sparked controversy late last month for his decision to use taxpayer dollars to fly Venezuelan migrants to Martha's Vineyard, Massachusetts, and made sure to use the arrest of three undocumented immigrants for allegedly looting in Fort Myers, Florida to further hammer down his point.
"If I could, you know, I would take those three looters, I'd drag them out by their collars and I'd send them back to where they came from," he said, as the crowd gathered around him cheered.
DeSantis' statement reflects much of the same cruelty that was displayed by officials following Hurricane Katrina. However, he puts his own twist on it by inserting the fears of his base regarding illegal immigration into the equation.
Currently as one of the most popular Republican politicians in the country, DeSantis is embroiled in a "cold war" with former President Donald Trump for the Republican nomination for the presidency in 2024. As such, DeSantis has resorted to political stunts to get his name into the headlines. However, this attempt to use the Hurricane Ian recovery to his advantage falls flat on its face just as his previous stunt.
Just as his previous attempt to use undocumented immigrants alongside crime-panic as scapegoats, it displayed a total disregard for the humanity of these people and a willingness to use them as pawns for his own gain.
On the national level, Congress quickly moved to send relief to Florida in the wake of the disaster. Passing a bill in the Senate to send over $18 billion in funds to FEMA for disaster relief by a 72-25 vote. Among those dissenting votes was Florida Sen. Rick Scott, while his Republican counterpart Sen. Marco Rubio was a no-show. Still, Sen. Scott took to Twitter to announce he is "fighting everyday" to secure federal funding for his constituents despite his vote showing otherwise.
To everyone impacted by this terrible storm, know this: You are not alone.

I'm fighting everyday to get the federal funding and support our local and state partners need. Florida is strong. We will recover. pic.twitter.com/VCv00v4Go7

— Rick Scott (@SenRickScott) October 2, 2022
In lighter news, both President Joe Biden and DeSantis put the politics aside — to a degree — to focus on the issue at hand and sit down together to discuss their relief efforts. Delegations have been sent from states across the country including Texas and California to provide aid as the efforts to rebuild Southwest Florida and deliver aid to those in need continue. If Biden and DeSantis' brief sit down discussion means anything, hopefully it is to show us that uniting to help citizens in need is bigger than politics.
Leave a Comment
About the Contributor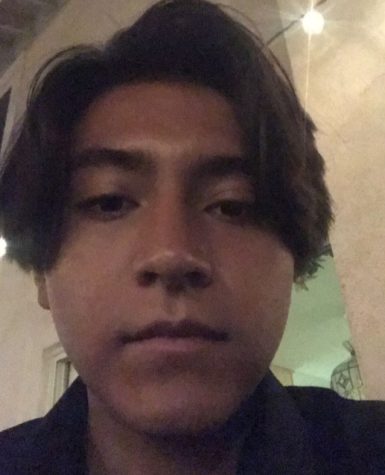 Ruben Montoya, Opinion Editor
Ruben Montoya is the Opinion Editor for SACMedia. As a journalist, he enjoys spicier, hot takes on the news. In his free time, he is a huge hyperpop and EDM listener, gamer and major fan of the Dodgers, Lakers and Arsenal FC.