How to go from couch potato to a weekend warrior runner
Run for your life and your health
It makes perfect sense that people can easily get complacent with their health when so much of today's society is constantly revolved around screen times and technology. Imagine the possible benefits of embracing a hobby such as running, which has the ability to improve overall health, reduce stress and boost confidence.
Running does not require a fancy membership or loads of expensive gear to pursue, but its inclusiveness creates a strong community of people supporting one another. All it really takes is the commitment of a person who wants to improve their life and the dedication to pursue that goal.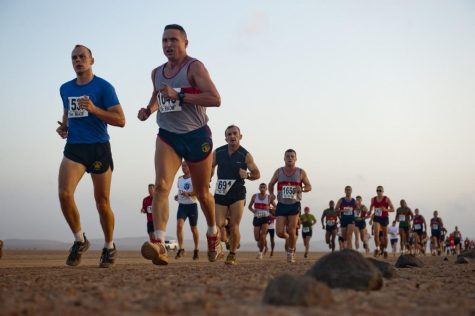 Getting off that couch and taking the necessary steps to prepare for a first race can truly be life changing. Once this process is complete, you will look back at the seemingly impossible task you just accomplished with pride.
Preparation
The first step is to create a starting point from whatever physical activity level you are currently at. If you have a decent activity level, you can start with small runs around the block, but if your activity level is non-existent, you will want to ease into this type of physical activity. Preferably with some type of daily stretching routine like yoga and then start a short daily walking regimen before increasing cardio further.
One of the most important investments you can make as a runner is the type of footwear used during your training. There are many brands and styles of running shoes, so it is important to do the necessary research to find the proper equipment that take care of your feet.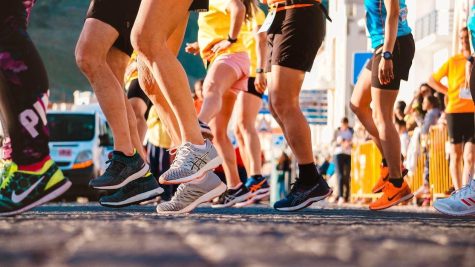 When choosing a running shoe, consider the support level, cushioning and heel to toe drop. Support level will consider whether a shoe has a neutral or stability support to help you develop the perfect form for your running style to stay healthy. Cushioning ranges all the way from minimal cushion which makes you feel the ground beneath you for maximum responsiveness, to maximum cushion that has the feel of running on a cloud. Shoes with a higher heel to toe drop tend to benefit those who strike with a heel first while zero drop shoes help encourage a natural running gait with a midfoot strike.
Shoes will always be the most important equipment but performance running gear can also help you feel much more comfortable while you get your miles in, such as synthetic running gear, which helps wick moisture away from the body to regulate body temperature and stay cool.
Now that you have your gear and goals in order you are ready to get started.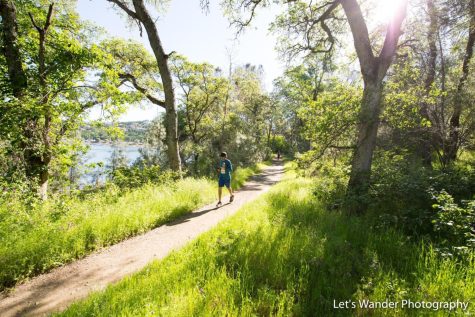 How to steps
Forget whatever limitations you placed on yourself.
Come into this journey ready to work hard in order to blow your expectations out of the water. Lose any negative mindset and focus on what you are going to accomplish.
Plan out a schedule for your training.
Research different training schedules until finding what works best personally and then utilize it. Write this schedule out by hand and post it somewhere you see everyday. A good training regimen for beginners will equally mix cardio, strength and recovery.
Set a date to get started and sign up for an event.
Don't procrastinate at setting a start date, mark it on the calendar and get all your supplies in order. Set a starting date four to six weeks out from when you want to attempt your first race or event. Halfmarathons.net has a calendar of local events in California to help you get started, and personally I have found 10k is a more manageable starting distance.
Start in small increments, and slowly increase.
Start training at whatever level is the most comfortable. Some people will start with attempting to run one lap around the track or one mile, but whatever your starting base is, start small and build your way up in small controlled increments.
Stay consistent with your schedule.
Just keep at it. Get out there even on the days you don't feel like it. As long as you aren't experiencing dramatic sharp pain, a little soreness will be natural for a new activity. Put in the effort to stick with your training schedule and you will be rewarded in the long run.
Keep track of your daily diet and what you accomplish.
Using a Google Doc or written journal to keep track of daily training mileage and diet can be a great tool. This information will prove extremely valuable in order to figure out the right formula that works for your body.
Listen to your body – prioritize recovery and rest days.
Don't overdo it. Listen to your body when you need extra rest or a day off. Actively plan in your training schedule to have days built around recovery and take care of your feet.
Prepare for race day.
Use training to emulate race day conditions. Wake up early before the race's start time and utilize all the gear you plan to have on race day. Plan to get plenty of rest and if you're attempting a longer distance taper off your mileage as you approach rest day. A structured diet and hydration schedule leading into race week can be key for peak performance.
Get to the starting line and have fun.
Show up early to avoid the dreaded panic involved with arriving late to large crowds. Account for crowds when it comes to parking, traffic and even lines for the restroom. Get your bib, stretch and get to the start lines. Most importantly have fun and let the weeks of training guide you to success.
Rinse and Repeat. Plan your next race!
After the first race take time to rest the body but most likely you will want to sign up for your next race as soon as possible if you haven't already. Consider pushing yourself by attempting to run a faster time or longer distance than in your first race.
Running gives people the opportunity to transform their lives in multiple ways. There are much more detailed aspects that can be broken down even further but this beginner's guide can help you get started on a healthier path. Get out there today and try pushing yourself towards the next goal of competing in a local running event.
Leave a Comment