West Covina City Council has mixed attitudes in the final meeting of the year
The path moving forward looks more complicated than just celebrations for new council members
The West Covina City Council closed out the year to a packed audience at City Hall on Tuesday, Dec. 20, residents gathered for the meeting headlined by swear-in ceremonies and Mayor Dario Castellanos' departure from public office.
Of the many elected officials who took their oaths of office at the meeting, newly elected District 4 Council member Ollie Cantos came to the podium with widespread applause. Winning his election resoundingly in November, the Filipino American who has been blind since birth was the center of much of the attention and didn't waste a second to let his ambitious present be known.
Loyola Marymount University Board of Regents member David A. Herbst, a long-time friend and former student government colleague of Cantos, took to the microphone to administer Cantos' oath of office. Before doing so, Herbst read off greetings and congratulations from their alma mater and from former U.S. House of Representatives Majority Whip Tony Coehlo (D). Coehlo is credited as the primary sponsor of the Americans with Disabilities Act, which he introduced to the House on May 9, 1989, and was later signed into law by President George H.W. Bush.
"I spoke with Congressman Coelho earlier today and he not only asked me, Ollie, to congratulate you, but he also asked me to thank the voters of West Covina for their willingness to accept that people with a disability have the capacity and ability to get the job done just like everyone else," Herbst said.
"I can attest for knowing you for over 30 years, you always get the job done, done well. So now let's swear you in my friend so you could get the job of council member underway and become, as Tony and I understand it, only the second elected official in America who is blind," Herbst continued.
Cantos, after he took his oath, was presented with honors from California State Senator Susan Rubio (D-22), who was in attendance at City Hall, handed Cantos a certificate on behalf of the state of California thanking him for his public service and the Fil-Am Association of West Covina.
Aside from Cantos, District 2 council member Letty Lopez-Viado and District 5 council member Tony Wu were also sworn into office following their respective reelections in November. In addition, District 3 council member Rosario Diaz took office as Mayor of West Covina, becoming the centennial Mayor and the first Mexican American woman to hold the office.
Mayor Castellanos also ceremoniously left his office, receiving applause from the crowd in attendance and was presented with plaques and certificates from the West Covina City Council, U.S. Congresswoman Grace Napolitano (D, CA-32), California State Assemblywoman Blanca Rubio (D-48) and State Senator Susan Rubio (D-22).
Other elected officials sworn in Tuesday were City Clerk Nick Lewis and City Treasurer Colleen B. Rozatti as they both secured their reelections this past November as well.
While this city council meeting was largely dedicated to the swear-in ceremonies, public comments allowed a few residents to voice their opinions and concerns with a large audience present.
Former West Covina District 1 council member Lloyd Johnson was the first to take the podium during public comments, using his time to congratulate the elected officials being sworn in that night.
The next public comment was from resident Steve Bennett, who also congratulated all of the elected officials who were being sworn in.
"Tonight, we have a new council member swearing in and I want to congratulate him as well, Ollie Cantos. He is kind of a ray of sunshine on a rainy day coming into this council," said Bennett.
Following Bennett's comments, Ethan Boulet, a boy scout and resident came to the podium to raise concerns about the intersection at Citrus Ave. and Garvey Ave., citing right-turn-only signs, fading street paint and confusing bus lanes as safety hazards.
Next, resident Bill Robinson spoke out in a five-minute-long comment regarding his concerns over the supposed dangers of the Coronavirus vaccine and California Assembly Bill 2098, referring to the vaccine as the "clot shot."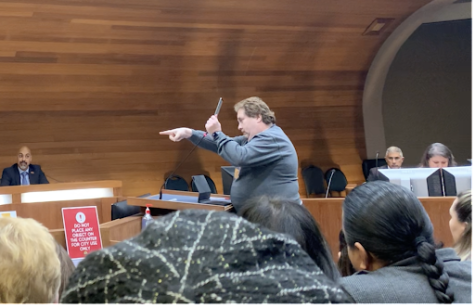 After submitting his request to speak during public comments late, resident Victor Orly came to the front of the room with an iPad in hand. Orly was representing John Shewmaker, the father of former council member Jessica Shewmaker. He then held the iPad to the mic and played an audio-recorded speech from John Shewmaker himself concerning Rosario Diaz and her husband.
"Do the decent thing, resign," Shewmaker said.
"You are married to 'Wild' Bill Elliott, a person who has called for the council to recruit more white families to the city," he said.
Shewmaker has feuded with Elliott for years since the 2020 election when his daughter Jessica lost the District 3 seat to current Mayor Rosario Diaz. The two have frequently bickered back and forth over Facebook and both run Facebook groups that frequently voiced their opposition to one another. Shewmaker runs the Facebook group "Tony Wu Not At City Hall," while Elliott runs the "West Covina Today" Facebook page.
After the voice recording ended, Orly took a second to speak his mind.
"For the record, I am one of the people who your husband says, 'I wish I were white,' last I checked, I am white. The last white person who hated other white people as much as your husband does, his name was Adolf Hitler," said Orly.
Last to speak during public comments was West Covina Unified School District Board of Education member Rose Lopez, who thanked the sitting council members and outgoing Mayor Castellanos for their service as well as sympathized with the experiences of the council members in the face of criticism.
The West Covina City Council concluded with a speech from Mayor Diaz and council member Cantos announcing his submission of his activities as council member-elect during the transitionary period to the record.
The next meeting of the West Covina City Council is scheduled for Tuesday, Jan. 17, 2023, and it will be the first full meeting with the newly organized city council.
View Comments (2)
About the Contributor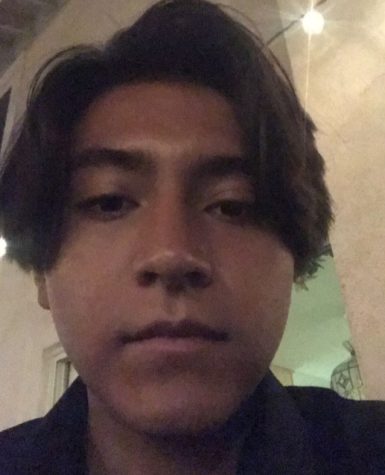 Ruben Montoya, Opinion Editor
Ruben Montoya is the Opinion Editor for SACMedia. As a journalist, he enjoys spicier, hot takes on the news. In his free time, he is a huge hyperpop and EDM listener, gamer and major fan of the Dodgers, Lakers and Arsenal FC.