New West Covina City Councilman Ollie Cantos talks about tearing down stigmas and disability rights
Cantos brings his experience in the civil rights arena and the federal government to his new position as a city council member
Defying expectations every step of the way, newly elected West Covina District 4 Councilman Ollie Cantos has brought a breath of fresh air to city hall and has quickly asserted himself as a formidable force in West Covina politics.
After winning his race in an election marred by controversies and bickering between the candidates, Cantos now finds himself in the middle of a city hall dealing with many divisions. Just as he refused to budge to the cycles of outrage that plagued West Covina's politics on the campaign trail, Cantos has continued to push on with the same mindset he was elected with.
Revered for his extensive track record of working in numerous federal government positions in Washington D.C., as well as in the non-profit sector advocating for the rights of people with disabilities for years, this Filipino American is ready to tackle his next endeavor, serving as an elected official on the West Covina City Council.
In an interview with SAC.Media, Cantos opened up on what has motivated him to take on the work of becoming a council member, as well as to take a look back on his illustrious career.
Cantos did not waste a second serving his constituents after being sworn in. His impressive work ethic combined with his natural ability to connect with people of many different backgrounds has quickly made him one of the city's most revered figures.
When asked about his feelings as he began his work as a council member, Cantos said, "I'm loving it, I'm having a blast! I was having so much fun meeting with different organizations, you know, meeting with individual residents."
"This is like cloud nine every day," Cantos continued. "Every time I go home, I always have more people to reach out to, more things to follow up on, and I follow up on those things."
He has big aspirations for what he wants to do for West Covina, among those, turning the city into an example of how to correctly accommodate the needs of people with disabilities.
"The things we need to do here would be to enhance our physical accessibility of public spaces, so that every aspect of city life is accessible, where accessibility is not an afterthought, like, 'of course it's accessible,' the thing I want the city to be is the model for accessibility, whether you have a physical, intellectual, psychiatric or learning disability, this is still home for you and we are not doing it as a matter of charity," Cantos said.
"The disability community is one out of every five people in this country and we are doing this to ensure optimal inclusion because it's good for our community," he added.
Then, Cantos reflected on the earlier stages of his career working as an attorney. Originally, he started out in family law, then moved on to estate planning until he made the decision to use his legal talents to advocate for the rights of people with disabilities, work that he continues to this day.
Currently, Cantos is the Chairman of the board of directors for the disability advocacy non-profit Respect Ability.
"While I was studying for the bar [exam], I'm like, 'I might as well get involved with some disability stuff,' but I resisted it though, because I'm like, 'Well, why should I do disability just because I have a disability,' that's like saying, 'hey you're tall, you must be good at basketball,' you know, we shouldn't just be pigeon holed just because we have a certain thing," Cantos said.
"But then, I ended up falling in love with it, because I thought, 'oh my gosh, this really matters to me,' when there's people with disabilities who don't have accessible housing, or transportation, or healthcare, or employment, or education, that stuff really gets me going," he continued.
Among the many things that he has achieved throughout his career as a disability rights advocate, his most personally gratifying achievement has been the publishing of his book, "People with Disabilities at Work," which is available for free on the Respect Ability website.
"People with Disabilities at Work" is a resource guide that seeks to aid people with disabilities in "Achieving Economic Independence and Inclusion through Employment and Entrepreneurship," according to Respect Ability.
The book is constantly being updated as new resources and opportunities become available. Topics covered in the book include a brief summary of the history of the disability rights movement, learning the rights and labor laws concerning people with disabilities, how to transition from college to professional work settings and guidance on networking and entrepreneurship.
"People have gotten jobs, and I'm just really grateful, because that's exactly why I worked through that passion project to make it happen," said Cantos.
Additionally, "People with Disabilities at Work" also provides assistance and guidance in navigating the many disability benefits programs that are supported by state and federal governments while still maintaining their employment.
The extensive resource guide, authored by Cantos, seeks to assist people with disabilities of all kinds and has been updated as recently as June 2022. Overall, the book includes more than 339 resources.
"It's to me, something that I am super proud of, because, anybody who wants to work, who has the philosophy, the determination and the persistence and fortitude to get it done, they use that book and they will work, they absolutely will," said Cantos.
"When it comes to when I think about what I have done in life, that's my legacy, if I die tomorrow, that book can still help millions of people," he continued.
Another thing that Cantos has worked constantly to address is the many misconceptions associated with people with disabilities.
"The reality is, 90% of disabilities are invisible, you can't look at somebody and know necessarily if they have a disability or not, the 10% that are visible disabilities are like mine, people who use canes, crutches, wheelchairs, that kind of thing," said Cantos.
"So most of those, you can't see and so whenever people have a disability, sometimes people say, 'you don't look disabled, you look fine to me,' because they think, wheelchair, crutch or cane, but the fact is, when somebody has ADD or ADHD, that's a learning disability, when somebody has depression, that's a psychiatric disability, but the point is, whatever the disability or disabilities people have, we have to get rid of that stigma," Cantos said.
"Just because a person has psychiatric disability doesn't mean they are going to be violent, just because a person with an intellectual disability can't speak doesn't mean that they can't earn at least $15 an hour and get paid with benefits working full time," Cantos continued.
Disabled people in the United States currently have an employment rate of 39%, according to the Bureau of Labor Statistics, and this issue is something that Cantos has dedicated many years trying to help amend.
Importantly, Cantos also touched on stigmas that parents may have regarding having children with disabilities, and how these negative misconceptions can ultimately harm their children in the long term.
"The big problem is, when people have limited beliefs, including parents, about what their children can do, that's the real tragedy, because when children are raised to believe that they can't do much, then they don't do much, and it reinforces the stereotype that they can't do much because they are not doing much!" said Cantos.
At the most recent city council meeting on Jan. 17, Cantos turned heads with his decision to abstain from a vote on an ordinance to amend campaign finance rules.
More recently, Cantos returned to Washington D.C. to meet with Rep. Grace Napolitano, who represents California's 31st congressional district which includes West Covina. He also used his time in Washington D.C. to visit his three adopted sons who are all currently going to college in the area.
With one meeting under his belt so far, Cantos looks forward to making as big a splash as he can with his votes going forward. The next council meeting is scheduled for next Tuesday, Feb. 11.
Leave a Comment
About the Contributor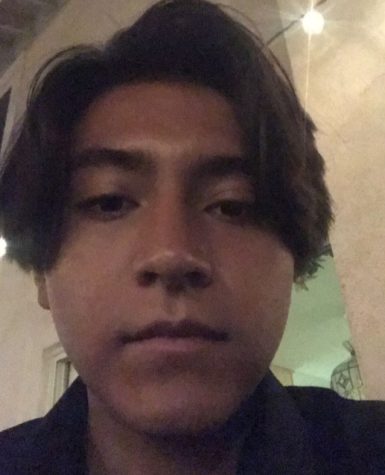 Ruben Montoya, Opinion Editor
Ruben Montoya is the Opinion Editor for SACMedia. As a journalist, he enjoys spicier, hot takes on the news. In his free time, he is a huge hyperpop and EDM listener, gamer and major fan of the Dodgers, Lakers and Arsenal FC.