Experiencing the Meghna Pamula exhibit up close
Sprague Gallery presents an artist's different point of view
"AAAAAANNND," an exhibition of a drawing, paintings and animations by Meghna Pamula, debuted on Feb. 21, at the Sprague Gallery on the campus of Harvey Mudd College in Claremont, California.
Guests were welcomed into an intimate gallery with pristine white washed walls that amplified the vivid and vibrant oil mediums on canvas. The exhibition began with a piece titled "Marston Plein Air," a painting of a tree fork, which set the tone by focusing on figures and the story telling of Pamula, revealing their likeness, connection and collective memories.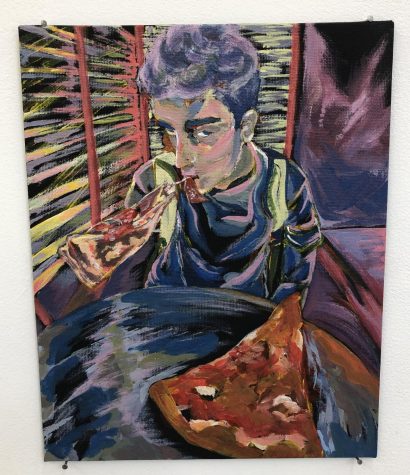 "Pizza Boy" is a painting of a photo taken of a friend shared by another friend.
"The Fate of the Mango" captures the memory of a mango eaten by a friend in two different moments, one still intact before being eaten and one afterwards, fallen in parts on the ground.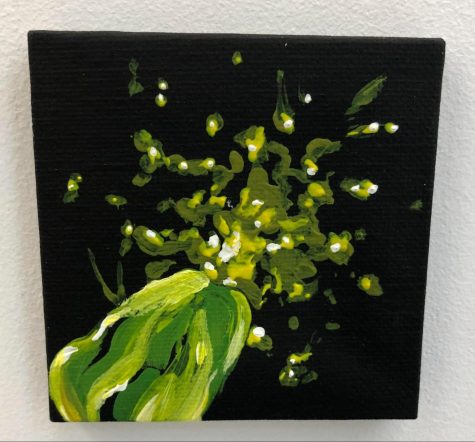 "Electric Sapos" is a drawing of a smashed guitar from a concert that a friend attended.
This exhibition ended with a series of three animations; "Samosa Factory," "Badminton" and "Fortune Teller," which were narrated in response to casual interviews by Pamula. These interviews described how the narrators met, how they became friends by cooking together, how playing badminton with friends changed the narrator's life and what different versions of the future would look like as if the narrators have each already lived through it.
Guests felt a sense of closeness, likeness and the sentiment of the present that could be understood among the forms and figures. These qualities emerge, as the forms and figures are transformed into new images. For example, in the animations, human faces of the narrators are replaced with simple and smiling forms, such as those of the personified samosas.
Julia Hong, arts director at Harvey Mudd College, expressed the importance of allowing Pamula to showcase her art and the message she was sending.
"Meghna's message is one that everyone can relate with, taking the time to appreciate the small moments of our experiences or connections, which sparks a memory of joy or remembrance," Hong said. "Everything on the surface seems simple, but if you pay attention at the subject matter of her art; 'Pizza Boy,' 'Fate of the Mango' and 'Electric Sapos,' these represent memories that had far more significance than just a guy eating pizza or a smashed guitar. Obviously, the memories between you and I are translated differently, but the message remains the same."
This limited-time installation concluded on March 10, but interested guests can visit the Harvey Mudd College's website for future events and exhibitions being held at their Sprague Gallery.
Leave a Comment