'He'll be part of our college's fabric forever': Community celebrates and mourns Shonnardo Bodie
The celebration brought together loved ones from many aspects of Bodie's life
Typically bustling with action and energetic crowds, the Hilmer Lodge Stadium stood still with somber on March 17. As winds periodically whistled through the stadium and sunlight beamed down through scattered clouds, a muted audience gathered in the stands to celebrate the life of Mt. SAC alumni Shonnardo Bodie.
The celebration transformed as the event unfolded, bouncing from tearful grief to jubilant cheers led by various speakers who took to the podium to share their love for and stories about Bodie.
"How many of you were planning to see the movie 'Ant-Man' with Bodie?" Vice President of Student Services Dr. Audrey Yamagata-Noji asked, to which several hands dispersed within the audience shot up. "There's a lot of hands raised. Because he promised each of you and he intended to go that many times. So don't feel bad, he was going to make good on it."
In December 2022, Bodie was diagnosed with collecting duct carcinoma, a rare form of kidney cancer that had spread into his lungs. After rounds of chemotherapy, Bodie passed away on Feb. 9, 2023.
"We all want to ask ourselves: 'Why, God?'" Yamagata-Noji said. "Why Bodie? Is this fair? But God sent Bodie into our lives to enrich us. To help us appreciate life. To experience relationships. To know love. … We mourn the loss of someone who was our ray of sunshine."
While studying at Mt. SAC, Bodie was enterprising on campus. He participated in programs like EOPS, the Arise, Dream, Bridge programs and more. He graduated in 2018 with a full-ride scholarship and a spot on the track and field team at Baker University in Kansas.
He graduated from Baker University in May 2022, with a bachelor's degree in public health and returned to California where he worked at Mt. SAC's student services while waiting to begin graduate school when he was diagnosed with cancer. His goal was to become an athletic counselor.
"From the time my son was born I knew that something was different about him," his mother Natasha Hanna said.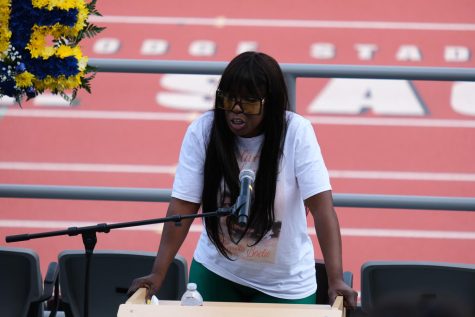 She recalled how he never gave her problems as a child and how Bodie was always looking to serve others.
"He always loved helping people," she continued.
Bodie, who was born in the Bahamas, moved to Florida with Hanna when he was 4 years old. Following high school, he traveled to California to enroll at Mt. SAC after being recruited by football assistant coach Junior Tanuvasa. After high school graduation, efforts were made to secure his green card. In 2021, he officially became a U.S. citizen.
The mournful energy of the celebration was temporarily disrupted when Bodie's father Sean Simmons took to the podium.
"What's going on, Mt. SAC!" he shouted, his miked voice reverberating throughout the stadium and engendering emotional screams and cheers from the audience.
"I wondered if you could stand with me for about two minutes and let's just celebrate the life of one Shonnardo," he said before being drowned out by waves of triumphant yells and applause.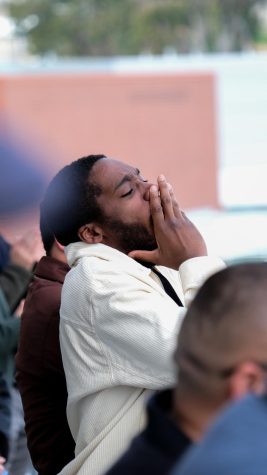 Following the energetic display, he thanked members of the community.
"I asked [Bodie] when I came here, 'Why do these people love you so much?'" he joked. "I said 'What did you do to them?'"
He recalled staying with Bodie in the hospital and having talks with him, eventually breaking into tears.
"He was so easy to love," he wept.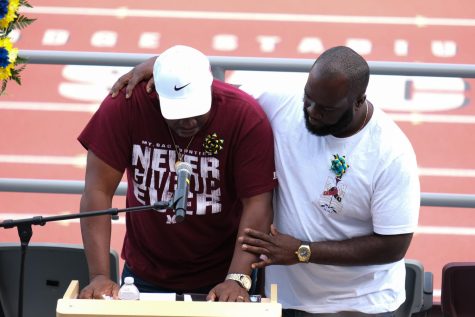 Simmons used the platform to urge youngsters in the audience to avoid a life of violence and finished by saying Bodie's life was purposeful.
"In the summer of 2015 Shonnardo Bodie sat down next to my desk in the athletics counseling office," Counselor Sara Mestas said. "That day, I met one of my favorite people in the whole world."
Bodie told Mestas his backstory about coming to California and his goals for the future. Over the next few years, she watched him go from wanting to transfer out of Mt. SAC as fast as possible to taking dance and golf classes for fun and becoming an integral part of the Mt. SAC community. Bodie would make a point to join clubs and programs, greet faculty and get to know people he was unfamiliar with.
Mestas described him as "B" for big and brave, "O" for open, "D" for determined, "I" for interpersonal and intelligent and "E" for energetic and explorer.
"He'll be a part of our college's fabric forever," she said. "And he showed us what we do matters."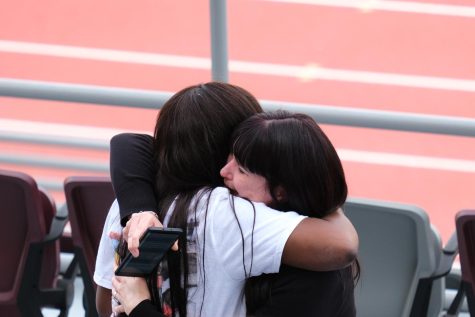 Over 15 people took to the podium, including Bodie's West Covina family, the Randolphs, faculty members from Baker University and his peers from Mt. SAC.
Near the end of the event, doves were released into the sky, requested by Bodie's family, to represent his ascension. A pack of 30 doves was released – one for each year of his life.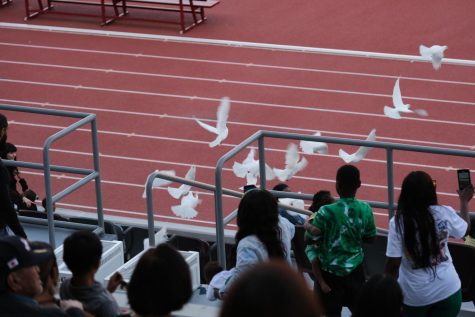 The celebration was topped off by a video played on the jumbotron, highlighting some of Bodie's best moments; blooper reels from promotional content, silly dances, prayer, spur-of-the-moment wisdom and more.
The sentimental words spoken about him are exemplified in the video and his inextricably admirable personality traits shine with each clip. Bodie's binds to the community are permanently enshrined through his commitment to love and compassion and through a quote displayed at the end of the video:
"Whatever you want to be, if it's your purpose, it's already in you" – Shonnardo Bodie.
Leave a Comment
About the Contributor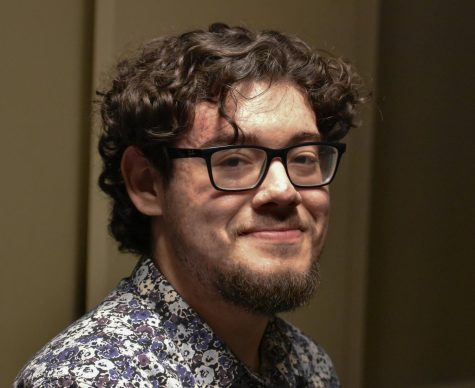 Bryan Jimenez, Editor in Chief
Bryan Jimenez is the Editor in Chief of SAC.Media. He can be reached at
[email protected]
.