Retired Latino NASA astronaut visits Chino Hills library
Retired NASA astronaut José Hernández celebrates the opening of a space-themed area dedicated to him
On March 18, former NASA astronaut José Hernández visited James S. Thalman Chino Hills Branch Library to celebrate a new space-themed zone dedicated in his honor.
Hernández grew up as a field hand in California but wanted to be an astronaut for NASA. According to Newsweek, he did not learn English until he was 12 and got rejected by the agency 11 times before being accepted. He spent eight years of his career, from 2004 to 2009, working as an aquanaut, notably living and working underwater for 11 days straight. He most famously went into space on Aug. 28, 2009.
Tangentially, Hernández was the first person ever to tweet from space in Spanish.
One the day of this celebration, the library was full of excited kids ready to meet an astronaut. To the dismay of their parents holding cameras, some seemed only interested in seeing the new space exhibit.
Anticipation rose throughout Chino Hills as city and state politicians posed for a photoshoot with Hernández.
But just before the opening speech began, the speakers broke, so many attendees were not able to hear Hernandez. When someone in the crowd asked Hernandez to "speak up" because they could not hear, Hernández said, "Remember kids, the sky is not the limit. The stars are."
Hernández noted that he chose this library because he lived in Chino, California, for some time when he was younger.
As the curtains pulled back, children ran into the area with joy to explore the new space-themed additions. The zone contained Hernández's astronaut suit along with personal belongings that he took to space. A tiny shuttle was added for children to go inside and look at monitors mimicking the impression of space travel. There were also workers making balloon animals for the children.
In between taking photos with children and signing autographs, Hernández agreed to a quick interview with SAC Media.
"It's an honor for me," he said. "I feel very humbled. The fact that my story can inspire other kids and empower them to believe what they may think is impossible but really is possible if they're willing to work hard for it."
On a pillar in the library, Hernández's life accolades were added along with his six-step "Recipe for Success," which entails planning one's future based goals, working hard towards achieving them and never giving up.
"That six ingredient recipe right there on the pillar … it's important that kids read that, and follow that," Hernandez said. "I'll make the same promise my father made me, 'You'll reach your goal if you follow that right there.'"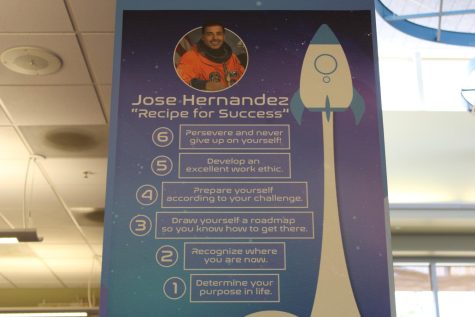 Leave a Comment