Review: Reignite your childhood memories with S'moreology
Experience artisan-crafted s'mores like never before
A blowtorch. Fresh artisan grahams. Brownies and marshmallow-filled cookies. When eating is a necessity, cooking is an art and customer experience is the spotlight, Los Angeles couple Amy and Noelle Ramirez took their culinary talents of childhood treats from pop-up events in LA to a building in the heart of West Covina's hustle and bustle.
In June 2021, the duo stationed their delicious idea, S'moreology, at 922 W. West Covina Parkway in West Covina, California, where the weather for the past month has been unprecedentedly cold. Powerful storms since last February has caused S'moreology to be an ideal escape to embrace the chilly winds and pouring rain with some hot chocolate.
Cold nights remind us all of hot cocoa and marshmallows over an open fire and S'moreology reignites that metaphorical flame of childhood memories through artisan treats.
The workshop is encased with windows for the eyes to eat before the mouth tastes. Shelves are fixed with tubs of fluff to create marshmallows, s'more kits are made for delivery and bakers operate at the middle table to stylize, caramelize and brulee comfortable childhood snacks into a visibly tasty experience.
When showing up that cold night I picked one of the most popular treats on the menu: the Elvis s'more.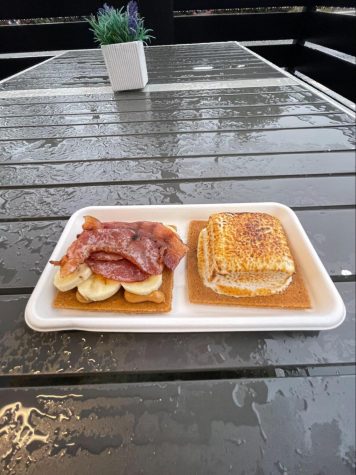 The Elvis is one of many tasty options to experience at S'moreology. This s'more is packed with vanilla marshmallow and peanut butter along with bacon and banana slices toppings sandwiched between churro graham crackers. The taste was definitely different yet familiar. The flavor of a churro popularized by an American multinational, mass media and entertainment conglomerate's amusement park was sweet and cinnamon-y, to say the least.
While they are most famously known for their s'mores, S'moreology's entire building is a base of sweet operations and there are more than just s'mores on their menu.
Every single vanilla marshmallow, brownie or stuffed cookie is made from scratch within their facility and every treat contains dairy – be warned people with lactose intolerance. Marshmallows are torched to a golden brown and perched atop either a graham for s'mores or a cup of hot chocolate. Every sip from the hot cocoa melts the bottom of the marshmallows and adds a creamy vanilla taste.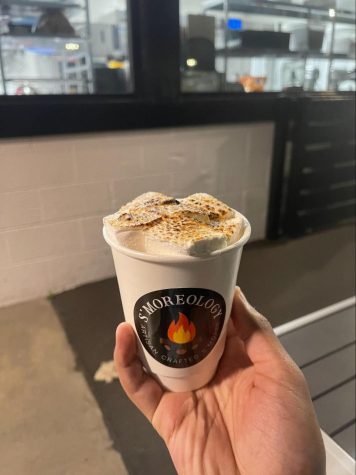 The presentation of the treats and atmosphere of the establishment are S'moreology's strongest factors because unfortunately, the price for a single s'more is not too wallet-friendly. Don't misconstrue my words – every item on the menu was delicious. However, the price range of $7 to $8 for a "gourmet dessert experience" was excessive for the amount of s'more that is received each order.
Honestly, it is recommended to order the S'more Flight to get more bang for the bucks. It gives customers the opportunity to select three of their top picks off the menu and try them in smaller sizes for about $14.50. You are getting smaller s'mores but get to try 'smore!
That is technically a buy 2 get 1 free deal.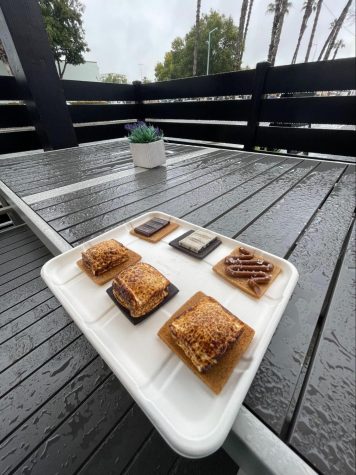 Jokes aside, the complexity behind the process to create each item from scratch is a very unique and skillful practice, however, patrons could definitely experience everything on S'moreology's menu in one or two trips. Every guest I spoke to mentioned it was their first time there and after going two days in a row myself, I am all s'mored out. The monthly specials might keep the experience fresh because each month has its own specialty menu.
The menu, s'more kits and online orders are accessible on S'moreology's website.
Leave a Comment
About the Contributor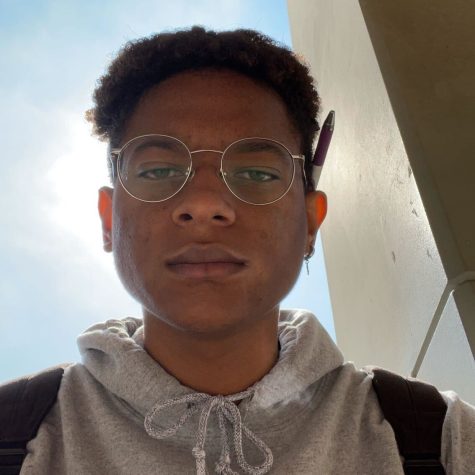 Ehvan Fennell, Culture Editor
Ehvan Fennell is SACMedia's Culture Editor. He is a 21-year-old involved in various sports and that love for being active has stayed with him into adulthood. He currently works as a server and front desk representative inside a bowling alley where he gets to interact with people from all walks of life. Mythology is a fascination and he loves learning about different cultures and their stories. Ehvan tries to learn something new everyday and journalism helps him express his curiosity. His biggest dream is to never stop learning.