Cherry Blossom Festival springs back into action after a hiatus
Monterey Park welcomes back the festival to bring together the community
After a three-year hiatus due to the pandemic, the city of Monterey Park, California, welcomed back its 23rd Annual Cherry Blossom Festival on April 15 and 16.
This event was organized completely by community volunteers, many of them being teenagers. The festival's goal was to offer exhibits, cuisine, demonstrations, performances, vendors and community based information to the public at no cost. Activities included origami and craft making stations for kids, "Taiko Drum" performances, Japanese Tea ceremony demonstrations, traditional Japanese dancing, martial arts performances and mochi making.
Wayne Kawamoto, also known as Magic Wayne, a full-time professional magician for the past 20 years, said that he couldn't contain his excitement to be back performing at the Cherry Blossom Festival.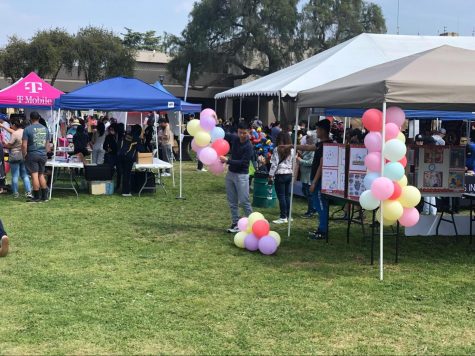 "I'll never pass up the opportunity to perform here, and of course the festival has been absent for the last three years," Kawamoto said. "It feels great to be back at Barnes Park, I love it. I love showing off my magic to the kids, always a pleasure to make the kids laugh and I always have a fun time."
Kawamoto mentioned how important the Cherry Blossom Festival is to the city of Monterey Park.
"This festival brings out everyone, not just Monterey Park, but neighboring cities as well, like Montebello, Alhambra, Arcadia, Whittier," Kawamoto said. "So really, it's a community event where everyone gets together. It's a very intimate, relaxed crowd and everyone has a good time."
"We had that unfortunate incident during the Chinese New Year Festival, which ended up being canceled, and in a way the Cherry Blossom Festival turns the page on that," he continued.
Gwen Kishida, who coordinates the craft making and community booths, explained how origami, the art of paper folding, is beneficial to a child's development.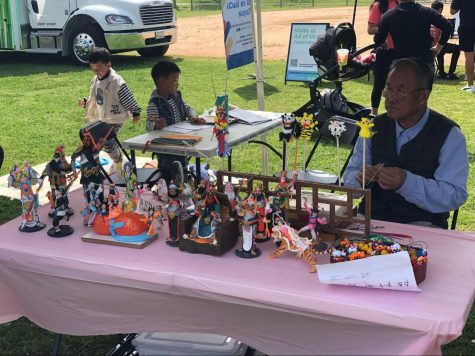 "Origami has been found to improve an understanding of geometric concepts and shapes," Kishida said. "By labeling an origami structure with length, width and height, kids learn key terms and ways to describe a shape."
Besides folding paper cranes, kids were also learning how to construct Japanese lanterns out of paper, string and "Popsicle" sticks.
"Japanese lanterns are a very significant part of Japanese culture, as they represent love, brightness and protection from evil," Kishida said. "We want to make sure the kids are having fun, while learning about Japanese culture."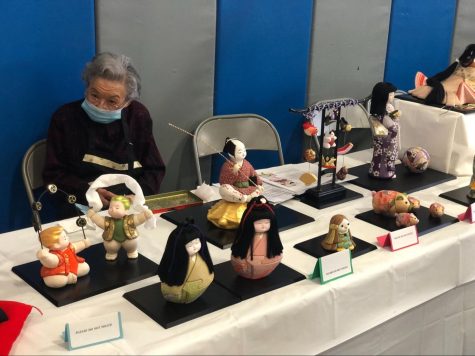 Sakura Kokumai was born in Honolulu, Hawaii, and has been a member of the USA Karate National Team since 2007. She won a gold medal at the 2019 Pan American Games and became the first American to qualify for the Olympics and the only female athlete representing karate from the USA at the Tokyo 2020 Summer Olympics.
Kokumai began practicing karate at the age of seven and recalls the moment that led her to martial arts.
"My mom enrolled me at the local YMCA class in Honolulu and moved me to a dojo shortly after, it just built up from there," Kokumai said. "I love the movement and the focus of using my footwork and agility. When I hit the mat, I'm instantly in the zone and find myself lost in the movement."
"I never would've imagined being able to qualify for the 2020 Olympics, let alone even given the chance to compete, but through all the constant training and work, it's still unbelievable and I'm grateful," Kokumai said.
"This was my first Cherry Blossom Festival in Monterey Park. It's been great and I had a wonderful time performing, but the real reason I'm here is to promote the sport of karate and martial arts to young women," she said. "Hopefully, when they see a woman, such as myself, they'll realize the potential of achieving success in themselves."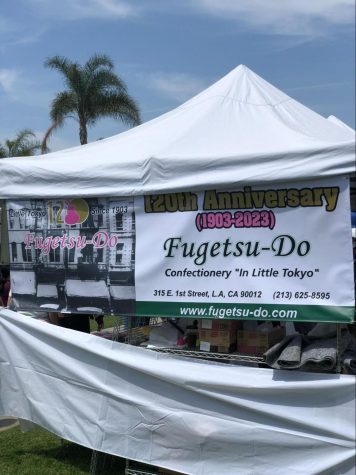 Brian Kito, owner and operator of "Fugetsu-Do," also attended the event. He's a third generation mochi maker, whose family has been making mochi out of their storefront in Little Tokyo, Los Angeles, since 1903.
"Mochi is a rice cake made of mochigome, a short-grain glutinous rice, and other ingredients including water, sugar and cornstarch," Kito said. "The rice is pounded into a paste and molded into balls or cubes. What makes mochi appealing is the soft and chewy texture, with a little bit of sweetness for taste. We also make mochi with different fillings like Adzuki beans, peanut butter or whatever fruit is in season such as strawberries or peaches."
Kito gave his perspective on keeping the same traditions as his father and grandfather or being open to changing the traditional mochi making process.
"I prefer to keep the same techniques that my dad and grandfather taught me, only because I want the texture, chewiness and taste to stay consistent," Kito said. "The texture and chewiness is most important and that's what our customers have come to expect from our mochi, being soft and chewy."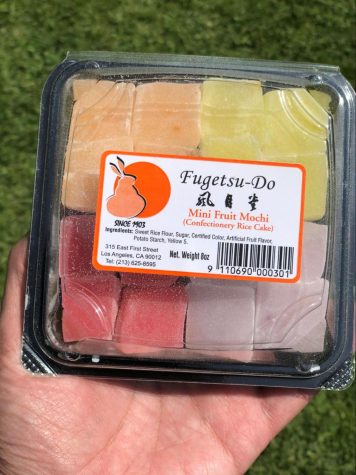 "We still knead and pound our dough by hand, yes it's a lot of labor, but that shows you how much pride and care we have in our mochi," Kito said. "Everyone loves mochi, the kids especially love mochi, and it's the perfect treat to celebrate the Cherry Blossom Festival."
To find out when the Cherry Blossom Festival will return to Monterey Park for spring 2024, stay connected with the city's official website for updates on upcoming events.
Leave a Comment