Nine lives per day: Mt. SAC students talk distractions behind the wheel
Mt. SAC students are no exception to distracted driving
Distracted driving is a daily occurrence for many people, including students, and causes thousands of deaths every year.
Jim Jones, a psychologist who survived a distracted driving accident in 2013, shared his experience of being on the brink of death.
"A young man, 19 years old, was driving a truck speeding and he was talking to his girlfriend on his cell phone," he said.
The young man didn't see Jones when he turned the corner due to distracted driving. "He hit me as I was in the crosswalk, crossing the street, lift me up into the air and landed on my head. I have brain damage," Jones said.
Although he was declared dead by the hospital, Jones survived and is recovering slowly with his family's support.
He reminded every driver not to use their phone while driving and said, "They're so sure that will not happen to them. But you never know."
According to the National Highway Traffic Safety Administration, distracted driving was blamed for 3,522 deaths in 2021, an average of more than nine lives lost per day.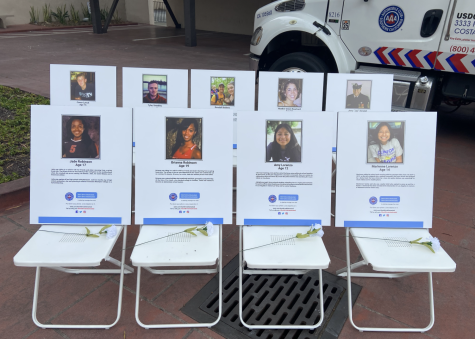 For some young drivers, distracted driving is very common.
Twenty-year-old nursing major Ricky Heymon has been driving for four years and said he is always distracted while driving,
"It's like a bad habit, but I feel like it's accepted in today's society to a certain degree," he said.
He said people usually check their phones while driving and it's dangerous.
"For me personally, I feel like I have control over the car," Heymon said. "I know my car. I know myself. I know how I drive. So I consider it dangerous in general, but it is not dangerous for me."
Mary Lugo,18, animal science major, has been driving for one year and said she is distracted while driving.
"I do my makeup sometimes. I always like to switch music. Very distracted," she said.
Lugo has never been in an accident but is weary of the danger.
"I have to turn the wheel but sometimes I'm on my phone. So I just do that at the last minute and it is very dangerous," she added.
California Highway Patrol Public Information Officer, Roberto Gomez, warned that distracted drivers can be anywhere.
"From the use of cell phones, which is the most common, to the application of makeup, to drinking your coffee, to eating," he said.
Gomez also mentioned CHP officers will give drivers a speeding ticket once they think the driver is distracted.
"When you are distracted and driving, we ask people what the speed limit is," he said. "Well, that speed limit should be zero."
Leave a Comment